How To Get Your Facebook Timeline Ready for Primetime
Facebook is about to flip the switch. Soon the new Timeline profile will be the only profile, and you'll have to start using the updated, markedly different page. It's fun, we promise. (And we know a couple things about Facebook marketing.) The new Timeline is just one of the big changes that Facebook has rolled out recently.
The profile means that your Facebook page won't just be a little slice of what you've been doing in the past few weeks or months, but rather a broad overview of your whole life. That means you'll probably want to spend some time polishing up that page before it goes live. Here are some tips for getting your Timeline spiffed up before Facebook makes the complete switch.
1. Choose a cover photo
You can get as creative as you like here. The cover photo will be the large picture that dominates the top of your page, while your traditional headshot profile pic will be smaller, situated in the left hand corner. Keep in mind that you'll want to choose an image that looks good as a wide, short image–portrait-type shots won't look good here. For some really creative ideas check out this post on Mashable.
2. Scrub a dub dub
The new profile means it's easier than ever for people to look at your whole life, or at least your life since you've been on Facebook. You already know that your social media presence is important, and that you shouldn't be posting inappropriate content where your grandmother or potential clients are going to see it. And sure, now you use Facebook to post pictures of your vacation and your kids, but those shots of you doing a kegstand could still be floating around in the recesses of 2005. That's the kind of stuff that won't stay buried once you have the Timeline profile. Keep in mind that it's going to be easier than ever for people to see your older posts, and do a thorough scrub of your profile.
Take down those embarrassing status updates or photos, or just hide them from your Timeline. Click the pencil icon next an event to hide it or delete it.
If you have memories you want to keep just between friends, you can customize who sees an event by clicking the friends icon next your name on each event. You can select a list, only you, or customize exactly who has access to this event on your Timeline.
3. Fill in the gaps
You can also take this opportunity to have some fun filling in the "scrapbook." Timeline gives you an opportunity to post events – moving, traveling, a new job, changes in relationship status, etc. – and to include photos and tag friends in these events. Take a quick trip down memory lane and fill in the big events in your Timeline with tags and photos. The map function is a lot of fun as well. You can add trips to your Timeline, noting the date you were there and who was with you, and then add an event photo. Also take the time to be sure that your employment info is updated and that all the dates are correct. You can give important events top billing on your Timeline by clicking the star (right next to the edit tool we just covered).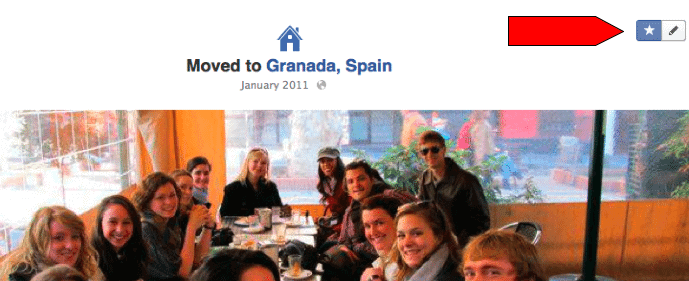 4. Add life before Facebook
If you want to, you can go even further back in your Timeline and add events that happened before you were on Facebook, and add photos to those events. If you want to get really literal with your Timeline, you can add baby pictures, wedding pictures… anything you like. We recommend getting all the stuff that's already on Facebook in order first, then moving on to your pre-Facebook years if you're feeling ambitious. If the photos are already on Facebook, just choose "Change Date" to change the date from the time it was uploaded to the time it was taken, or upload old pictures directly onto your Timeline.
(That's me on the left in the aqua polyester, circa 1996.)
You should take at least a little time to look at your new Timeline and get comfortable with the new format, because Facebook chooses which photos and updates are important mainly by looking at the number of comments and likes something receives. Those might not be the things you want defining your profile. Although Timeline means that there's more stuff on your profile at once, it also makes it much easier to regulate who sees what.
So take some control of your page. Have fun with it!
Are you doing something cool, creative or hilarious with your Timeline cover photo? Whether you're repping your favorite sports team, sharing a vacation picture or doing something totally wacky, we want to see it! Take a screen shot of your cover, send it to us at [email protected] and we'll feature the best ones on our Facebook page. (Just be sure to let us know if you don't want your personal info visible.)