Talented Graphic Designer/Illustrator Joins Vital (via Arizona and Afghanistan)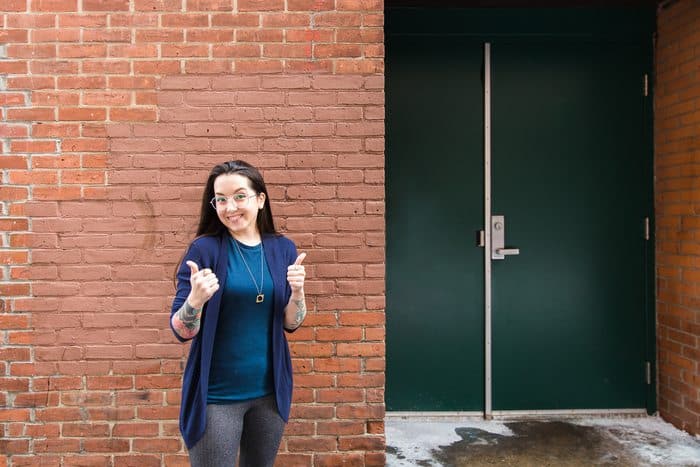 Newsflash: Vital's roster of talented and creative marketers continues to grow. Our newest Vitalian is a talented graphic designer and native New Englander who goes by the name Sarah McKay. So please allow me to allow her to introduce herself:
Sarah McKay
"Hello! I'm Sarah. I'm a graphic designer and illustrator who specializes in social media campaign development, branding and working with web developers to create functional and attractive sites." That's the welcome message she shares on her beautifully designed website.
Here are some key bullet points about Sarah, offering a quick peek at a life's journey that found her falling in love with Portsmouth, NH, and landing a job at the most vital agency in all the world.
Her likes include: drinking tea (and good beer), listening to great podcasts, online gaming, digital painting and birding.
She grew up in the small farm town of Coventry, Conn., and loved drawing animals as a child.
Today she has a pet cat named Artoo.
She moved to California at age 20 and joined the U.S. Navy Seabees, inspired by her grandfather who was one of the original Seabees back in the 1940s.
Her military service took her to Afghanistan for a yearlong deployment during which she worked as a builder — pouring and finishing concrete, helping to create housing and functional buildings.
After her Seabees service, she attended the Art Institute of Phoenix, graduating with a degree in design and illustration.
Upon graduation, she began work at a large advertising agency in Phoenix, then eventually moved to a small, full-service agency where she gained experience in web design, branding, advertising, social media campaigning and much more.
She loved the work she was doing in Arizona but pined for the pine trees, the ocean and her family back in New England.
Through a combination of research, networking and pure instinct, she discovered her next stop — Portsmouth and Vital.
She states she is "happy to be here," which is easy to believe since Vital has been named one of Inc. Magazine's Best Workplaces and Portsmouth is just an amazing place to be.
Digital marketing appeals to her in part because of her fascination with the interplay between humans and design. She sees digital marketing and web design as an opportunity to use her skills to add value for clients by helping to create meaningful experiences for users online.
Please join us in welcoming Sarah to the team. And be sure to check out some of her beautiful illustration work on Instagram.