Vital Welcomes Talented Designer/Baker & Account Manager/Traveler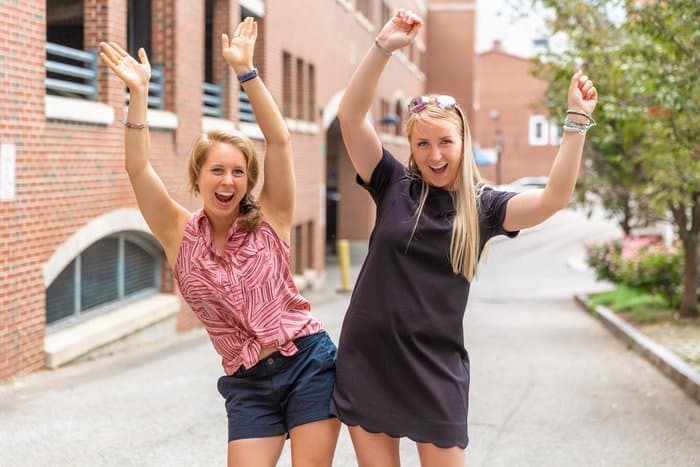 Whenever a new team member joins Vital, they expand our professional capabilities and enhance our kickass culture. Liz Tosi and Jenny Salchunas are no exception.
Liz Tosi, Junior Graphic Designer
It's still TBD what we like most about Liz, our newest junior graphic designer — the fact that she has eight years of experience working at a bakery (we love sweet treats) or her impactful designs.
"I've known I wanted to be in the creative field since I was a kid. I am constantly creating," says Liz. "At Vital, I'm able to do something different every day."
Liz graduated from Syracuse University with a BFA in Communications Design and a minor in Food Studies. Her design experience includes internships with FootLocker.com, Major League Lacrosse and EveryBodyFights, each of which combined her passions for creativity and sports/fitness.
When Liz isn't pushing the envelope creatively for brands while maintaining their look, feel and standards, she's either at the gym coming up with fun workouts or outdoors running, hiking, biking or kayaking. She also carves out time for fine art crafts including painting, drawing and 3D work. In her downtime, Liz likes to learn new things. She can often be found reading a book (often three at a time) or listening to a podcast. Her favorite color happens to be orange, so she and Vital were clearly meant to be.
Jenny Salchunas, Account Manager
If any of us are planning a weekend getaway, our first stop is Jenny, who joins Vital as an account manager. She travels as often as possible, usually to someplace where she can hike or spend time on the beach, ideally with her puppy, Koda.
Jenny developed a love for project management and marketing while working on a variety of campaigns. She believes protecting our environment is important, which is why her favorite campaigns to date entailed implementing a bike share program for the city of Winter Park, Fla., and helping to get a million trees planted around the world. Just prior to joining Vital, Jenny was a producer at a full-service marketing agency where she executed a wide variety of projects and integrated campaigns.
While originally from New Hampshire, Jenny chose to move to New York City after graduating with a degree in Environmental Science from Rollins College in Florida. After two years of big city living, she felt it was time to move home. Although Jenny isn't technically using her degree, she views marketing as a science. She appreciates how the field is constantly changing and that there is always something new to learn.
"What motivates me is working in an environment surrounded by talented, driven and passionate people," says Jenny. "The Vital team is all these things and more."
What Would You Bring to Vital?
We're always on the lookout for new talent — and not just ho-hum talent, amazing talent! If you think you have what it takes to be a Vitalian, check out our careers. Be sure to mention how you'd add to our culture, which earned us a coveted spot on Inc. 5000's Best Places to Work list.