Where to Eat and Drink on a Budget in Portsmouth, NH

Drink Deals and Moderately Priced Meals in the Port City
We're always looking to keep this list current! Last updated: March 2020.
Hard work can make you hungry. Needless to say, the Vital team is always down for a snack! Luckily there are plenty of places around town that offer delicious, delightful and cheap deals on various meals and adult beverages throughout the day. And luckily for you, we've decided to share these Portsmouth, NH, insider food and drink deals for the entire world to see.
We've already covered the many breakfast hotspots (and we've even shared with you the best places to park in Portsmouth) so now let's focus on the best places to eat and drink on the cheap throughout Portsmouth.
We've spent hours upon hours scouring the websites and Facebook Pages of local dining establishments to supplement our already extensive real-world culinary research. The result is the ultimate list of economical eats and drinks.
If you're a penny pincher, you'll want to take note of this massive list we've created. Keep in mind, not every establishment in Portsmouth is included, either because we couldn't find anything online or because the deals are so secret that only true regulars know about them.
Agave Mexican Bistro—The second you sit down at this State Street bistro, you're served with free tortilla chips and fresh salsa — what more could you ask for? Well, this Mexican eatery's Happy Hour menu is offered from 5–6:30pm, Monday–Friday, and it's Muy Buena as well!
$3 Any Draft or Bottled Beer
$6.50 House Margarita
$4 Cheese Quesadilla
$5 Chicken or Beef Quesadilla
$5 Tamale
$4 Enchilada
$4 Nachos ($5 for chicken or beef)
$5 Flautas
Barrio — Amazing authentic Mexican decor and atmosphere, located right in the 3S Art Studio building. Barrio has some of the best queso and tacos around town, and they also offer pitchers of margaritas! Barrio has happy hour deals everyday from 4 pm – 7pm  and again from 10 pm – close. Their happy hour deals run everyday and include the following steals:
$1 off tacos
$5 margaritas (some restrictions apply)
Monday: service industry night – happy hour deals apply all night to those  who work in the industry
BG's BoatHouse — Fresh seafood, delicious cocktails and all the splendid scenery Sagamore Creek has to offer makes this local restaurant/marina a true fan favorite! Aside from the decks, BG's is one of the only places around where customers can paddle up and saddle up for a bite to eat and a cold brew. Definitely don't miss out on their Happy Hour deals Monday – Friday (4–6pm) in the Sagamore Pub, not to mention their "Sunday Bloody Sunday" specials.
M-F Happy Hour deals include:
$5 Well Drinks
1/2 Price 16oz. Drafts
$5 House Wines (by the glass)
$5 Select Appetizers (onion rings, fried zucchini, mushrooms, green beans, mozzarella sticks)
Sunday Specials (11am – 3pm) include:
$5.50 Coastal Bloody Marys
$5 Tropical Mimosas
Black Trumpet — This family-owned bistro and wine bar located on Ceres Street across from Portsmouth's famous red tugboats is truly a dining diamond in the restaurant rough. And if the incredible menu and impressive wine collection aren't enough, the "Trumpet" now offers a social hour from 5-7pm daily.
$5 small plates
$6 beer
$7 wine and cocktails
Bridge Street Bistrot & Wine Bar — This small, chef-owned corner café, formerly known as Café Mirabelle, is situated along Bridge Street and offers a menu filled with great drinks, dinner options and desserts. Simply present this dinner coupon to get a great deal for you and your dining partner.
Dinner Coupon: ½ priced entrée (of equal or lesser value) with purchase of one dinner entrée at full price (Tuesday–Saturday nights). By reservation only/must bring printed coupon.
BRGR Bar — This Portwalk Place burger joint boasts some of the best burgers around, amazing apps and quite the selection of delicious milkshakes (with and without booze).
Grab a seat outside, sit indoors or pony up to their stainless steel bar and enjoy a bite to eat. Happy Hour runs Monday-Friday from 3-6pm. And don't forget about their weekend brunch specials…did someone say bottomless mimosas and bloody marys?
1/2 Priced Draft Beers
$2.50 Bud Light and Budweiser
$4 all other bottles/cans of beer
$6 House Red/White Wine by the Glass
$6 Deep Eddy Cocktails
$8 Specialty Drinks & Adult Milkshakes
$6 Loaded Tots/Fries (excludes additions)
Weekend Brunch – Saturday & Sunday 11am-2pm – $15 bottomless mimosas & bloody marys (at bar only)
Sunday – Service Industry Night – 25% off your entire bill
The Clipper Tavern – Situated in the old Brazo building, this brand new tavern/pub is about as local as it gets. The interior is adorned with team jerseys and other sports memorabilia from the Portsmouth High School Clippers.
It boasts quite the eclectic menu that includes things like the Big Daddy burger, poutine, french dip sliders and more! Happy Hour runs Monday-Friday from 3-6pm and Sunday from 10pm – close, and includes:
$2 PBR, Narragansett & Miller High Life
$3 Bottled Beer or Spiked Seltzer
$4 Any Craft Draft
$5 Mixed Drinks (Stoli, Captain, Bacardi, Omeca Altos, V.O., Deep Eddy, Jim Beam, New Amsterdam, Beefeater)
$5 Shots (Fireball, Dr. McGillicuddy, West Cork Irish Whiskey)
$6 Select Wine by the Glass
$6 Select Appetizers
The District — As one of the most casual fine dining restaurants in the city, The District offers eclectic fare — not to mention a nice selection of draft beer, wine and mixed beverages. Situated on Congress Street at the opening of the Vaughn Mall, this eatery serves food late into the evening, but also boasts a healthy selection of Happy Hour specials in the bar earlier in the day on Tuesday through Friday from 5–7pm.
$7 Glasses of Wine
$3 Select Draft Beers
Buy 2 appetizers get the 3rd free (*restrictions apply)
Thursday: Ladies Night – Happy hour specials all night – Bar Only. Half off burgers & sriracha wings. $3 draft beers
Sunday (8pm to close): Industry night – ½ priced burgers, 2 for 1 apps, $7 specialty cocktails & wine and $3 draft beer.
Demeters Steakhouse —  Demeters has closed its Lafayette Road location and will be opening a new steakhouse in downtown Portsmouth in 2019. Stay tuned for updates about this delicious steakhouse!
Dos Amigos Burritos —This eatery is easily one of the most popular in terms of cheap eats in the downtown. Now located in Portwalk Place, Dos has merged with White Heron to also offer coffee, tea, baked goods and breakfast treats!
Depending on the day of the week and how much room you have in your stomach, you can easily get your fill for well under $10. Here's how:
Monday: $5 Burrito Mondays (Available burritos include: Bean Burrito, Chicken Burrito, Barbeque Chicken Burrito, Ground Beef Burrito, Portobello Mushroom Burrito, Sweet Potato Burrito, Tofu Burrito, Spinach Burrito and Tofu and Spinach Burrito)
Tuesday: $2 Taco Tuesdays (Available tacos include: Bean, Carnitas (pulled pork), Chicken, Barbeque Chicken, Steak ($2.75), Fish ($2.75), Ground Beef, Guacamole, Sweet Potato, and Tofu soft tacos)
Sunday: Kids eat free! With the purchase of every entree, kids can receive any item off the kid's menu for free.
Earth Eagle Brewings — Tucked away in what appears to be an old garage off High Street, this growing brewery features a fun menu of small plate apps, sandwiches and great beer. Happy Hour runs from M–Th from 3–6pm, but for those who can't wait there's a special lunch deal with your name on it.
$4  EEB Pints
$4 Jumbo Pretzel
All Day Sunday: 1/2 Priced Cocktails, $4 EEB Beer, $4 Jumbo Pretzel
$12 Brewer's Lunch (11:30am-2pm, M-Th):  Small rice bowl or panini + EEB pint
Sunday: Brunchamus Maximus, special egg sammies & bloody marys 11:30am – 3pm
The Franklin Oyster House — Fleet Street hasn't quite been the same since The Franklin Oyster House opened its door in May 2015. The "neighborhood oyster bar" is a reincarnation of The Franklin House, a popular oyster joint on Fleet Street back in 1867. And just like its heyday, today's oyster house is once again drawing in locals for a ridiculous amount of mollusks and other delicious fare.
And if you really love oysters, you'll be happy to know the Happy Hour, seven days a week from 4-6 pm, comes with a charitable twist.
$1.25 Select Oysters (.25 cents goes to a local charity or nonprofit)
$5 Bloody Marys
The Friendly Toast — It's a common sight to see a large line of people waiting to get into this Congress Street restaurant on any given weekend morning. What many may not know is that this popular eatery also boasts a killer Happy Hour menu from 5–7pm from Sunday-Thursday and from 8–10pm on Friday and Saturday. Here's a friendly reminder of Toast Time:
1/2 Priced Appetizers
1/2 Priced Mimosas
$2 Miller Highlife
$2 PBR
Plus, restaurant workers get 50% off their food tab on Tuesdays and kids eat free on Wednesday nights.
The Goat — Similar to the original restaurant in Hampton Beach, this country-themed eatery on Congress Street boasts an impressive list of burgers, bacon, barbecue wings and other bites — not to mention a healthy array of beers and bourbons.  Did we mention they serve buckets of bacon?
Stop in for lunch or head over for Happy Hour and enjoy some sweet deals:
Monday & Tuesday: 2 for 1 Burgers
Wednesday: 10-cent Wings (All Day)
Thursday: $5 Tito's Drinks
Saturday: Breakfast All Day
Kids eat free weekdays before 5pm.
Jumpin' Jay's Fish Café — This popular seafood restaurant on the corner of Congress and Middle Streets features some of the best fresh seafood around. While always busy, Jumpin' Jay's gets super busy on one particular night of the week. Here's why:
Shuck-A-Buck – $1 Oysters Every Tuesday (seasonal deal)
Lexie's Joint — If you enjoy peace, love and cheap, but delicious, burgers, then Lexie's is the place to go. This Islington Street burger joint is pretty much busy all the time — likely due to the fact that they offer incredible daily specials at an affordable price.
The specials aren't recurring week to week, so be sure to check out their Facebook Page for all the daily deals. Some of our favorites include:
$6.25 — "Feeling HOT HOT HOT": Patty topped w/ Pepper Jack Cheese/ Lettuce/ Fried Jalapeños/ Sriracha
$3.50 — "Fan Favorite Fries": House Cut Fries w/ Truffle Salt/ Shredded Parmesan Cheese/ Herbed Aioli/ Bacon Bits/ Herbs
$6.50 — "Chim Chim Churri": Patty topped w/ Cheddar/ Lettuce/ Red Onion/ Roasted Tomato/ Chimichurri/ Avocado
Margaritas — Great margaritas, awesome Mexican food and a super fun dining atmosphere make this Route 1 restaurant a local favorite. If you're lucky enough to get a seat in the bar or lounge after work from 3–6pm (M–F) then you'll get a chance to indulge in their Happy Hour specials. They include:
$6 Original House Margaritas
$4 20oz Dos Equis
$3 Bud Light 20oz
$3 Tecate 16oz
1/2 Priced Appetizers
Monday: 50% off for those who work in the industry
Tuesday: All you can eat tacos for $9.99
Wednesday: 40% off for those who work in the Healthcare Industry
Thursday: Ladies night – $6 margaritas, $3 Budlights & Tecates, 1/2 price appetizers after 5 pm in the  bar & lounge
Mojo's BBQ Grill & Tavern— There's nothing better than a little BBQ, mixed with a cold and refreshing brewski. This Brewery Lane BBQ joint offers an unbeatable 7 DAYS of Happy Hour specials and meal deals. That's every day of the week from 4-6pm! Even better, you're almost always guaranteed to find a parking spot nearby.
Happy Hour deals include:
$5 Happy Hour apps (pulled pork sliders, warm pretzel sticks, buffalo wings, nachos, 10-inch cheese pizza, gumbies and cheese quesadilla)
$5 Happy Hour drinks (house margarita, select wine, 28oz select drafts and Svedka cocktails)
Daily specials include:
Monday: $6 Beer & Burger
Tuesday: $12 All You Can Eat Wings/$5 select 32oz pitchers – ALL DAY
Wednesday: $5 10″ Cheese Pizza & $3 16oz Shocktop Drafts – ALL DAY
Thursday: 39-cent Wings (6–9pm)
Friday: $2 Make Your Own Tacos (6-11PM at the Sports Bar)
Saturday: Ladies Night – 50% off food and drink from 8pm to 12am.
Sunday: Industry Night 50% off all food and drink (some restrictions apply)
*Disclaimer: ALL DAILY SPECIALS ARE FOR EAT IN ONLY & CAN NOT BE COMBINED WITH ANY OTHER OFFERS*
Pink Bamboo — The Pink Bamboo is a popular spot for dine-in and take-out customers alike. Their special hot pot dining is something different on the Portsmouth food scene — sometimes called "Chinese Fondue" or "Steamboat." And their veggie lo mein and scallion pancakes are all the buzz around the Vital office. Check out their weeknight special deals:
Monday–Thursday Happy Hour (4–6pm): 30% off all apps and all drinks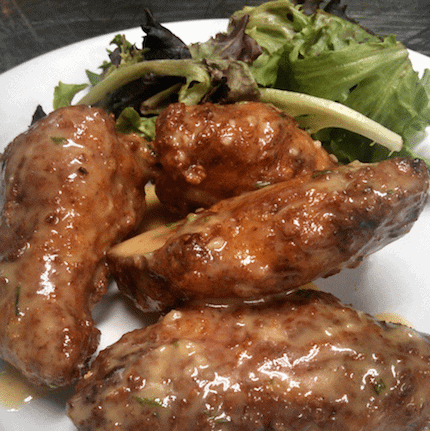 The Portsmouth Brewery – This Market Street brewery boasts some of the best brews and cheap eats around. On every night of the week, The Brewery welcomes patrons (beginning at 6pm) to indulge in many special meal deals in the one-and-only Jimmy La Panza Lounge. There's also a pretty sweet Happy Hour from Monday-Friday from 4 – 6pm. So many great choices:
$4 Portsmouth Brewery Beers
1/2 Priced Bar/Snack Menu
Sundays: BLT&E
Mondays: Sweet Chili Braised Tofu
Tuesday: Stout Brisket
Wednesday: Chicken and Dumplings
Thursday: Duck Chimichanga
Late Night S.I.N.: Service industry workers get $4 PB drafts, 50% snack menu, and $5 wing plate from 9pm – close Sunday – Thursday.
Weekend Late Night Specials (Friday and Saturday): 10pm-12:30am  $0.50 cent wings, $4 Grilled Cheese Sandwich, $5 House BLT
Portsmouth Gas Light Co. — As one of the biggest eateries in Portsmouth, this Market Street establishment boasts a third-floor club, an outside deck, a street-level grill and basement pizza pub.
In addition to some great Happy Hour specials available from 2:30–6pm (M–F) there's also an amazing lunchtime deal involving all the pizza you can eat. Seriously!
M-F Happy Hour (2:30-6pm) includes:
1/2 draft pints, glasses of wine and select appetizers
Daily specials include:
Monday: 1/2 off all margaritas from open – close as well as 1/2 off everything for Frequent diners. All you have to do to take part is sign up the day before you start using the frequent diner discount program. Find out more here.
Tuesdays: Tini Tuesdays 1/2 off martinis all day (Grill & Pub only)
Wednesdays: Winedown Wednesdays 1/2 off all bottles of wine (Grill & Pub only)
The Press Room – A true local watering hole, this Daniel Street dining establishment/bar boasts live music every night and Happy Hour on weekdays from 4-6pm. Happy Hour deals include:
$4 Drafts
$5 Well Drinks
$6 Select Cocktails
1/2 off Select Appetizers
Rí Rá – This Market Square restaurant/pub, which happens to be situated in a historic bank, features traditional Irish fare, as well as a massive list of beers. Its list of happy hour deals on Monday through Friday from 4—6pm isn't too shabby either:
$5 Craft Beers
$5 Pub Snacks Including Sausage Rolls, Poutine, Irish Nachos, Wings and Spinach and Artichoke Dip
Row 34 – This oyster joint at Portwalk Place boasts an incredible array of salad, sides, steak, and seafood dishes. Oh, and don't forget the stuff you can eat from its ridiculously delicious raw bar.
The Happy Hour menu, which is offered from 3-6pm on Monday-Friday, is a great companion to the #DollarOysters deal offered every day until 5 p.m. It includes:
$5 across the board for a rotating list of libations; 2 draft options, select specialty cocktails, and a red and white wine selection.
Rudi's Portsmouth — As one of the few downtown restaurants with on-site parking, this High Street establishment (with an entrance on Congress Street) is a fan favorite for lunch, dinner and the occasional brunch.
Its Happy Hour menu is offered from 4–6pm in the wine bar and lounge only and includes:
$6 Tito's Vodka Cocktails and Martinis
$6 App Menu*
$6 Red and White Wine Selections
$4 Draft Beers
*Appetizer menu includes: Fried Calamari, Bruschetta, Chicken Satay, Rudi's Hand Cut Fries, Wild Mushroom Arancini, Fried Brie, Artichoke & Crab Dip
Two-Fifty Market — Snuggled inside the Sheraton Portsmouth Harborside Hotel, this restaurant/bar is known for its laid back atmosphere, views of the Piscataqua River and deliciously fresh and local cuisine. It also has a pretty sweet happy hour menu depending on which day of the week you want to visit, running Monday – Friday from 4pm – 7pm.
Monday: $6 Tito's martinis and $6 mussels
Tuesday: ½ priced shrimp tacos and $5 house margaritas (4-6pm)
Wednesday: ½ off house wine by the glass & 1/2 apps and small plates
Thursday: ½ off local signature cocktails, all entrees buy one get one ½ off
Friday: $10 beer flights, ½  off poutine
Shalimar India — Since 1992, Shalimar has been the go-to destination for Seacoast residents and visitors seeking a taste of authentic Northern Indian cuisine. Dining in at the Hanover Street establishment is delightful, especially during buffet time. We're talking Naan-Stop goodness! The takeout is terrific as well. Oh, and apparently there are some cool daily specials as well.
Monday, Wednesday, Thursday Luncheon Specials
Friday Lunch Buffet 11:30-2:00pm. $10.95 per person, $4.95 for kids 10 and under
The Shanty Seafood & Grill — This Mirona Road restaurant/bar recently underwent a major expansion— adding seats and even more TVs to compliment the already stellar food menu, drink list and friendly wait staff. Every day of the week, there's a great food deal just waiting to be had, not to mention the daily Happy Hour specials and a fun Wheel of Fortune-like game offering "aggressive discounts."
Happy Hour Deals (Monday – Saturday 3-6pm)
$6 Select Appetizers (Chicken Bubbas, Bang Bang Shrimp, French Bread Pizza, Chicken Fingers and more)
$3 Bottled Beer
$4 Craft Beer
$5 Select Drinks
$5 House Wine
Daily Specials
Wednesday: 50-cent Wing Night (4pm – close)
Friday: All You Can Eat Fish & Chips for $12.99 (all day)
Friday: Buy Any 2 Large Pizzas, Get a Large Cheese Free (4pm – close, take-out only)
Statey Bar and Grill) — Formerly the State Street Saloon, Statey Bar & Grill has a different special every night of the week, on top of an already awesome food menu. They also offer various food and drink specials on nights when the Sox, Pats, Celtics, or Bruins have a game. Check out their Facebook for more info.
Monday: $6 Burger Night
Tuesday: Ladies Night, 1/2 off all drinks 8pm – close
Wednesday: Steak Night, $13.99 NY Sirloin Steak, Potato, & Vegetable
Thursday: Wing Night, $8.99 for a Dozen Wings
Friday: Fish and Chips, $13.99
Friday & Saturday: $16.99 Prime Rib Dinner w/ Potato & Vegetable
STREET – This Islington Street eatery is just out of sight from the rest of the downtown, but it certainly isn't out of the minds of locals and visitors. This nontraditional food establishment is almost always busy, especially during Sunday brunch (9:30am-3pm). It's got some great lunch specials, not to mention the deals it offers others who work in the service industry
Monday: 1/2 off any food/booze tab for any service industry worker
$10 Lunch Deals – Falafel, Porchetta, Burger, Cemita, Fries and a fountain drink/ $2 off ALL salads (Weekdays 11:30am–2pm)
Thirsty Moose Tap House —This Congress Street restaurant and bar boasts so many beers on tap it's not even funny. It's also one of the only places in Portsmouth where you can eat lots of tots — yes we're talking tater tots. Not only are there some sweet deals during Happy Hour (Monday-Friday from 3pm to 6pm) but there are also some pretty solid daily specials as well.
Happy Hour (M–F, 3pm–6pm)
$1 off Draft Beer, $1 off House Wine, and 25% off Beer Bites, Wings & Tenders
Daily Specials
Monday: $10 Burger and A Beer Night
Tuesday: All Day Happy Hour, $1 off draft beer, $1 off house wine, and 25% off all Beer Bites, Wings & Tenders all day long
Wednesday: $4 Well Margaritas, $3 Mexican Beers, $2 Tacos, $1 Chips & Salsa (Trivia upstairs at 8pm)
Thursday: 1/2 Off Pizza All Day, Plus Featured Brewery Night with Free Samples and Giveaways
Sunday: Service Industry Night with 1/2 off food and drinks* from 4PM-close
*Excludes shots, must have proof of employment or pay stub.
TJ's Food and Spirits — This local favorite boasts a robust food menu recognized as one of the "best kept secrets" around town, not to mention a fun and festive bar atmosphere for Boston sports fans. Situated on the corner of Daniel and Penhallow streets, TJ's is typically packed to the brim on pretty much any weekend night. The popular eatery offers a Happy Hour menu Monday–Friday from 4–6pm. Cheers!
Happy Hour Deals
1/2 Priced Beer and Wine
$5 appetizers
Thursday Nights: $3 draughts, $5 glasses of wine all night
Vida Cantina — This modern Mexican restaurant situated inside the old Friendly's on Lafayette Road is still very friendly, and features a menu filled with traditional Mexican cuisine and festive beverages.
Happy Hour Deals (Monday – Thursday 4 – 6pm, Friday 3 – 6pm)
$2 off all draft beers
$2 off wine by the glass
The Wilder — The Wilder is a no-rules New England gastropub. Located in the heart of Portsmouth (neighbors to us on Fleet Street), they bridge the old and the new.
Happy Hour runs from 3:30 – 6pm every day and features $5 beverage specials (espresso martini, mules, local craft beers), and their famous pig burger, beer, and a shot for $20.
Deals by the Day
Hungry and broke? Here's a quick peek at deals that you can only get on select weekdays:
Monday
Dos Amigos: $5 Burritos
State Street: $5 Burgers
Mojo's: $6 Burger and a Bud/Bud Light; $2 Tavern Fries
Rudi's: 1/2 Priced Wine (under $40) & $6 App Menu*
STREET: ½ off any food/booze tab for service industry
Rusty Hammer: 25% off for service industry
The Shanty: $5 Burger
Thirsty Moose: $1 Beer Samples/69-cent wings
Barrio: Happy hour specials all night for service industry
Margaritas: 50% off for service industry
Tuesday
Dos Amigos: $2 Tacos
Jumpin' Jays: Shuck-A-Buck – $1 oysters (seasonal)
Mojo's: $12 All You Can Eat Wings (6-9pm)
Rudi's: $5 Tito's Vodka Cocktails & $6 App Menu*
Rusty Hammer: $.50 wings (from 4–7pm)
State Street: 1/2 priced drinks for ladies
The Shanty: $5 Fish Sandwich
Thirsty Moose: All Day Happy Hour, $1 off draft beer, $1 off house wine, and 25% off all Beer Bites, Wings & Tenders
Wednesday
Mojo's: $5 10" Cheese Pizza (All Day)
Press Room: $3 draughts: (6–9pm)
Rudi's: 1/2 priced Specialty Drinks & $6 App Menu
Rusty Hammer: $1 off all NH drafts
The Shanty: 50-cent Wings
Thirsty Moose: $4 Well Margaritas, $3 Mexican beers, $2 Tacos & $1 Chips and Salsa
Margaritas: 40% off for all in the healthcare industry
Thursday
Mojo's: 39-cent Wings (6–9pm)
Rudi's: $6 American Martinis & $6 App Menu
The Shanty: $5 Chicken Sandwich
Thirsty Moose: ½-priced Pizza (all day long)
Margaritas: Ladies night – $6 margaritas, $3 Budlights & Tecates, 1/2 price appetizers after 5 pm in the  bar & lounge
Friday
Mojo's: $15 All You Can Eat Fish & Chips (6–9pm)
Rudi's: $3 Draft Beer & $6 App Menu
The Shanty: $9.99 All You Can Eat Fish & Chips
We hope you enjoyed this list of where to eat and drink on a budget in Portsmouth, NH. There's a good chance you may see some of us one of these days, hanging out at some these fine dining establishments throughout the week.
Disclaimer: All of the deals featured in this list were taken from the individual Facebook Pages and/or websites of each restaurant and bar. If your restaurant deals are not featured on this list then feel free to drop us a line with your info and we'll gladly add it. If there is an error, we apologize and we'll gladly make the necessary edits. Also, if you need help updating your social media pages and/or website to feature the correct deals, we can help you with that too. Believe it or not, we don't just eat and drink around Portsmouth for a living. We're also pretty good at this thing called inbound marketing, as well as website strategy.
Contact us today to talk—let's do lunch, or breakfast, or dinner, or drinks.