10 Proven, Surefire Tips to Improve Your Local SEO
We all struggle with one very common, unavoidable obstacle – competitors. It's a dog-eat-dog world and as a local business, it's crucial to be the biggest dog in town. Going up against companies that have auto-generated local listings or businesses that have been in the local SEO game for years will be tough to beat.
Another obstacle many local businesses need to problem solve for is Google's ever-evolving list of ranking factors. For small businesses trying to show up locally, Google can completely disrupt your strategy with algorithm updates like the Possum update, which allowed businesses outside city limits to compete for local spots if they service that area.
Now is the time to start focusing on how you're going to move the needle for your business with these 10 local SEO tips.
1. Claim Your Business Listings
Over time, a listing for your business is created and eventually duplicate listings accumulate. It's important to claim all listings under your business name, remove any duplicates and ensure the remaining listings' information is accurate and up-to-date.
Finding all these listings may seem a bit daunting but there are some great tools out there that make the process very simple for anyone. Moz Local is a great tool to use for detecting all the listings associated with your business.
Simply enter your business name – keep in mind that this needs to be written just as it is on your website (this includes capitalizations, abbreviations, etc.) Select your business from the results and Moz will serve you the complete, incomplete, inconsistent and duplicate listings tied to your business.
2. Add Location Pages to Your Website
Search engines are crawling your site and finding the most comparable matches to provide as a result in the search engine results page. By having a specific landing page for each of your business locations, search engines can easily locate your listing and deliver the appropriate location to the searcher.
You should be including suite numbers and deciding if you want street, avenue, road, etc. written in full or abbreviated. How the information is presented on these pages will determine how you will be updating your information everywhere else – so keep this in mind when choosing how to write your location information.
3. Improve NAP Consistency
In order for search engines to serve your business as a result for the searcher, your business name, address and phone number (NAP) need to be consistent everywhere.
You'll need to be pickier than normal here; it's not just a matter of writing your name and address. If your business name includes LLC, Co. or Inc., it needs to be included. Also pay attention to suite numbers, and how street, avenue and road are written. Be consistent. This should be based off the location information displayed on your website.
Much of this consistency can be updated within the Moz Local search tool and improvement process. Your Google My Business listing is a great place to start, which brings us to the next tip.
4. Update All Things Google My Business
Every day, users across the internet rely on your business listings for the correct information. It's extremely important for your SEO that this is easy and quick for the searcher to identify.
By logging into your Google My Business (GMB) account, you can make sure your name, address and phone number are correct. You should also include a brief but informative business description, a link to your website and your hours of operation. Make your listing appealing; your logo should be the avatar/profile picture and you can also update your interior photos, exterior photos and product photos. These should be high-quality images because pixilated, blurry images look sloppy and unprofessional.
If you have more than one location, GMB has a helpful article for bulk uploading that makes updating your information easy and keeps everything organized.
5. Attain Reviews
Reviews are paramount. They are a local pack ranking factor, and they also allow your listing to stand out. If you can entice your satisfied customers to leave a Google a review for you as a thank you for a positive experience, it can go much further than almost any other local SEO tactic.
Not only does the review help you rank better, it also helps your result take up more real estate on the results page. This is a strategy to employ for pages outside of the local pack, by adding schema markups, sub-pages, etc. to increase the real estate your business takes up.
Social proof is another huge benefit to gaining reviews. Searchers see five stars and they immediately know your business is highly recommended by their peers. So, by getting reviews, you're actually tackling three major components of conversion: ranking, clickthough rate (CTR) and conversion rate optimization (CRO).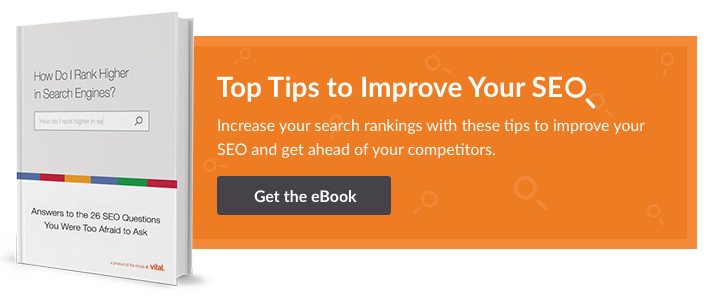 6. Create Local Content
Creating content catered to your niche is going to make an impact on your local search rankings. Download our blog post SEO Checklist to learn more about publishing successful content.
7. Take Advantage of Google AdWords Keyword Planner
This is a great, FREE tool to use when it comes to establishing your local SEO keywords. It'll help you research what keywords have the highest search volume and lowest competition and will also help you find similar terms that your local audience is searching for.
8. Acquire Backlinks from Partners and Sponsorships
Go after the low hanging fruit. Make a list of the businesses and organizations that you are partners with or that you sponsor. This can also include charitable or fundraising events your business has been a part of. Reach out to these points of contact and let them know how you've been involved with them in the past and ask them to include a link to back to your website.
9. Conduct Local Link Building
In addition to acquiring links from partners and sponsorships, it cannot be stressed enough how important link building can be for your business. Optimize your links to the best of your ability by working to establish a relationship with local websites related to your industry. Earning links from websites with a high domain authority in your local area will really pack a punch when it comes to moving the needle.
10. Utilize Social Media Platforms
Social media platforms are free, so it's not breaking news that they can be a great way to stay in front of your audience. Google will crawl and pull search results from your social platforms, such as Facebook profiles and reviews, your business' LinkedIn or YouTube and even your Twitter account and your recent tweets.
Have more questions about tips for local SEO? Live chat us or drop us a line!