How to Write Product Descriptions to Grow Sales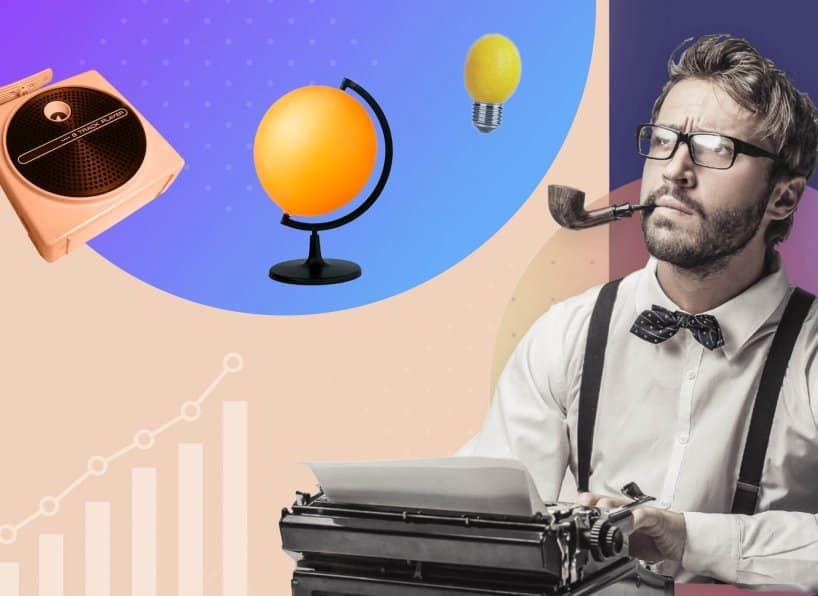 How to (Realistically) Write Product Descriptions to Grow Sales
Want to learn how to write a product description that drives sales?
We've put together this detailed guide to help you. Here, you'll find product description writing tips, best examples, and common mistakes to avoid.
How Important is a Product Description?
An eCommerce product description summarizes the features and uses of a product sold online. The main purpose of a product description is to give potential customers enough information to convince them to make a purchase.
How important are product descriptions to online shoppers? Very. Product descriptions are involved in purchasing decisions for 82 percent of U.S. mobile shoppers. That's too many customers to ignore.
Brilliant product descriptions that compel customers to buy require two things:
Knowledge of what motivates them to buy
Decent writing skills
Customer knowledge helps make the copy engaging and attractive by appealing to their motivating factors. And solid writing skills are a must to keep it brief, organized, and easy to read.
When you combine these two qualities, the result is a simple, short, benefit-packed, and engaging product description like this.
Now, let's find out how to write product descriptions like that.
How to Write a Product Description: 6 Tips
Consider these writing tips to make on-point, customer-focused, and brief product descriptions.
1. Use the 5W Formula
5W is a common formula for writing descriptions that address five important elements: Who, What, Where, When, and Why. Many eCommerce writers use it to create a product description template.
Using the 5W formula, we can follow these writing process steps:
Who is the intended user of this product? If you know your customers, it'll be easier to describe features in the form of benefits they're looking for.
What are the product specifications? These are product details such as features, materials, physical dimensions, etc.
Where would the customer use the product? Is the product intended to be used in a car? Outdoors? At home?
When should your customer use this product? Is it a seasonal product? Give usage instructions to help customers get their money's worth for longer
Why is the product better than those of competitors? This is optional but important information that online sellers often use to point out unique features that differentiate the product from the competition.
The length of each answer depends on the product. Still, remember to keep it brief. Here are the points once again for you to save as a free product description template:
Who is the intended user of this product?
What are the product specifications?
Where would the customer use the product?
When should your customer use this product?
Why is the product better than those of competitors?
Try using no more than two sentences per each point. This way, you'll make reading easier, which gives a better chance to convert customers.
2. Describe Product Benefits
Most customers aren't really interested in product features. What they care about is what the product can do for them.
Let's illustrate with a simple example from Apple's A10 Fusion chip in their iPod Touch. The writer illustrated three specific benefits.
Note that the customer might have no idea what an A10 Fusion chip is. But it doesn't really matter. The point is that it gives an amazing gaming experience:
A10 Fusion chip [feature] = smoother action, greater detail, and realistic video [benefits].
When writing a product description, pick a few major features. Then, ask yourself: How does this feature make the life of my customer better? The answer will help craft an enticing description.
3. Tell a Story
Storytelling works to create a compelling product overview because it attracts attention and helps imagine having the item. A story packs that much-needed emotional punch, which is super important to help guide people to the buying stage.
Highway Robery does it well here for their Impish & Whimsical robe.

This is the brand's unique way of saying "this robe is very warm." By focusing on this specific benefit, this product description example makes it easier for customers to imagine having this robe in their life.
How to write a product description with a story:
Set a scene where the product can provide some fun context (like building a candy house or writing a song about octopus in the example above)
Ditch features; describe how the product should make a customer feel
Use simple, natural language without too many technical details.
Where to begin? Try brainstorming a typical desired scenario where the customer uses your product. It might be the catalyst for the perfect "scene" to create your story.
4. Keep it Short and Sweet
A good product description is concise because customers won't stick around forever to read a long one. One way to keep it short is to use only one sentence for each benefit.
This item description from Chubbies is a great example.
As you can see, they described a single benefit for each major feature. This format helped to turn a description into a concise one that's easy to scan and read.
5. Use Bullet Points for Scannability
By listing product benefits in a bulleted format, you're saving space and making the description scannable. This is a must to make product research easier for customers who are in a hurry.
Marucci shop uses bullets to list features. This product description example shows that it's a great technique for explaining products with complex materials and construction.
To make bullet points scannable, write only one sentence per point. Also, use no more than ten points to avoid making an unnecessarily long list.
6. Add a Customer Review
Many eCommerce sellers use customer reviews instead of an above-the-fold product description. These reviews add credibility and increase customer trust.
Pooch Bandana, a dog clothing boutique, places customer reviews on top of product descriptions so customers see it first.
Keep in mind that customer reviews don't replace product descriptions. The descriptions are essential because they help with eCommerce SEO and customer education. The reviews support the description by giving social proof.
Best Examples of Product Descriptions
Let's see how brands use the six writing tips by checking out more examples of eCommerce product descriptions.
1. Barx Sox – Short, Sweet, Benefit-Focused
This product description example from Barx Sox shows how to make a one-sentence description that focuses on a specific benefit. Other details like materials, dimensions, etc. are reserved for another section.
By using an item description like that, the seller wants to "hook" the attention of customers. If they succeed, the customer will be likely interested in finding out additional details.
2. Oxygen Boutique – Gives Usage Ideas
This next product description example from Oxygen Boutique is a beauty. It's super short – no words are wasted. It has only helpful information and tells the customer possible ways to wear the jacket.

This online seller answers the question: Why should I buy this? Besides, if someone is looking for a jacket to wear "out in the evening," then they'll be more likely to stop and take a closer look.
3. Breville – Get Technical
Sometimes, product descriptions need to include technical details. In these cases, customers might be somewhat knowledgeable, so touching upon some features is perfectly okay.
That's exactly what Breville does in product overview sections. The company sells coffee machines, so there are some slightly more technical features to mention.
Here, the description identifies a few features, but immediately gives an explanation to avoid confusing customers.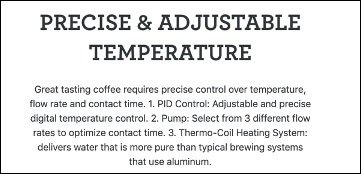 Remember to give explanations for each feature if you must get technical. Keep the language simple, too. Confusing readers is a surefire way to lose sales.
4. Yellow Tail – Scannable & Easy to Read
Headings and subheadings are another way to give eCommerce product descriptions. In this example, Yellow Tail, an Australian wine producer, uses them to keep the text scannable.
The product's name, "Merlot," is bolded to indicate where the customer needs to start reading. "Flavour" and "Enjoy" subheadings provide nice organization to the text.

Note the selection of product qualities – basic characteristics and food pairings. These are the most important things a customer needs to know. No fluff in this product description.
Common Mistakes in Product Description Writing
Watch out for these common mistakes in product descriptions to avoid losing sales.
1. A Lack of Benefits
Feature-focused product descriptions lack appeal for customers, so they're not as engaging as they could be.
This example below mentions where the product was manufactured and mentions the name of the brand two times (hidden for privacy).
The result is a production description with very little value for customers. This text does the opposite of storytelling; the brand has a very low chance of grabbing attention and making customers imagine having the product.
2. "It's All About Us"
This next product description example misses the mark by focusing too much on the company.
It mentions training people to work on all popular social media platforms. However, this is something that a potential customer expects from a company that does social media marketing. So, writing about it wastes space.
Don't just tell your customers about employee training. Instead, talk about the goals you can help them reach.
3. Not "Selling" the Product
The fact that someone reads a product description doesn't mean they're considering a purchase. To make them pull the trigger, you need to be convincing.
This product description lacks "sales pitch." Although the text has useful product details, it's largely unappealing.
Product Description Writing: Final Thoughts
Product descriptions make sales because customers need them. To make your descriptions help you sell, follow the tips in this guide – they make writing clear, customer-focused, and compelling.
But don't stop there! Make your eCommerce store even better with stunning product photography. The imagery is just as important as descriptions, so making proper investments in both is something that successful online stores should strive to prioritize.