Top 12 Things to Do in Portsmouth, NH…
Portsmouth may be the greatest. Some even say it may be perfect. But there's always room for improvement, right? If you were looking for a list of things to do in Portsmouth then you've come to the wrong place, because this is actually a list of things to do in Portsmouth…if we had our way.
Our little city by the Piscataqua River is blessed with an abundance of arts, recreational and cultural attractions to enliven the days and evenings of locals and visitors alike. Here are just a few of the fun things to do in Portsmouth, NH:
Walking by the river and passing the time in Prescott Park or nearby Strawbery Banke are among the most family-friendly attractions in Portsmouth. Simply spend one day in this historic city and you could find yourself seeing the sights on a rented scooter, sailing on the Gundalow or even setting foot inside a submarine.
Downtown is teeming with destination dining options and an incredible array of shops and boutiques. The arts are alive and thriving at multiple theaters, galleries and venues — including such local treasures as 3S Artspace, Seacoast Repertory Theatre and The Music Hall.
But wait there's more:
A water park, bowling lanes, an indoor trampoline park
Kayaking opportunities, a Tai Chi club, summertime yoga by the river
Smoothie shops, beauty parlors and fine facilities for physical fitness
Historic homes to tour and a cool city pool on a scenic island
Summertime music, movies and spectacular gardens in the riverfront park
Oh yeah, we've got plenty of places to stay in case you need someplace to rest up for your next round of recreation.
And it doesn't matter what time of year you visit, because there's always something going on in Portsmouth. Events like Market Square Day, First Night and the New Hampshire Film Festival draw thousands upon thousands of visitors, and the slate of special events grows longer each year. In October, the city even hosts one of the most spirited Halloween parades this side of Transylvania.
Portsmouth is forever popping up on travel industry lists of America's "prettiest cities" and "most romantic towns." A Chicago Tribune travel writer even proclaimed it practically perfect. National Geographic has even begged the question: "Is Portsmouth the U.S.A.'s Greatest Small Town?
We recently put our creative minds together at Vital to come up with a few ideas we feel could make Portsmouth an even better place to live, work or visit. Consider the following simply a wish list of sorts — inspired by our collective travels elsewhere and the overall yearning for more, more and more.
A Legit Donut Shop — Right off the bat, there needs to be more donuts in Portsmouth. Portland, Maine, has The Holy Donut and Portland, Oregon, has VooDoo Doughnut. We're not necessarily lacking in the pastry department, but a gourmet donut shop would be just great.
A Barcade — Picture Dave & Buster's, but on a way smaller and cooler scale. Envision playing awesome old-school arcade games like The Simpsons or Teenage Mutant Ninja Turtles, and maybe some skeeball. Then imagine washing it all down with some beer and delicious food. This also already exists in Portland, Maine. Portsmouth needs it too.
A Beer Garden — We've had our taste and we want more … beer gardens. Remember The Station? It was a fun, outdoor establishment run by the nice folks at Street. It was kind of like a beer garden. Now of course we're fortunate that we have the decks and various other outdoor options, but there is no true beer garden in Portsmouth. Prost!
Bike Sharing Programs — As progressive as Portsmouth may be when it comes to public transportation, there's definitely room for improvements here and there. One such upgrade would be a bicycle sharing program; these services exist all over the world and are apparently continuing to grow in popularity. For a fun historic twist: Some of the bikes could be old-fashioned high-wheelers, perfect for rolling through town in one of Portsmouth's vintage-themed Tweed Rides.
Shuffleboard Courts — Inspired by a colleague's recent trip to Brooklyn, a nice relaxing game of shuffleboard is fun for all ages. The miniature shuffleboard game at the Portsmouth Brewery is great and all, but check out this place. Interested business parties should inquire with No. 2 on this list for possible partnership opportunities.
A New Restaurant — OK, now that we're at the epicenter of a full-on "food revolution," you might say the last thing Portsmouth needs is another place to eat. It's true, we're blessed. But just think of the international cuisine not represented on the local list of culinary hot spots — Morocco, Norway and Peru just to name a few. No place to go if you're craving some Quiche Ukraine, a toasted Tunisia Melt or a slice of Yemen Meringue Pie. Are you getting Hungary? What kind of restaurant would you like to see open for business in Portsmouth?
More Food Trucks — With his distinctive pink dessert distribution vehicle, Clyde's Cupcakes is a welcome sight for sweet-toothed tourists and locals alike. Considering Portsmouth's newfound status as a foodie mecca, we bet there'd be plenty of appetite for a fleet of food trucks. The possibilities are endless: Hungry for a quick bite? Belly up to the Bacon Buggy or keep it healthy at the Veggie Van.
Downtown Grocery Store — Ever since the old A&P packed it in back in 19-something-or-other, downtown Portsmouth has lacked a place to load up your shopping cart with bacon and eggs, Pop-Tarts and Campbell's Soup, and other staples and sundries. Yes, we have an excellent downtown health food store plus a Hannaford's in the up-and-coming West End, but the prospect of a Whole Foods grocery proposed for Deer and Russell streets appears promising.
Direct Flights to Convenient Destinations — The 1991 closure of Pease Air Force Base sparked fears that Pease would become an annoying "Logan North," jamming local streets with airport traffic. This gave way to hopes that a modest-sized passenger airport would one day take wing. Though regional carriers have come and gone (Allegiant currently offers flights to Florida), the ETA on more passenger flights at Pease is uncertain. In related news: Business is booming at the Pease International Tradeport!
Rooftop Dining/Bars— If you're lucky enough to have ever visited the One Hundred Club for dinner and/or drinks then you know just how beautiful the views can be from its wraparound rooftop deck. Plain and simple: Portsmouth needs more of this. There's certainly no shortage of rooftops, so perhaps some building owners can get creative and construct some more places to perch and take in the picturesque cityscape from high above.
Riverboat Gambling – Gasp! A Mark Twain-style steamboat casino on the mighty Miss Piscataqua? Why, the very thought of riverboat gambling would surely cause some to twirl their parasols in umbrage. But we're willing to bet it would also be a good deal of fun.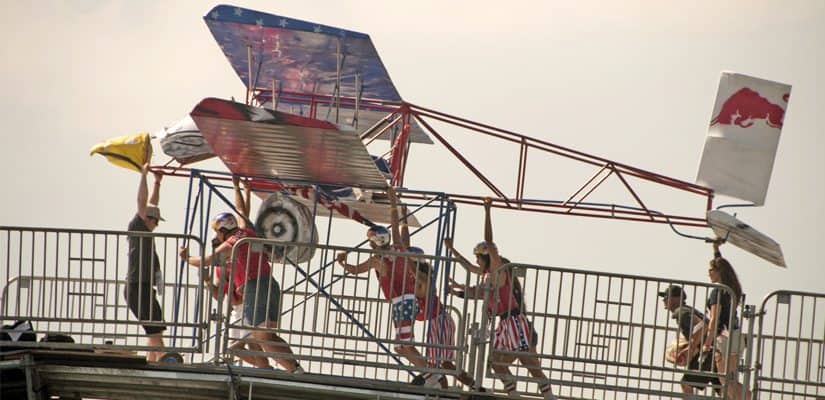 A Red Bull Extreme Event – Piggybacking on the success of its Cliff Diving World Series and its famous Flugtag flying machine challenge, perhaps Red Bull would host a high-energy extravaganza that is uniquely Portsmouth (say a Supercharged Lobster Boat Marathon or the first-ever Nuclear Submarine Drag Races).
And last but not least, the city could stand to benefit from a Suggestion Box of sorts. This would be an excellent way to keep the creative suggestions flowing year round. The Box – we're thinking something with a historical-nautical theme – would be prominently displayed at City Hall, perhaps with satellite suggestion boxes at key downtown locations. For best results, local school classrooms should be invited to spearhead the project; such "next generation" leadership will be crucial since the focus will be on sharing ideas to make Portsmouth's future just a little bit nicer.
When and if some of our ideas have peaked your entrepreneurial interest, be sure to reach out and we'd be happy to assist you in building a website or handling any and all of your inbound marketing needs.
What else does Portsmouth need? A New Hampshire to Maine zipline? A riverfront park with a ferris wheel and rollercoaster? The Running of the Lobsters (like in Pamplona, Spain, but with giant costumed crustaceans chasing participants from Market Square straight into the Piscataqua)?
Now it's your turn. What else do we need in Portsmouth? Let's continue the brainstorming session. Pop your ideas (fun, serious or anywhere in between) into the comments section, find us on Facebook or Twitter, or just drop us a line. Meanwhile, have a wonderful day in Portsmouth!