Vital Builds eCommerce Website for Luxury Wood Flooring Manufacturer – Carlisle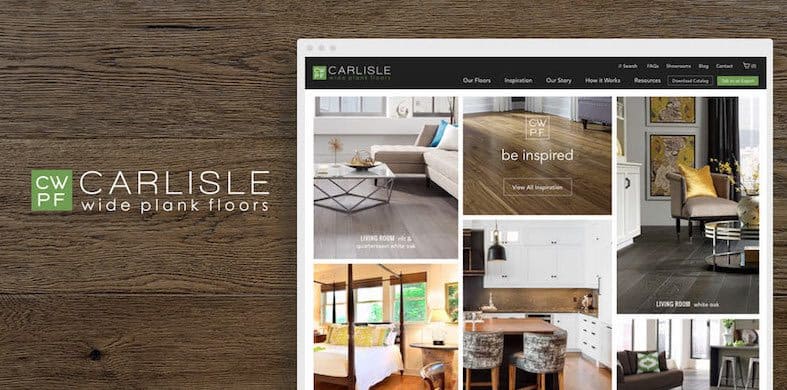 This week, Vital launched the official new eCommerce website of luxury wood flooring manufacturer Carlisle Wide Plank Floors — www.wideplankflooring.com.
The new website marries the eCommerce engine, Magento Community Edition, with the digital marketing CMS, WordPress, and was made possible through a collaboration between Vital's Digital Marketing and Creative Services Magento Development teams.
Carlisle's launch comes just days after launching a website for the world-renowned ski resort Montage Deer Valley. The freshly-launched site includes a custom integration with HubSpot's digital marketing suite and Carlisle's custom-coded proprietary CMS — features that allow Carlisle unparalleled insight into its customer base and the ability to perform a variety of digital marketing activities specifically for B2B manufacturers.
Because Carlisle sells the flooring it manufactures direct to the consumer, the Magento integration was selected based off its cart functionality — a feature that allows consumers to place sample orders, but also enables company leadership to incorporate eCommerce across all of their product lines in the future.

Having helped quarterback the eCommerce website project, Project Manager Kelly McManus said the reason the site build was unique is that Carlisle was already enrolled in a Digital Marketing Retainer, and therefore the build needed to follow all of the best practices of Vital's inbound marketing methodology.
"Everything we did had to be up to best practices," said McManus. "We had a lot of people involved in this project."
An eCommerce Website Built for Inbound Marketing
Director of Digital Marketing Chris Getman said the key to the website build was continuing to actively perform the inbound marketing methodology designed for Carlisle's existing website, and then use what was learned as part of the retainer to drive development and design of their new website.
"All along the way the inbound team was consulted about best practices and conversion opportunities," he said, adding that his team ran multiple A/B tests on pages throughout the current site to ensure the new site was up to par.
In addition to driving home best practices, Getman said Vital's Digital Marketing team also worked to ensure the site featured new and actionable content — such as an eBook, case studies and new blog content.
"We wanted to make sure the new site launched with a host of new assets," he said.
Other unique content assets of the new Carlisle site include:
An In The News section featuring Carlisle and its role in the interior design community for both residential and commercial projects.
Multiple case studies highlighting the work Carlisle does throughout the Interior Design industry.
A robust Resource Center which is essential for inbound marketing success.
A Refined Design Process Driven By Luxury
As the sole designer on the project, Art Director Ali Baxter said one of the biggest challenges of the build was communicating the fact that Carlisle has multiple flooring collections, but also that each flooring product that is crafted is one of a kind and can be fully customized. The following carefully designed page helps achieve that:
Another challenge, according to Baxter, involved telling the Carlisle story — which features a long history of passion, pride and purpose, not to mention a love for quality craftsmanship.
Other unique design attributes of the new Carlisle site include:
A MegaNav that allows for quick filtering of the collections and inspiration gallery.
Multiple browsing options for Carlisle collections and products.
An Inspiration Gallery designed and built as a tool to inspire clients and promote their custom flooring services. Users can save any inspiration they find in their own gallery and then share it with themselves or others.
Creating an Industry-Leading Manufacturing Website
Vital Co-Founder and Managing Partner Zac Gregg said the site's design and functionality sets the bar for manufacturing websites.
"Carlisle is a company of craftsman that sell direct, which is unique, so they needed a unique solution. This website build is a testament to the teamwork and collaboration Vital has instilled in its processes over the years," he said. "Everybody had input on this site — most importantly the client. It's this kind of communication that drives successful website projects."
With offices in Boston, MA, San Francisco, CA and Portsmouth, NH, Vital is a full-service, full-stack (front-end to back-end) agency combining cutting edge design and user experience with digital marketing expertise. Having recently won back-to-back "Web Awards" for "Best Website" in 2015 and again in 2016, we work with clients from around the world in almost every industry from Reebok, Lindt and "Chicken of the Sea" to Hitachi, Rakuten, and Montage Resorts.