Modern Design's Influence on one of the World's Oldest Team Sports
Crisp fall nights loom on the horizon as we wind down the dog days of August. This time of year means football, for many. Of course, geography plays a large part in determining which brand of football. Being part of the growing contingent of football fans in the states that follows the European version – the one played with feet – I'd like to examine the influence of modern design on the rebranding of football clubs in Europe. You can think of them as soccer clubs if you'd like, I can assure you no one in this group will mock you publicly.
ARSENAL FC
We start with the rebrand of the club I have a firsthand knowledge and love for: Arsenal FC. I remember when the new crest debuted. You might have thought someone dropped a bomb on the stadium and sold all the players, according to some in the blogosphere who saw this as a clear abomination and betrayal of the club's history and heritage. Given time, however, people get over their disdain for change and embrace a new look. Minimizing design isn't always the answer, but it has been a successful trend in modern updates of brands from corporate to sport, and here I feel it works quite well. The previous crest was far too ornate, and busy. The update displays a modern font and a simplified eastern facing cannon that signifies a commitment to progressively moving forward. All told, a resounding success as far as this designer is concerned. Of course I teeter on the brink of bias, but I digress. A-
BOLTON WANDERERS FC
Moving on To Bolton, a truly detestable side with a moderately detestable crest. This upgrade is subtle and preserves their previous typography adding little whispy streamers instead of the stately ribbon of the previous effort. This upgrade isn't particularly bad as it's understated enough, I'm simply not a fan of the logo to begin with. And anything that evokes the memory of Will Ferrell's floor dance performance in "Old School" can't be a good representation for any club looking to establish their identity. D+
BORUSSIA DORTMUND
Let's jump countries on our European tour over to Germany to check on Borussia's update to their classic BVB crest. Punching up the yellow really leaves an impression. The typography has been updated nicely to make the crest symmetrical and sophisticated. It's simple but memorable. A
TOTTENHAM HOTSPUR FC
Being an Arsenal supporter, Tottenham falls under the category of nemesis. The clubs are separated in North London by four miles and a wealth of good fortune. That said, as much as it pains me to say so, the update of the club's crest is a fantastic improvement. The simplification of the "cockerel," (their birds not mine) came off perfectly. They dumped the lions and Latin and inserted a retro football in the place of the club's initials. I think the color, lines, and look of this update to the crest are nearly flawless leaving you with a simple and sophisticated improvement. For that they receive high marks. A+
PARIS ST. GERMAIN FC
Onto France where we take a look at the updates in Paris. PSG did a nice job cleaning up what was otherwise a little murky. The black strokes on the old logo were harsh, and the typography appears messy jetting off the icon as it does. The upgrade addresses these issues nicely, even if the baby crib under the Eiffel Tower is a little curious. B-
AJAX FC
The Dutch national team has one of the coolest brands of all time in the lion's head. I liked it so much I placed it on the Vital team jerseys for our Tuesday night league. This fondness does not carry across the board in Holland as Amsterdam's Ajax (eye-axe to those of you confusing it with a cleaning product) upgrade has left me a little conflicted. On the one hand I love the type update, as well as the red border, but I can't help thinking the update to the Greek Warrior Ajax's face took simplicity to the precipice and beyond. If we were to agree that the original version was far too detailed to reproduce across multiple forms of media would we then agree that using a fat magic marker to do a quick trace would not be the answer to simplifying the image? I think so. In writing this I've learned that supporters have been campaigning to ditch the new crest since its inception in the '90s due to it being too cold and business like. A campaign that has fallen on deaf ears. Proof positive that you can oversimplify your brand and agitate your target audience. C-
Moving away from the per club breakdown of club crests, I'd like to now move swiftly onto my "FILE UNDER" segment where we take some successful, some not so successful, some legendary and some downright bizarre examples of rebranding from around European football leagues and file them under their appropriate categories.
FILE UNDER "PROGRESS":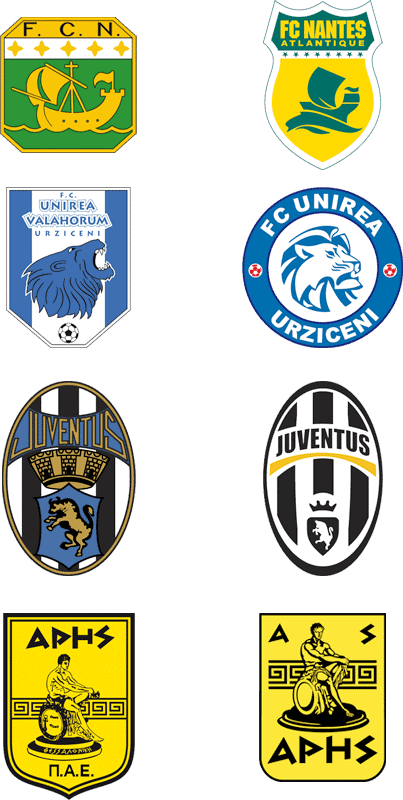 FILE UNDER "STROBE-TASTIC":
FILE UNDER "MUTANT RABBIES CAT":
FILE UNDER "FINE WINE AND BIOHAZARD":
FILE UNDER "LAW SUIT":
FILE UNDER "INEXPLICABLE":
FILE UNDER "УРОДСКО!":
FILE UNDER "Vive Le Résistance!":
FILE UNDER "YOU AIN'T GO-'N' NOWHERE":
FILE UNDER "LEGENDARY":