The Secret to Improving PPC ROI
If you want to bring in leads, pay-per-click (PPC) is not a tool to leave behind. PPC is one of the many tactics we use here at Vital, and recommend to all our clients. Why?
PPC visitors are 50% more likely to purchase something than organic visitors, according to Unbounce. Search ads can increase brand awareness by 80% as reported by Google. And businesses make an average of $2 in income for every $1 they spend in AdWords.
I could go on with the stats, but you get the point. PPC is powerful.
To get the most out of your PPC ads, you need to have a high-quality score, which will, in turn, give you a better ROI. One often overlooked tactic to help improve your quality score is the sometimes annoying, yet surprisingly effective, exit overlay. An exit overlay is a type of pop-up that is a popular conversion rate optimization tool. In addition to helping you improve conversion rates, exit overlays can help drive your cost per lead down and your ROI up.
A Quick Quality Score Refresher
If you have been using PPC ads for some time now, you already understand the importance of quality score. But if you are new to the PPC world, you'll need to familiarize yourself with the quality score concept. Quality score is important because it determines how much you will pay per ad and where your ad will show up on the page.
Quality score is determined by several factors:
Click-through-rate
Bounce rate
Time spent on site
Keyword relevance to its ad group
Landing page quality and its relevance to the keyword
Ad text relevance
Your historical AdWords performance
The higher your quality score, the less you'll pay per ad, and the higher your ROI will be. As WordStream explained, your quality score is like your credit score. The higher your credit score, the less interest you pay and the more money you keep in your pocket.
Improving Quality Score with Exit Overlays
Overlays, when done right, can help you pump up your quality score by decreasing bounce rates and increasing time spent on page (assuming a visitor engages with the overlay). At Vital, we use OptinMonster and only trigger overlays upon exit, meaning that they will only pop up once a user moves their mouse to the search bar (away from the site, signaling exit intent). This feels less disruptive than timed overlays and less abrupt than overlays that pop up immediately upon your arrival to a page.
Using exit overlays on our clients' sites has proven to be a successful tactic in converting organic traffic, which got us thinking: how might exit overlays perform with paid traffic? Because if exit overlays could help us improve conversion rates on our PPC landing pages, we could easily improve the ROI of all our PPC campaigns.
To answer this question, we looked at client data across four accounts, over a three-month period to see if exit overlays were having any impact on our PPC campaigns. Here's what we found:
Client A:
16 conversions attributed to PPC
48.48% increase in conversions
Conversion rate increased from 2.28% to 4.42%
Client B:
17 conversions attributed to PPC
5.63% increase in conversions
Conversion rate increased from 20.2% to 21.4% 
Client C:
5 conversions attributed to PPC
4.31% increase in conversions
Conversion rate increased from 8.9% to 9.29%
Client D:
83 conversions attributed to PPC
26% increase in conversions
Conversion rate increased from 1.97% to 2.5%
While these numbers didn't shatter any ceilings, they certainly told us something: that PPC page exit overlays were helping our clients convert more visitors and lower their costs.
Here are a few examples of exit overlays that have performed well for us on PPC landing pages.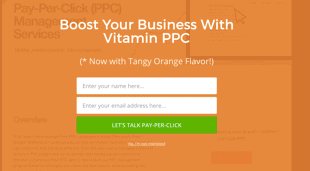 Exit Overlays Save Money on Retargeting
Another benefit of using exit overlays to convert visitors is the money you save in retargeting efforts. Retargeting lets you show off-site ads (meaning ads on websites other than yours) to visitors who have previously visited your site.
The problem is that, just like PPC, you have to pay every time that visitor comes back to your site via an ad. By using exit overlays on the initial PPC landing page, you can increase the chances that your visitors convert without ever having to spend a dime on a retargeting campaign. 
When pop-ups are done right, they can be tremendously effective in helping you not only improve your PPC campaigns but also grow your email list, promote a product/service or increase sales. The thing is, as annoying as pop-ups can be, when used right, they work… once in a while. And as a marketer, I'll take once in a while, because once in a while could add up to a 50% increase in conversions and a drastic jump in PPC ROI.
Want to chat further about PPC? Give us a shout.