Vital Named Among Best Workplaces of 2017
Vital has been named one of Inc. magazine's Best Workplaces for 2017. As a first-time recipient of an Inc. Best Workplaces award, our growing digital marketing agency joins 233 other companies throughout the country recognized for having innovative workplace philosophies, exceptional benefits and unique employee perks.
This year's competition, which drew over 1,600 applications from companies large and small, involved an in-depth assessment of Vital's employee engagement and people practices. Not only was Vital the only New Hampshire-based company included in this year's list, but it was also one of only 43 other Advertising & Marketing companies selected.
The selection process involved full-time employees based out of our Portsmouth, NH headquarters taking a 30-question survey focused on issues related to career development, communication, trust in leadership, team dynamics and individual needs. Owners, contractors and other employees working out of our Boston and San Francisco offices were not able to take part.
According to the results, Vital earned an overall score of 94 out of a 100. Other details featured in the final report included:
98% of employees surveyed reported feeling "engaged" in the workplace.
81% of male employees and 89% female employees reported seeing professional growth and career development opportunities.
The word that best describes the Vital workplace: Fun.
In addition to answering questions using a six-point scale ranging from Strongly Agree to Strongly Disagree, Vital employees were also asked to explain further why they gave a particular score. The following are a few quotes  Inc. magazine included in our final overview report:
"Vital is a place that genuinely cares about its people. I was skeptical of many of the benefits when I accepted the offer to join our team (wondering how it was possible to have unlimited time off, whether a chef really came to our office twice a week, whether it was really acceptable to drop everything to go to the gym on lunch break). Vital has consistently surpassed my expectations. I feel respected by clients, employees, and management alike."

"I am consistently amazed by the work my organization and my co-workers complete every day. I am surrounded by a supportive, motivated team who are all passionate about what they do and willing to help everyone achieve success. Vital truly values individual employees, and the team as whole, which is demonstrated through the amazing benefits offered as well as the transparency with which this organization is run. I know every day I come to work I will be challenged, inspired, and encouraged to push my own boundaries. For these reasons (and many more) I would rate this organization a 10/10 and am not shy about bragging about my company to family and friends!"
Vital Co-Founder Zac Gregg said he was impressed with just how stringent the process was to even be considered for an award.
"This wasn't one of those awards you pay money for and a trophy arrives in the mail a few weeks later. It was a total shot in the dark," said Gregg. "The vetting process was about as legit as they come."
Having invested heavily over the years into the benefits and perks recognized by the award, Gregg said seeing the results of the report and getting a sample of what people were saying was incredibly validating.
"This means we are doing as good of a job as we thought we were about caring about our own culture and creating a workplace where people are happy to come to work," he said. "The answers to these survey questions really helped validate that we are headed in the right direction here."
An example of some of the perks that helped Vital earn the recognition include:
Gym Days w/ Personal Trainer
Catered Lunch
Vital Co-Founder and Director of Brand Strategy Julia Ahumada said not only has the agency invested in its own culture over the years, but company leadership has strived to create a foundation where that culture is allowed to evolve. One of the ways Vital has done this was through the creation of a Fun Committee that ensures all the perks and benefits listed on the website are real and not just lip service.
"At the core it's important to us that Vital employees know they are appreciated,"said Ahumada. "We weather storms together — it's important to know we have each other's backs."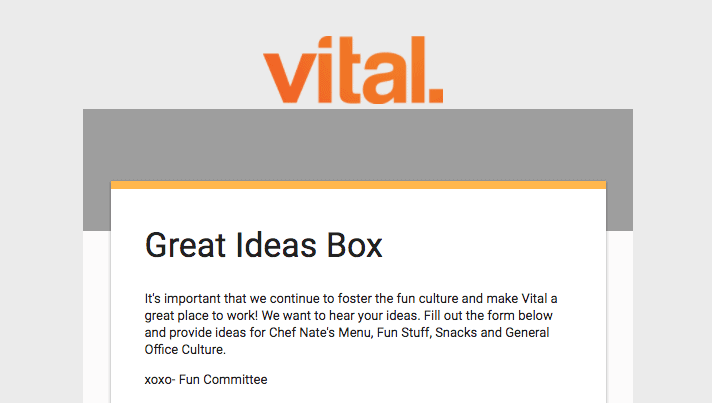 As one of the leaders of the Fun Committee, Director of Accounts Lauren Formalarie said she and her fellow committee members strive to make everyone feel happy and welcome while at work — no matter if it's recognizing each employee on their work anniversary with balloons, getting employees presents on their birthdays or throwing baby showers for expectant mothers and fathers-to-be.
The Fun Committee also actively seeks feedback from employees about what they like and don't like through a digital suggestion box, said Formalarie.
"The best part about Vital is that people are actually happy to work here," said Formalarie. "Yes, it is a job and yes you have to shower and get dressed, but the people that work here enjoy coming to work because they are surrounded by smart, creative and ambitious people who genuinely care about the culture."
And a special shoutout to Vital client, Globalization Partners, for making Inc magazine's top 50 list of Best Places to Work!