Vital Wins 11 WebAwards for Client Web Design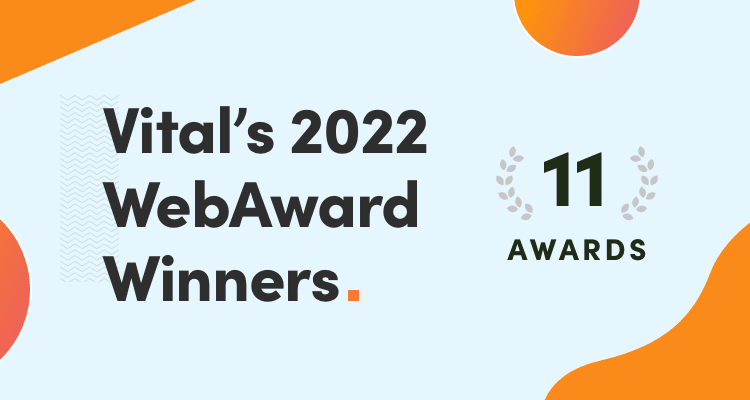 As a full-service digital marketing agency with roots in website design, we love it when we work with clients to create what we call "beautiful sites that work." This year has been one of our best and busiest yet, with the chance to build gorgeous, easy-to-use, and highly-functional sites for both new and long-standing clients. We are delighted to announce that 11 of those sites have been honored by the 2022 WebAwards.
About the WebAwards
The WebAwards is an annual competition put on by the Web Marketing Association to recognize excellence in website design. A panel of expert judges evaluates sites in 97 industry categories.
Within each industry, the highest-scoring site receives the Best Website award. A few elite sites that score in the top tier are named Outstanding Website, and additional high-ranking sites receive the Standard of Excellence WebAward.
Vital's 2022 WebAward Winners
In 2022, a total of 11 of Vital's client websites won WebAwards. Here's the breakdown:
2022 WebAward Best Website
TWI Institute: Best Website in Consulting
2022 WebAward Outstanding Website
The Element Group: Outstanding Website
Madison Park Group: Outstanding Website
MediSync: Outstanding Website
Redzone: Outstanding Website
Plus, two more Outstanding Website awards for clients who prefer to keep a low profile.
2022 WebAward Standard of Excellence
PathAI: Biotechnology Standard of Excellence, Technology Standard of Excellence
Gallagher Callahan & Gartrell: Legal Standard of Excellence
SmartLab Learning: Education Standard of Excellence
University of San Diego Online: University Standard of Excellence
The Award Winners
TWI Institute.
TWI Institute is a consulting group that helps organizations improve their skills, culture, and leadership through a variety of methods. They needed a new site built for flexibility and scalability, so we created a WordPress website that makes it easy for their audience to find the information they need and take actionable steps to get started.
The Element Group.
The Element Group is dedicated to helping banks and credit unions stand out through design-build services, remodels, and digital transformations. We built a site that acts as a showcase for their capabilities, all while engaging their audience and bringing their unique services to life through visual storytelling.
Madison Park Group.
Madison Park Group helps guide businesses through mergers and acquisitions and strategic capital advisory transactions. Their website wasn't doing a great job of generating leads, so we helped them out with a rebuild that more fully communicates their capabilities, validates their solutions, and guides users to low-friction forms for lead-generation.
Medisync.
Medisync is out to transform the way primary care and multi-specialty practices provide care through training and AI technology. They were outgrowing their hands-on sales approach and needed a website that could effectively communicate their unique offerings and ultimately generate qualified leads.
Redzone.
Redzone is the number one workforce management software for manufacturers across a wide variety of industries. They had the numbers to prove their value, so we built them a website that puts validation front and center, inspiring confidence and trust in their audience.
PathAI.
PathAI is dedicated to improving patient outcomes through AI-powered pathology research, clinical development, and diagnostics. We worked with them to design and build a website that makes it easy for their audience to understand and engage with their offerings.
Gallagher, Callahan & Gartrell.
The law firm Gallagher, Callahan & Gartrell has the track record and local New Hampshire roots to be recognized as one of the best of the best. They knew their website needed to reflect their status, so we helped them modernize their look and feel while simplifying the user experience so potential clients can easily find all the information they need.
SmartLab Learning.
SmartLab Learning Solutions engage students from kindergarten through high school with STEAM-based programs and products. We built them a website that is as colorful and engaging as the brand, with easy-to-follow paths of engagement for their diverse audience of parents, teachers, administrators, and more.
University of San Diego Online.
With online learning becoming more and more attractive to today's higher education students, University of San Diego Online needed a website that could keep up. As a longstanding digital marketing partner, we were uniquely positioned to understand their needs and execute with fresh branding, new functionality, and a website that makes it easy for them to scale as they add new programs.
Want More?
Browse more of Vital's work here.