Recruitment Marketing for the Digital Age: A Definitive Guide
You might've noticed that those of us at Vital are more than a little obsessed with inbound marketing — and what's not to love? Inbound marketing is dynamic, engaging, imaginative, fun as hell and — as if that wasn't enough — it actually gets results. If you don't believe me, might I direct you to any one of our blog posts on what makes inbound marketing so awesome?
What if I told you that you could apply some of the core concepts of inbound marketing to your company's recruitment strategy?
That's the idea behind digital recruitment marketing.
What is Digital Recruitment Marketing?
I'll get to that in just a minute; first, let's do a quick refresh of what recruitment marketing is and how it works. Even if you're already familiar with the concept, it gives us a helpful place to start.
Recruitment marketing is an essential part of the strategy recruiters use to identify and attract talented individuals to join their company. Recruitment marketing encompasses the first three stages of the talent acquisition funnel: Awareness, Consideration and Interest.
During these three stages a recruiter will:
Leverage branding and relevant messaging to bring their company to the attention of qualified candidates;
Engage with candidates and make a compelling case as to what they'll gain from applying, such as competitive benefits, a healthy work-life balance, paid time off and so on;
Help prospects envision how they'll fit in the company.
Digital recruitment marketing is, for all intents and purposes, the same thing as recruitment marketing, with one key distinction: Rather than use traditional methods of recruitment, such as posting vacancies in newspapers or employment offices, temp agencies and internal hiring, digital recruitment marketing uses social media and related inbound marketing strategies to help top talent discover your company by drawing them to your website. For this reason, digital recruitment is sometimes referred to as social recruitment.
Let's take another look at the first three stages of the acquisition funnel, this time from the perspective of someone putting together a digital recruitment strategy:
Leverage branding and deliver relevant messaging in the form of thought leadership and client success stories on their company website to bring their company to qualified candidates' attention;
Engage with candidates on professional networking sites such as LinkedIn and create exciting content to make a compelling case as to what they'll gain from applying, such as competitive benefits, a healthy work-life balance, paid time off and so on;
Help prospects envision how they'll fit in by posting fun photos and videos from around the office and from company events on social media platforms like Facebook, Twitter and Instagram to illustrate company culture.
This is just a basic example of how to apply digital recruiting trends to your company's recruiting process, but it's a good demonstration of just how easily it can be done. By the end of this blog, you'll have the tools to create your own comprehensive digital recruitment marketing strategy.
#RecruitmentGoals
The first step to developing a truly effective recruitment marketing strategy is to establish recruitment goals and metrics against which you can gauge your success.
The best — or should I say, the smartest — way to do that is to start SMART. First introduced in an article written by George T. Doran for the November 1981 issue of Management Review, SMART is an acronym intended to help business leaders set meaningful objectives. Although SMART was created with corporate officers, managers and supervisors in mind, it's flexible enough to apply to any department at any level of business.
Now that you have a general idea of what SMART is, let's talk about how to apply it in a recruitment setting.
First, think about what goals you hope to achieve. Do you want to recruit a specific number of new employees by a certain point in time? Are you trying to attract a certain caliber of prospect and, if so, what qualifications are you looking for? Do you want to create a system to ensure that new hires are properly placed to reduce the turnover rate?
Each of these are a strong example of the type of recruitment goal setting you need to do because they combine the Specificity, Measurability and Time-related pieces of SMART. Back in grade school, did you ever have to diagram sentences? (If you're as much of a grammar and writing nerd as I am, you probably think back on those days fondly!) If so, you can think of your goal as a rudimentary sentence diagram — you can more easily understand the structure of the goal by breaking it into pieces, similar to how you would separate the subject, verb and object in a simple diagram.
Let's apply this logic to the first example provided, but let's make it a little more targeted by saying you want to hire 10 new employees by the end of the quarter. In this example, the Specific area you're targeting for improvement is hiring (which is, admittedly, the entire point of recruitment, but bear with me). The number of employees you want to hire (10) is a specific, Measurable quantity and the objective of meeting that goal by the end of the quarter provides a definitive Timeline.
We'll talk about the next piece of SMART — Assignable — in the next section of this blog, so we'll skip over that for now. All that's left is Realistic — whether your goal is realistic is entirely context-dependent. If you're a small business owner with 10 employees and a one-man recruiting team, doubling the size of your staff by the end of the quarter probably isn't realistically achievable, but for an enterprise, 10 new hires might be an exceedingly low number. Long story short, when it comes to the Realistic piece of SMART, your mileage may vary.
OK, But Who's in Charge?
Up till this point, I'm afraid I've made it sound as though your recruiters are solely responsible for digital recruitment. Reader, it's time that I admit I haven't been entirely forthcoming with you: While your recruiting team will certainly play an essential role in developing your company's digital recruitment marketing strategy, effective digital recruitment is a team effort. That means multiple departments — including marketing, recruiting, talent acquisition and branding — should all be involved in the digital recruitment process.
Pro Tip: Employee referral programs are a great way to get everyone (and I mean everyone) involved in the recruiting process — employee referrals account for 40 percent of all hires. Other benefits of employee referral programs include a shorter recruiting process, greater job satisfaction and lower turnover rates.
The Digital Recruitment Marketing Formula
Here at Vital, we've spent years developing something of a formula for digital recruitment marketing. It's paid off for us in dividends, and for our clients, too. Let's look at the key components of that formula.
Define Your Social Brand
It's 2019 — if you haven't already defined your business' social brand persona, you're living in the Mesozoic Era.
All teasing aside, social brands and brand personas are a fun and exciting way to tell the world — especially prospective job applicants — who you are and what you're all about. Play your cards right, and your social brand could even become an online sensation, like Denny's funny and irreverent Twitter page. Each social brand should be distinct in order to differentiate itself from the competition. For example, Vital's social brand is colorful and vivacious, while still being informative; by comparison, Blue Water Mortgage Corporation, one of our clients, is familiar and friendly.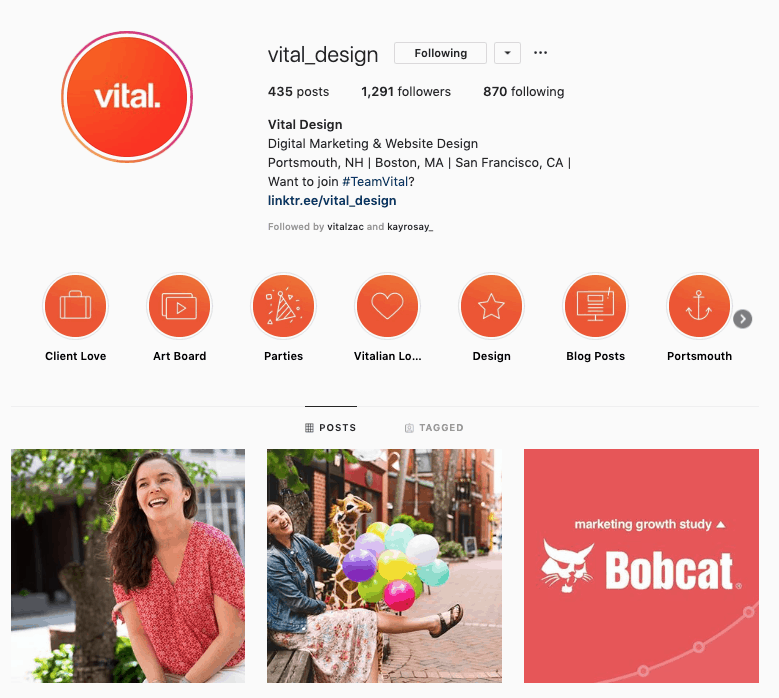 If you're struggling to figure out your social branding, good news: We wrote an entire blog about it!
Recruit Through Social Channels
Once you've defined your business' social brand, you're ready to take your recruitment efforts to social media. Paid social advertising campaigns on platforms like Facebook, LinkedIn and Instagram are a powerful way to reach candidates on their favorites social media sites, as well as ensure that they actually see your ads. Another way to leverage social channels for digital recruitment is to have your recruiters actively participate in groups on sites like Reddit or send direct messages on LinkedIn to talk to candidates in your field and find out what they're looking for in an ideal job.
Speaking of LinkedIn, you'll want to make sure your company page is fully optimized. That means your profile image and banner should be aesthetically pleasing, your "About" section should be compelling and informative, and so on to make a strong first impression on would-be employees. Need some help bringing your LinkedIn profile up to date? Check out Vital's optimization checklist.
Know Your Target Audience
Knowing your target audience is necessary to any aspect of content marketing, and for good reason: Your target audience is the group of people most likely to be interested in — and to invest in — the product or service you offer. By defining your target audience, you can ensure that your campaigns reach the right people in the right place at the right time, thereby increasing your chances of making a sale or closing a deal.
This practice is especially relevant to digital recruitment marketing. Putting out generic messaging about open job listings across all of your company's social platforms is bound to attract applications that lack the necessary qualifications for the position. To separate the wheat from the chaff, you need to start by clearly defining your expectations. What are the requirements of the position? What skills should a truly qualified candidate possess? What kind of person would fit seamlessly into your company's culture?
Once you have the ideal candidate in mind — this is your target audience — the next step is to figure out where that person spends their time online, and which sites they'd be most likely to go to when looking for a job. Glassdoor, Indeed, Monster, LinkedIn and Google job boards are all popular destinations for job hunters; we recently helped one client optimize their job posting and add Schema markup to their HTML so that Google pulled it to the top of its job board listings. No one knows better than your employees what it's like and what it takes to work for your company, so consider implementing a digitized employee referral system as well.
Create a Careers Page
If you've yet to create a company careers page, I've got some good and bad news for you. Let's get the bad news out of the way first, shall we?
The Bad: You're seriously missing out.
Career pages are a fantastic resource for employers and candidates alike, with 58 percent of candidates citing career pages as the most valuable research channel. It's also a powerful way to build your brand — 69 percent of talent acquisition leaders say it's the best channel to extend their employer brand. Creating a career page for your website is an excellent opportunity to capture candidates' attention and convince them that this job and your company are exactly what they've been searching for.
The Good: There's nothing stopping you from creating one today!
We even have a few examples you can use as inspiration. Each of these pages is easy to navigate, informative and eye-catching, and accurately represents the company's brand:
You might even consider creating multiple pages across your website to educate curious candidates, kind of like these:
You'll want your career page (or pages) to cover the basics — which positions are open, the benefits of working for your company, how to apply, and so on — but a truly exceptional page takes things to another level. Don't just tell candidates why they'll love working for you — show them.
How can you do that? I'm glad you asked…
Develop a Content Marketing Strategy
Now that you've built out the framework for your career website, it's time to fill it with compelling content.
You know how I said to show rather than tell? Content is how you do that! Content marketing — perhaps the most essential element of any inbound marketing strategy, as well as any digital recruitment strategy — is all about educating your audience. Start by developing a few foundational pieces of content that clearly demonstrate the value your company brings to its employees.
For example, take a look at this recruitment calculator Vital created for Bean Group.
By filling out the various forms in this (seriously) comprehensive calculator, real estate agents can see how their current commission stacks up against what they could earn by working for Bean Group. A recruitment calculator is just one way to demonstrate value — you could also create a careers blog, employee testimonials and premium content such as videos, infographics and comparison guides to entice candidates. Engaging content, dynamic images and an aesthetically pleasing website make for a winning combination, every time.
Capture Candidate Leads
Not every candidate who starts to fill out your application form will complete it. It could be because your form is too long, or some of the questions on it are worded in a confusing way. It might even be that they found your form overwhelming or intimidating (… probably because it's too long). Rather than lament the loss of this candidate, you need to find a way to capture their information, so you can retarget them and nurture them through the recruitment funnel.
Might I offer a suggestion?
Lead capture pages. A lead capture page is a type of landing page that prompts the visitor to fill out a lead capture form with their email address and other relevant information. Pretty straightforward, right?
There are a few things you can do to make sure candidates don't leave your lead capture page without providing their information:
Consistently Engage Candidates
Congratulations, you've successfully captured a candidate lead! Now it's time to engage with them — but how?
Email and SMS campaigns are two great (and relatively unobtrusive) ways to build candidate relationships because they enable you to keep the candidate up to date about things that directly appeal to their interests, such as job openings, career opportunities and exciting developments at your company or in your field. As with your lead capture form, these messages should be short, sweet and to the point, but still interesting and relatable enough to spark the recipient's interest. Consider using business texting platforms like Open Phone to make calls using a wireless internet connection. These VoIP systems allow you to view call recordings, text messages, and voicemails using one dashboard, allowing you to review or speak to anyone at any time.
Collect Every Scrap of Data
Data is your best friend; I really can't stress that enough. From lead capture page conversion rates to employee referral performance metrics to hire rates per source, data — and data analytics — gives you the granular insight into which parts of your digital recruitment marketing strategy are working and which ones aren't. And I'll do you one better: Once you've figured out which parts aren't working, you can use data analytics to identify specific ways to improve your strategy. Pretty cool, huh? From ERP systems to landing pages, there are tons of ways to capture data, so get out there and get collecting!
—
The world is becoming more digitized — so should your approach to recruitment marketing. This guide should give you the framework to create your own foolproof digital recruitment market strategy but, should you need some help, Vital's just a phone call or email away! We've developed a unique approach to recruiting based on digital marketing tactics and have launched recruiting initiatives for many of our clients. You could say digital recruitment is our bread and butter — and we're happy to share the wealth. Let's work together.