Vital Olympics Showcases Gold Medal Team Culture
The quest for Olympic glory has a way of inspiring a team — whether it's Team USA at the 2018 Winter Olympics in Pyeongchang, South Korea, or Team Vital in the 2018 Vital Winter Olympic Games.
The inaugural Vital Olympics — conceived and organized by the Vital Fun Committee as part of the company's commitment to cultivating a kickass workplace culture — temporarily divided our crew of talented Vitalians into six teams (Red, Blue, Green, Yellow, Teal and Purple) to compete in six different events.
The symbolic carrying of the Olympic toy torch into the arena (Vital Kitchen) was captured in a stirring video created by team video ace Josh Duffy.
The human drama of athletic competition was on full display as Team Vital honored Team USA by putting heart and soul (and much laughter!) into every single event over the two week competition. The Vital Games easily surpassed ratings expectations for viewership — as ongoing social media coverage reached dozens, perhaps even hundreds of fans.
Here is a recap of the events and, of course, the medals:
The "Elite" Viathalon
Hosted by fitness trainer and ringmaster Carter Proctor of Elite Sports Performance, this competition involved teams taking part in an obstacle course of circuit training exercises, ending in a Frisbee accuracy toss. Team Purple took home the gold medal with Max D. and Dan capitalizing on their precise throws and impressive stamina. The "unified" team of Teal and Red each brought home silver, while Team Green earned the bronze.
Fantastic Friday-Afternoon Flip Cup
The second event involved a heated competition of Friday-Afternoon Flip Cup. In the end, Team Green flipped its way to victory, winning the gold in convincing fashion — even despite allegations surrounding illegal flipping strategy being used throughout the competition.  And then it was Team Blue scoring the silver and Team Teal taking home the bronze. Cheers!
Nerf Sharpshooting
With NBC and its millions of viewers distracted by the Winter Olympic biathlon in South Korea, an epic Nerf Sharpshooting competition unfolded halfway across the globe in the newly remodeled kitchen venue (beautifully decked out with flags of all nations) at Vital HQ in Portsmouth, NH. The challenge — take aim at numerous targets with  three different Nerf guns, some far more powerful than others.  When the dust settled, the precision markswomanship of Shauna Britt and Sarah McKay helped Team Green to gold, leaving Teams Yellow and Purple to settle for silver and bronze.
Mini Shuffleboard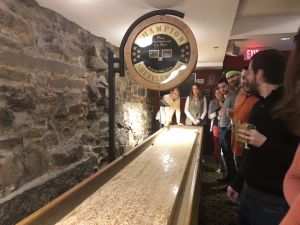 Proudly sporting their team-color headbands, each of the intrepid competitors rolled to the Portsmouth Brewery's downstairs Jimmy LaPanza Lounge for a six-team shuffleboard showdown. The rules were simple (sort of), two teams would go head to head to see who could achieve the highest score in an eight-minute span.
The gold-medal match came down to Team Green (Todd and Max) vs. Team Purple (Dan and Matt). When the shuffling and the trash talk was complete, Team Purple laid claim to the gold before being interviewed by a local sports magazine (this actually happened.) Team Green scored the silver, while Team Blue added to their medal count with a bronze.
Wing-Off
The Wing-Off competition gave Team Vital a chance to witness Wing-ter Olympic history, cheering as six of their co-workers (Max A., Andrew, Jesse, Chuck, DJ, and Zac) battled it out in a no-holds-barred wing-eating contest. The challenge: The first competitor to inhale 18 hot buffalo wings from local wing joint Wing-itz would be crowned champion. When there no more wings left, Vital's fearless leader Zac Gregg winged his way to the gold for Team Yellow, besting silver and bronze medalists Chuck (Team Blue) and Andrew (Team Purple).
Wii Ski Jump
For the final event, competitors battled it out virtually with the hotly anticipated Wii Fit Ski Jump competition. Each contestant completed a test run, followed by three real-time attempts, then team scores were calculated to determine the winners. Individual scores ranged from goose eggs to near perfection.  Despite controversy on whether she should even be allowed to participate because it was her Wii, Kristin shook off the pressure and soared to victory with a high score of 150 and a gold medal for Team Teal. Congratulations also to Team Yellow for winning the silver and Team Blue for the bronze.
Final Standings
When all the medals were tallied, Team Green was declared the overall champion of champions, followed by Team Purple and Team Blue. Here's a recap and roster of the top three teams:
Gold: Team Green (Shauna, Max A., Melissa, Todd, Sarah M., Sam C., John, Joe)
Silver: Team Purple (Julia, Dave, Andrew, Max D, Dan, Ali, Devin, Matt)
Bronze: Team Blue (Amanda, Chris, Chuck, Emily F., Emily K., Hannah V, Ian, Jess)
Enjoy our video recap of the games, narrated semi-professional Vital Olympic commentators, Chuck and Carol.
With the inaugural Vital Olympics now complete, we return to the work where  Team Vital truly shines —Cross Country Content Creation, Professional Website Design and Synchronized Digital Marketing.