How to Create Buyer Personas for Your Brand
If we had to choose just one piece of advice to share with the marketers of the world, it would be: Know your audience. Creating buyer personas (also known as audience personas) for your brand will help make your marketing efforts more targeted and effective.
What Is a Buyer Persona?
Buyer personas are semi-fictional representations of your ideal customers, based on research, interviews, and prior knowledge and interactions with your audience. They include information about demographics, psychographics, and behaviors relevant to your brand or market category.
A typical buyer persona might look something like this: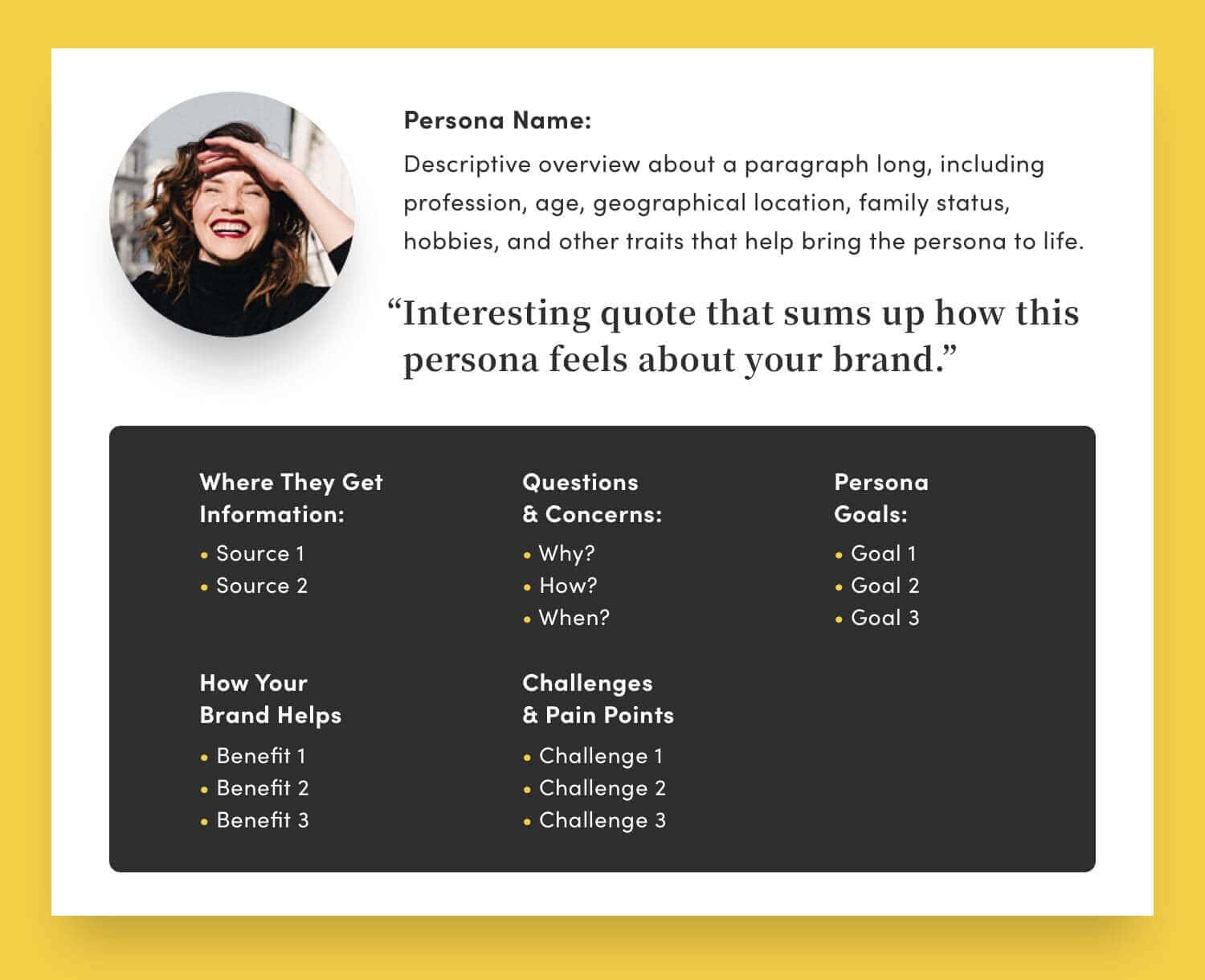 The length and amount of detail will vary depending on your company and your goals — and of course your audience and how complex or simple their purchasing process is.
How Should Brands Use Buyer Personas?
The short answer: Early and often.
The long(ish) answer: Buyer personas should be used to inform marketing strategies, tactics, and creative assets, along with fundamental aspects of your brand such as its messaging, look and feel, personality, voice, and tone.
A good buyer persona can help everyone on your team make sure they're focused on the right things. Still not sure whether your brand can use buyer personas? Here are just a few aspects of your business that personas can improve:
Website architecture & U/X
Advertising
Social media presence
Email marketing
Content marketing
Brand positioning
Product design & development
Customer service
Keep in mind that buyer personas are living documents. Review yours at least once a year to make sure they're still relevant, and encourage team members to raise a flag whenever they encounter something that could enrich or update a persona.
5 Steps to Create a Buyer Persona
As we mentioned before, every brand's buyer personas will be different — so it's only natural that the process of creating personas will also differ. For example, an enterprise-scale B2B company will use different research methods than a regional consumer brand. But regardless of the different methods, the same basic process of creating buyer personas can apply across the board.
Here's the process we follow at Vital to create buyer personas for our clients:
1. Identify your ideal buyer persona types.
Begin by asking yourself a few questions about your audience to help determine what personas you want to focus on.
Who are your most important buyers or other audience segments?
Do they fall into multiple categories based on their demographic or psychographic profiles?
Are there any new audiences you intend to market to in the next year?
Here are a few examples of organizations with multiple buyer or audience personas:
As you can see, personas can be grouped by demographics, job roles, interests, and purchasing habits.
2. Gather your data.
Collect any data you have that might shed light on your buyers' behaviors. Examples of data that can be used to build buyer personas include:
Marketing attribution data
Google analytics
Data collected from online forms
CRM data that shows how leads interact with your content
Data from user surveys or other customer feedback
Website usage data, such as heatmapping
3. Interview real people who fit each persona.
Make a list of current, past, or potential customers who would be able to provide insight into each of the audience segments you've identified. You can tap into your personal and professional networks, spread the word on social media, or even run pay-per-click ads to find interview subjects.
Once you have a list of interviewees, create a questionnaire to guide your conversation. Each interview should last about 30 minutes, with the goal of gaining insight into the attitudes and behaviors that shape each person's purchasing journey.
4. Get insights from your internal teams.
Internal stakeholders can help inform your personas by sharing insights from actual customer interactions. It goes without saying that the more contact a team member has with your audience, the more information they'll be able to provide.
If your organization is sales-driven, your on-the-ground sales teams should definitely be involved with creating personas. But there are a few other roles that can also be extremely helpful, including:
Social media managers. Anyone who's involved with monitoring social media and/or interacting with customers on social media platforms should have their fingers on the pulse of your customer base.
Marketing strategists. The people in charge of measuring what works and what doesn't when it comes to marketing will be able to tell you a lot about what resonates with your ideal personas.
Customer service representatives. These team members can help you identify the challenges and questions customers have with regard to your products and services.
Product developers. As the people responsible for designing products to fit your customers' needs, product teams know a great deal about what your audience needs and wants.
5. Compile your findings into buyer personas.
Once you've collected all your insights, it's time to write your personas. What you include in each persona will be determined by your marketing goals and the information you've gathered. Here are some general guidelines for writing useful buyer personas:
Give each persona a name and a primary role or characteristic.
Generalize your insights into a fictional persona. Don't base it on one particular individual.
Focus on trends instead of including every detail you learned from every source.
Make it actionable. Think about how your personas will be used, and include information that will impact marketing, sales, product design, and other activities.
Build empathy. Include details about hopes, goals, and challenges that will help your teams identify with the personas.
Buyer Persona Examples
Need inspiration to kickstart the process of creating buyer personas? Here are some examples from real Vital clients, with identifying information removed.
Example #1: An Influencer Marketing Agency
Example #2: A Pre-owned Electric Vehicle Dealership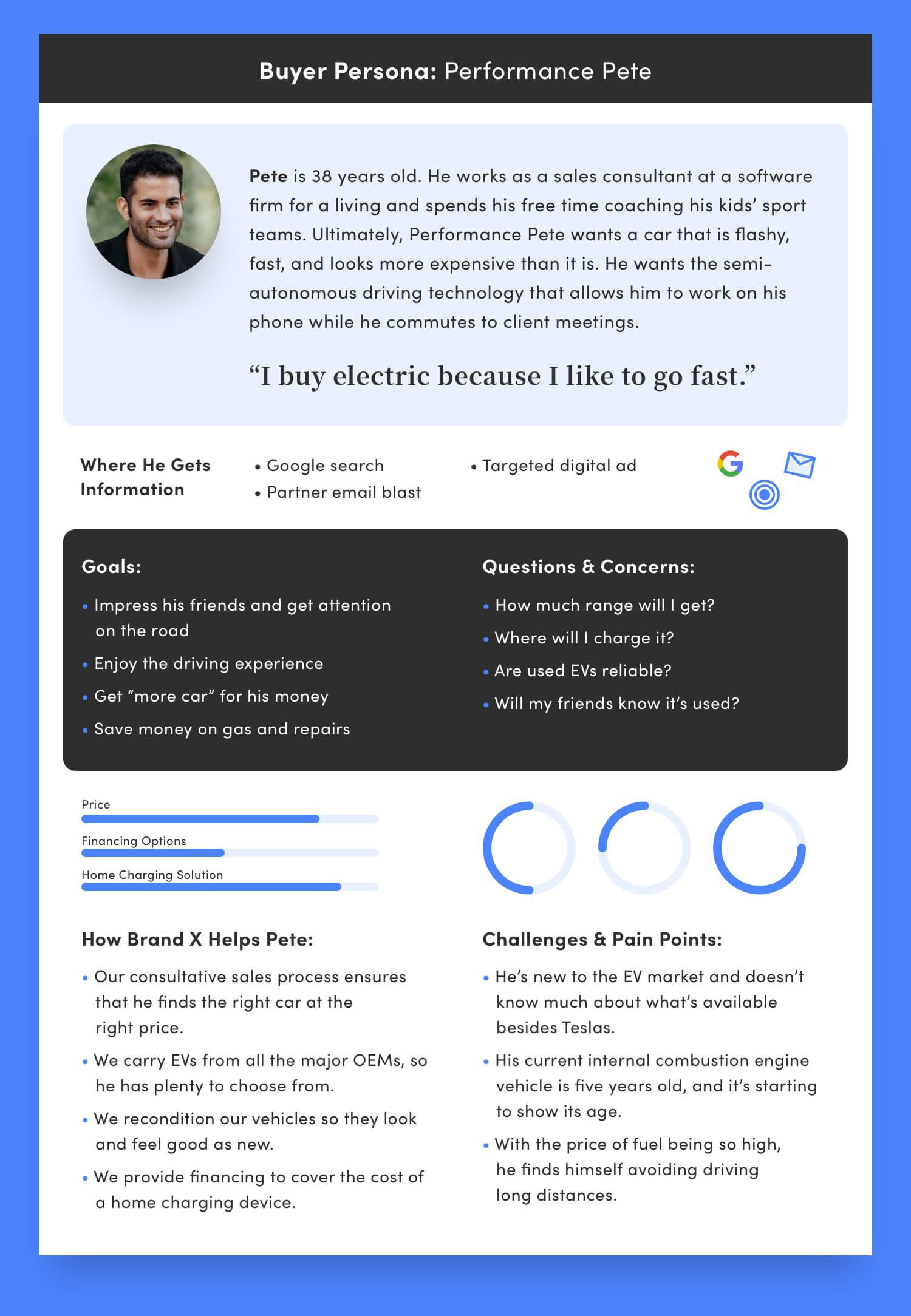 Example #3: A Scientific Lab Equipment Manufacturer
Sample Buyer Persona Template
Ready to create your own buyer personas? We put together an editable template you can use — just fill in the blanks.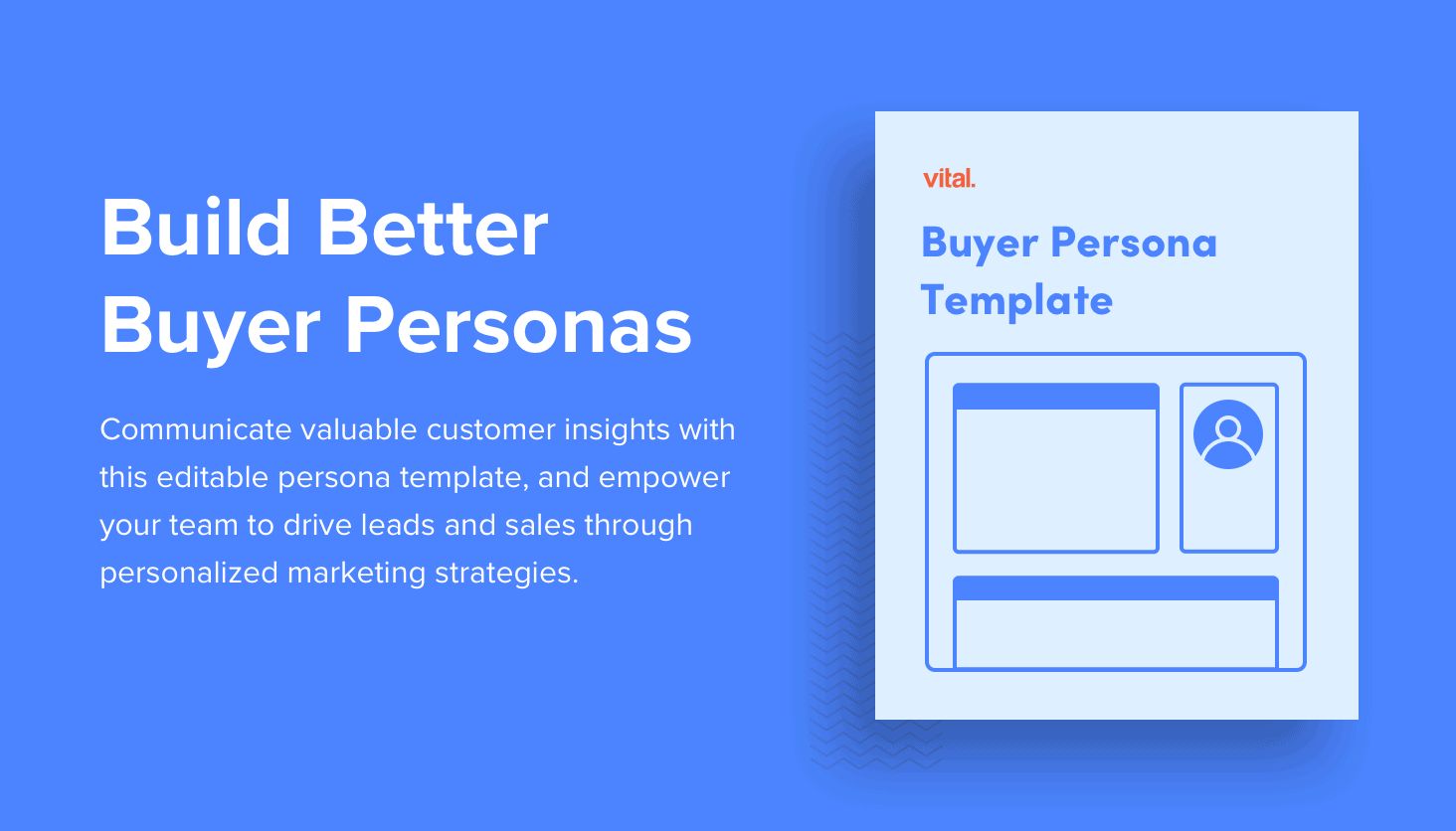 Want Help Creating Buyer Personas?
While it's entirely possible to build great buyer personas with your internal team, many companies find it helpful to work with an agency that has experience researching, analyzing data, and interviewing both internal stakeholders and ideal customers. If you'd like to learn more about how Vital can help create actionable, unbiased buyer personas, contact us.