Rebranding Strategies Do's and Don'ts
The biggest reason your organization might decide to rebrand is to connect with your audience on a much deeper level. You build up your brand to establish familiarity and trust as the years pass by, ensuring customers keep coming back for more.
But if all efforts don't help you achieve your brand vision, then there's no sense in doing the same thing over and over. When this happens, it's probably time to rebrand.
The process of rebranding goes beyond the simple logo change, design update, and typography alteration. This is one of the misconceptions of people when it comes to rebranding; those changes aren't rebranding per se, but rather results of the process.
In this article, we'll talk about rebranding do's and don'ts, highlight what makes a rebranding strategy successful and show you mistakes to avoid.
What Is Rebranding?
Before we go into discussing the do's and don'ts, you must first understand what rebranding really is. Rebranding is the process of changing a business' image. And by image, we don't mean the logo; it's the overall picture that your business wants to present to the public.
The primary motivation behind this effort is to make your brand more attractive to its audience or to make it reach a broader market. Rebranding is a way to raise awareness and utilize new strategies to reach out to people.
The changing of logo and design is part of rebranding but it's not the all of it. Rebranding calls for new marketing strategies, a change to your business' image, an adjustment to the vision, and an improvement of actions needed to achieve your business' goals.
Now, let's move on to rebranding strategies do's and don'ts.
Business Rebranding Do's
1. Do Have A Strong "Why"
Just like any endeavor in life, your "why" will push you when the going gets tough, and it can also point you in the right direction.
It's important to remember that not every problem calls for rebranding. Rebranding can't happen every month or once every year. Most businesses probably have never done rebranding in their decades of operations, and if they have, they have only done it once.
Why only once? Because rebranding is a long process, and you don't want to keep changing your brand every month or year. This confuses your audience about what your company really is and what it really wants.
Given the importance of rebranding, you need to have a strong reason why you're doing this in the first place.
Pay attention to what your brand is lacking and what needs improvement. Search for different angles on what you could've done properly and improved on. Use this "why" to motivate your upgrades and steer your rebranding process.
2. Do Extensive Research
Extensive research is needed to make the rebranding process a success. This means going all-in on identifying how to make your brand exceptional and help it stand out.
ShowMojo has effectively done this by creating an innovative platform for self-showing rental properties where prospects don't need to physically go visit a prospective house. With ShowMojo, they can do it in the comforts of their home and in their own time. This new way of interacting in the real estate industry makes their brand stand out.
Doing research also allows you to get insights into how the market perceives your brand. It gives you ideas about how to improve customer experiences and what strategies work and don't work.
Since you're rebranding a business, ask your employees for help. People who are on the front lines will always have valuable insights to contribute. They're the ones who are working face to face with different clients every day. Their insights will help you tackle the rebrand with a fresh view of things.
The process of research also involves examining industry trends. For example, the people in your target market may engage more with animated video productions than a real person on the video. Being up-to-date on your industry gives you an edge to know what works for your audience and how to overcome usual marketing challenges.
3. Do Talk To Stakeholders
Stakeholders are critical to your business. When it comes to rebranding a business, their opinions need to be accounted for. Leaving major stakeholders out of your company's major change may cause some problems down the road. You'll make the process of rebranding smoother by talking to them before the process starts, so consider giving a presentation about why the brand needs to undergo a holistic change.
For this presentation, create engaging infographics, show them data, marketing metrics, numbers, reviews, customer feedback, etc. to illustrate why a rebrand is necessary. The more in-depth your presentation is, the better. Make sure to also answer the questions they have in mind so you won't run the risk of having any objections when you're in the rebranding process.
4. Do Get External Insights
There's a good chance that you're rebranding your business because you want to better connect with your current audience, or reach out to a new one. Given these motivations, it's important that you hear feedback and ideas from your target markets.
A creative way to do this is to set up a live stream with top and loyal customers. Explain how their opinion matters and why you want to listen to what they have to say. Talk to your customers and prospects about how you can improve the business. Ask what they see is lacking from your business. Encourage constructive criticism to home in on what areas to improve on.
Another key customer insight to get is what their pain points are, the common problems they face, and the things they wish a brand could serve them. These answers allow you to construct an effective conversational commerce strategy to increase conversion rates.
Another question you can ask is where do they spend their time on social media? By getting this question answered, you get to create your strategic digital campaigns and see if your Facebook, Instagram, or Tik Tok analytics hit your KPIs.
The answers can give you an idea of how to cultivate your business' value proposition. You'll now also have a better understanding of how to effectively approach your audience and create efficient growth marketing strategies.
5. Do Everything You Can to Deliver
When you rebrand, you need to do everything you can to deliver on what your updated business promises and markets.
Properly train your staff and back-office employees on how to approach every aspect of your operations — this includes how to serve customers, how to talk to them, and how to market your product and service.
When you present a new you to the public, you want to start off on the right foot, and a way to show that is to deliver all the promises and statements you've released on all of your marketing campaigns.
For example, take a look at Mannequin Mall's promise to its market following a rebrand:
The question now is, did Mannequin Mall deliver? Were they able to live up to their promise? Let the reviews speak for themselves:
These are the types of reviews you want to get to ensure your brand is living up to its hype. Once you do, the word will be spread about your brand.
Business Rebranding Don'ts
1. Don't Rebrand For The Wrong Reasons
Never rebrand because it's trendy or it's what other businesses are doing around you. Most rebranding efforts are a long and tedious process. It doesn't just affect one team in your business — it impacts everyone in your company.
2. Don't Fake It
There's a quote about rebranding that says:
"A true and successful rebranding strategy is not 'created' – rather it is uncovered to reveal the truth about what the business or brand has become."
It's a great quote to remind you not to fabricate an identity just to fit in or be liked. A true rebrand will reveal what your business truly is. Rebranding is a great way to really show what your brand is about — what it stands for and what it believes in.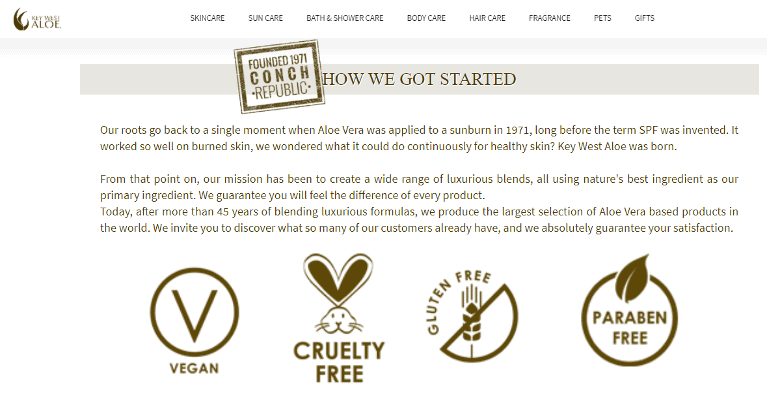 Take Key West Aloe as an example. This brand was established in 1971, and although its business has seen a lot of changes, it stayed true to its beliefs about being cruelty-free, gluten-free, and paraben-free.
3. Don't Go Too Far From Your Roots
When it comes to rebranding, there will be a lot of "new" things that need to be incorporated – a new logo, new design, new name, new strategies, and more. But if there's something that your brand is great at and you're in the process of rebranding, you don't have to change that aspect of your business. You should carry it over and continue to maintain that competitive edge in the market.
4. Don't Be Too Conservative
Rebranding shouldn't be done cheaply. Just like how you might invest in a predictive dialer for your sales team and automated software for your marketers, you also need to invest to make the rebranding process a success. When you're planning to rebrand, it's best not to hold back. Before you decided on this process, you likely budgeted for the expense already.
Try to outsource brand designers or agencies to help you with this major change. They will surely provide valuable insights that you might not have thought about. They are professionals in this field and will likely have several successful rebranding projects under their belts. The best brand designers are the ones that look beyond logo and design changes. They are the ones who look deeper into the business and see what strategies work best.
5. Don't Mimic Your Competitors
When you see a competitor do well, it's easy to want to mimic how they do things. But in doing this, brands won't have an identity of their own.
It's best to take note of what they did, but don't completely mimic them. Remember that every business is different. The challenges your competitor faces can be totally different from yours. And more importantly, what worked for them might not work for you.
This is why it's best to go for options that work well with your business.
6. Don't Go Into Rebranding Halfheartedly
Rebranding doesn't take days or weeks to finish; it might take half a year or more to successfully roll out a new brand to the public. Given the time that businesses spend on rebranding, there's no room for doing it halfheartedly — it's either you do it or you don't.
A new brand deserves a proper rollout, a fresh campaign, and a new set of marketing KPIs. It cannot live behind the shadows of its previous brand. Instead, it needs to outshine its previous self.
Examples Of Businesses That Have Successfully Rebranded
Usually, business owners don't go for rebranding because they think they don't have the expertise to do it. Taking digital marketing courses from experts might help, but it isn't really necessary. Sometimes, you only need a little bit of inspiration to get you motivated to finally push through.
To inspire you, here are some businesses that have successfully rebranded.
1. COTY
COTY is a brand that's known in the beauty industry. It was founded way back in 1904 in Paris, France. Throughout the years, their primary products have included cosmetics, fragrances, and personal care items.
In 2016, the business completed its merger with P&G Special Beauty Business. That merger made COTY the world's third-largest beauty company. After the merger, COTY had to restructure 20,000+ employees under one company. Not only that, but it had to mix the culture of Special Beauty Business and COTY. So they decided to go through a rebrand.
The company decided that their new purpose would be "to celebrate and liberate the diversity of beauty." They based their visual identity on an iconic symbol of change, beauty, and diversity: the butterfly.
COTY's old brand looked and felt like this: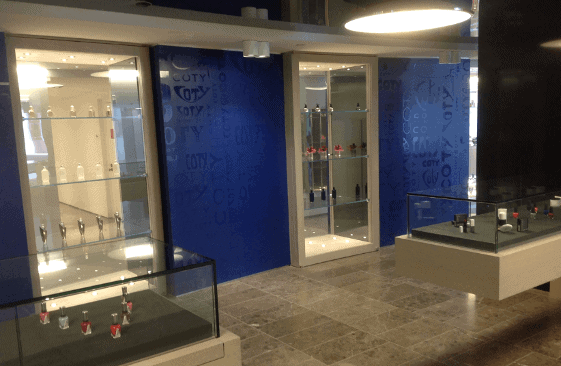 After its rebranding, COTY now looks like this: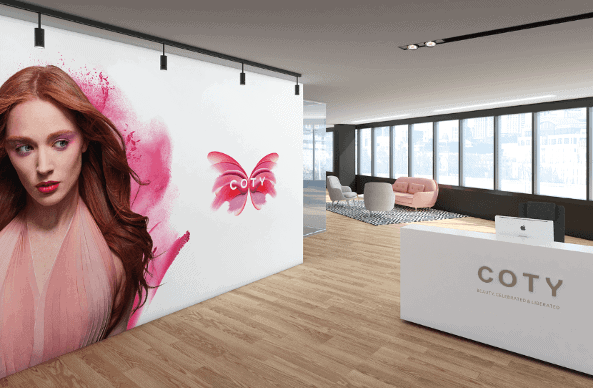 The new COTY went beyond changing the logo. Its most major change was colorm but it had a deeper meaning that was reflected over both their physical and digital presences.
2. Airbnb
When Airbnb's community was growing, its managing directors decided to rework the brand to make it appealing to their growing market share. They were at the phase of their growth where they needed to answer the question, "what truly defines Airbnb?"
Airbnb CEO Brian Chesky answered "For so long, people thought Airbnb was about renting houses. But really, we're about home. You see, a house is just a space, but a home is where you belong."
Chesky added, "what makes this global community so special is that for the very first time, you can belong anywhere…Belonging is the idea that defines Airbnb, but the way we've represented Airbnb to the world until now hasn't fully captured this."
As you can see just asking the right question can help you find answers to lead you to a successful rebranding process.
But the Airbnb's team didn't do the whole rebranding process alone; they hired a design agency to help them reach the idea of "belonging."
3. Dunkin' Donuts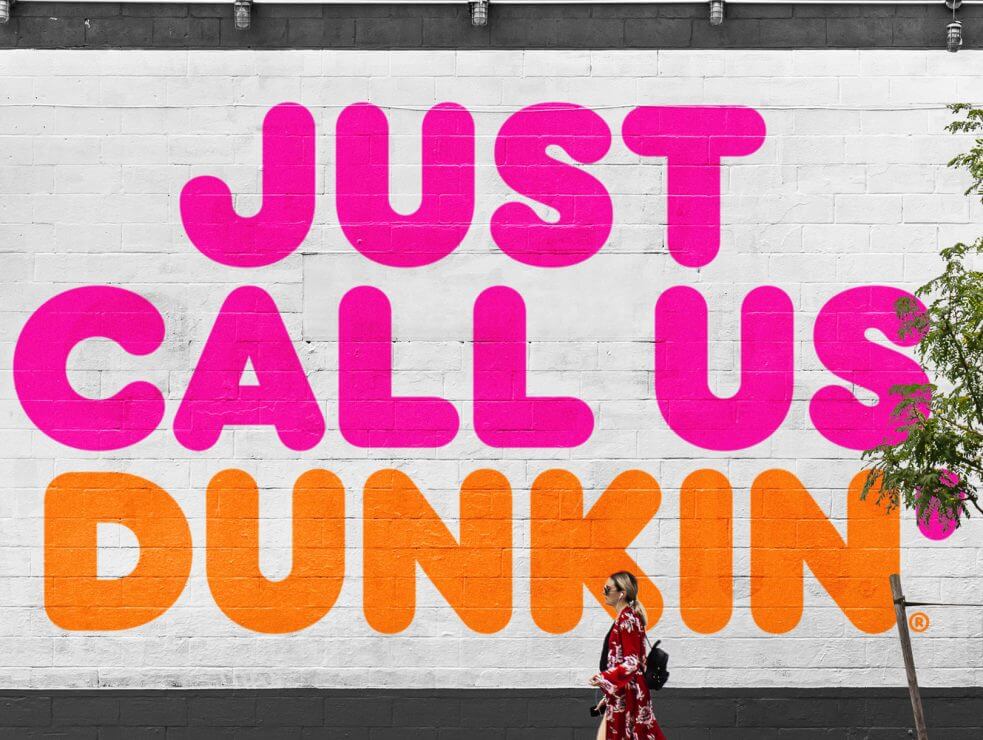 A lot of Dunkin' Donuts lovers have always referred to the brand by "Dunkin'." Using their customers as inspiration, in 2018 the company rebranded itself as Dunkin'.
What's great about this rebrand is that Dunkin' didn't stray far from its roots. It still retained its famous pink and orange colors, and still serves great coffee and pairs it with delicious food and great customer experience.
Some might ask — if they were doing so well, why did they need to rebrand?
The Dunkin' US branch president mentioned that their rebranding was part of their strategy to elevate the company to new heights. Rebranding was a way to transform the brand and continue to be relevant for generations to come while still paying homage to its heritage.
4. Old Spice
Old Spice has been around the personal care industry for 80+ years already. To be around that long, the company has undergone a series of innovations and improvements, but let's fast forward to the year 2000.
It was around that time that Old Spice was a brand famously known for its body wash for men. But for many, it was a brand associated with older men. Given this association to the brand, it was hard for them to market the products to people under age 50.
This problem sparked a brand refresh, and first up was to change that association with its name.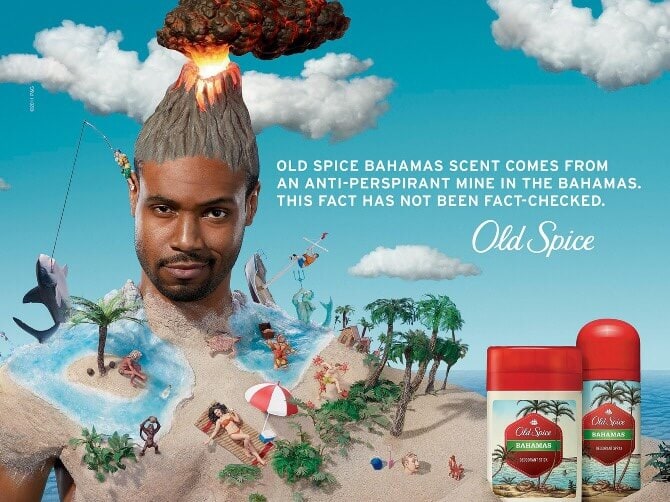 Old Spice achieved this through a series of marketing campaigns. Many of these were a success, and you've seen them go viral countless times and air on the biggest sports events.
After breaking the age barrier to the market, the rest was history. Old Spice now caters to both young and old generations, and has increased its market share thanks to witty marketing campaigns that got everyone's attention.
Conclusion
Rebranding is an activity that should be based on research, team decision-making, company analysis, and a solid strategy. As mentioned earlier, the process shouldn't be done halfheartedly — when rebranding begins, everyone in the business should be on board and know the motivation for this work.
The process of rebranding isn't a one-man show. Rather, it's a collective effort to bring out the best version of the business. Asking the right questions to the right people will surely put the brand on the right path.
Author Bio:
Burkhard Berger is the founder of awesomex™. You can follow him on his journey from 0 to 100,000 monthly visitors on www.awesomex.com. His articles include some of the best growth hacking strategies and digital scaling tactics that he has learned from his own successes and failures.