Navigating the College Enrollment Cliff: 10 Strategies for Higher Education Institutions
Demographic shifts are already impacting higher education enrollment — and the situation is forecasted to get worse before it gets better. Here are 11 practical strategies to successfully navigate the enrollment cliff.
What Is the Enrollment Cliff in Higher Education?
Also known as the "demographic cliff," the enrollment cliff is a predicted drop in higher education enrollments due to declining birth rates and other demographic shifts. The theory of the enrollment cliff was popularized in part by Nathan Grawe, Professor of Economics at Carleton College, in his 2018 book, Demographics and The Demand for Higher Education.
What Are the Causes of the Enrollment Cliff?
There are three main causes of the enrollment cliff: demographics, economics, and cultural or psychographic factors.
Demographic Factors
According to Grawe, the population of college-age students will drop by 15% between 2025 and 2029. Quoted in the Hechinger Report, Grawe explained: "When the financial crisis hit in 2008, young people viewed that economic uncertainty as a cause for reducing fertility. The number of kids born from 2008 to 2011 fell precipitously. Fast forward 18 years to 2026 and we see that there are fewer kids reaching college-going age."
The most recent data from the Centers for Disease Control and Prevention shows that birthrates have continued to decline at least up to 2017, suggesting that the demographic cliff isn't a short-term phenomenon.
Economic Factors
The actual economic value of a college degree is still strong — the average American with a bachelor's degree earns about $80,500 per year, while the average American with only a high school diploma earns about $40,000 per year. (Source: Bureau of Labor Statistics, 2021.)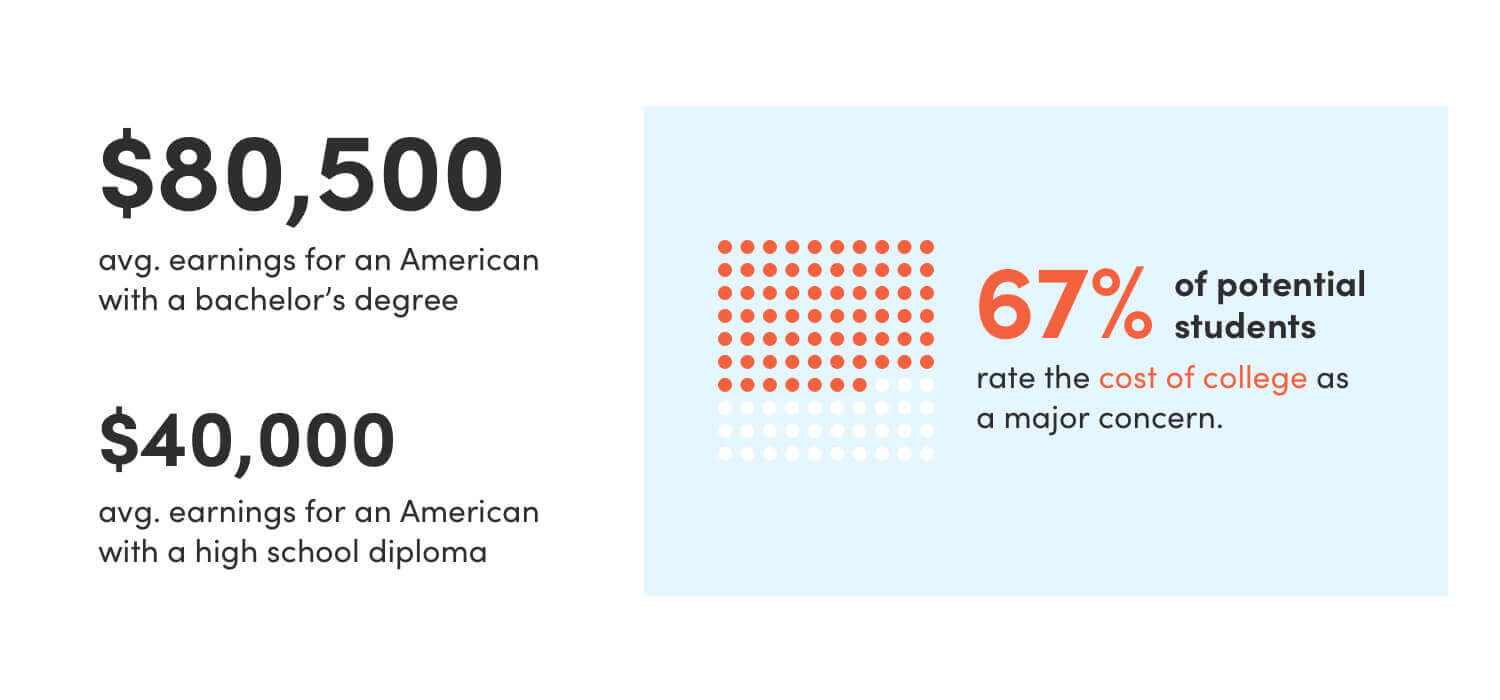 But the cost of college is a major concern for potential students, with 67% rating it as a "very important" influence on their college choice, according to a 2019 report by the National Center for Education Statistics. And with total student debt in the United States now totalling $1.757 trillion, with average individual debt as high as $40,114, it's easy to see why. (Source: Hanson, Melanie. "Student Loan Debt Statistics" EducationData.org, April 1, 2023.)
According to the Education Data Initiative, the cost of attending a public 4-year institution went up by 31.4% from 2010 to 2020. During the same time period, Statista found that average wages for a U.S. college graduate increased by only 10.9%.
Under these economic conditions, high student debt rates and concerns about the cost of college may act as a deterrent to higher education enrollment. A Gates Foundation study found that 38% of young adults who don't go to college make that decision because of the expense and debt load. An additional 26% say it's more important to start earning money right out of high school.
Concern about debt and finances also lower enrollment numbers by contributing to increasing drop-out rates. A recent ThinkImpact study shows that only 41% of college students graduate in 4 years or fewer. Of those who don't graduate, about 67% drop out because of financial factors. Each of these students represents an empty seat that their institution will need to fill through recruitment.
Cultural or Psychographic Factors
Shifts in the perception of college as a path to economic security go hand-in-hand with rising student loan debt levels. While a 2018 Strada and Gallup poll found that 75% of college graduates "strongly agree that their education was worth the cost," the past few years have seen a slew of articles like this one from U.S. News: 25 Best Jobs That Don't Require a College Degree.
According to data from SEMRush, as of April 2023, the query "Is college worth it?" gets almost 9,000 searches per month.
While figures like these don't directly predict decreased demand for a college education, they are indicative of broad concerns about the value of a degree. More directly, the Gates Foundation found that 70% of young people who don't go to college believe that on-the-job training is "the best path to career advancement."
Is the Enrollment Cliff Real?
The decline of the college-age population due to falling birthrates is simple math — but whether the demographic cliff will necessarily lead to a higher education enrollment cliff is less clear-cut.
What is clear is that college enrollments have been declining for some time. According to the World Economic Forum, in 2022, 4 million fewer people in the United States enrolled in a college than in 2012. In a survey by the Gates Foundation of high school graduates 18-30 years old who decided not to go to college, 45% said they didn't believe a college degree was "worth the investment."
There is also no doubt that colleges and universities are feeling the pain. Data from the National Center for Education Statistics shows that the total number of four-year degree-granting higher education institutions has dropped from its peak of 3,039 in 2013 to a low of 2,637 in 2020 — a 13% decrease, with some types of schools hit harder than others.
However, not everyone agrees with Grawe's assertion that we are about to see an even sharper drop in demand for a higher education. A May 2022 report from the National Center for Education Statistics says that "between fall 2009 and 2020, total undergraduate enrollment in degree-granting postsecondary institutions decreased by 9 percent (from 17.5 million to 15.9 million students). However, between fall 2020 and 2030, total undergraduate enrollment is projected to increase by 8 percent to 17.1 million students."
The truth is, factors governing demand for higher education are complex, and it's difficult to predict trends in the country's overall college enrollment levels. What's nearly certain, though, is that change is coming. A closer look at the data suggests that some higher ed institutions will be hit harder by the demographic cliff than others. Vulnerable schools have a valuable opportunity to take the next two years to prepare.
What Types of Colleges Are Most Vulnerable to the Demographic Cliff?
Grawe's research clearly shows that the drop in the college-age population won't hit all areas of the country equally. This map from Grawe's book Demographics and The Demand for Higher Education shows the forecasted losses and gains in college-going students from 2012 to 2029. The dots are major metropolitan areas. The states in blue are expected to see increased demand for higher education, whereas the states in red will see the greatest decreases.
But it's not just about geography. Grawe predicts that (somewhat unsurprisingly) regional schools that are highly dependent on tuition will be the hardest hit, losing more than 11% of their students between 2012 and 2029. National universities are somewhat more resilient to demographic shifts. And elite institutions may see a 14% increase in student demand between 2012 and 2029.
In The Agile College, Grawe's follow-up book to Demographics and The Demand for Higher Education, he writes, "Among highly selective institutions, demographic change actually suggests a rising market that will allow expansion…despite the aggregate decline in prospective students."
We asked Seth Allen, Vice President for Strategy & Dean of Admissions and Financial Aid at Pomona College, a private four-year liberal arts college in Southern California, about the effects of the demographic cliff on his school's enrollment efforts. He says:
"Highly selective colleges and universities like…Pomona, tend to have deep and broad applicant pools. At Pomona, over the last few years we've had a few dozen applicants per spot in the new class. The 'enrollment cliff' is forecasting a decline of approximately 10% among high school graduates by 2037. If that national decline is mirrored in Pomona's applicant pool, then we would potentially have just a few less applicants per space in the new class, and at a macro level, I don't see the 'enrollment cliff' having a meaningful impact on Pomona's enrollment."
Contrast this to Iowa Wesleyan University, which announced in March 2023 that it will close down later this year. In a press release, the school wrote that "While the university's overall enrollment has increased post-pandemic, it is still not yet at a threshold needed for financial stability."
10 Strategies to Survive the Demographic Cliff
If your school is vulnerable to the demographic cliff, now is the ideal time to plan and prepare your strategy for survival. You'll find that some adaptations can be supported by strong marketing efforts, whereas others will be more broadly institutional. Because no two colleges or universities are the same, your school should focus on creating a holistic plan that's customized to its unique strengths and challenges.
Here are some strategies to consider implementing now to get ahead of the curve.
1. Stand for Something that Students Care About
When it comes to college choice, your brand — which in this context simply means what your school is known for — is everything. According to the U.S. Department of Education, "Academic quality/reputation" is tied for the number one influencing factor in college choice, with 74% of students rating it "very important." The other top factor is the "desired program of study."
It doesn't take a huge leap to determine that bolstering your school's reputation for academic quality will improve your competitiveness amongst potential students. Even more impactful — and often more achievable — than being known for overall academic quality is being known for excellence within one or more academic programs.
Start by determining which of your programs are most successful in recruiting right-fit students. Double down on your marketing efforts around these programs, with the goal of making your brand synonymous with one or more programs or areas of study. Keep in mind that today's students are highly motivated by economic factors. The 2017 Strada and Gallup Alumni Survey found that 86% of college graduates said that "getting a better job represented a critical factor in their decision to enroll in college." Therefore, you're likely to get the most traction from degree programs that are "must haves" for desirable career fields.
2. Generate Demand for Your Degree Programs
Making your brand stand for a certain degree or program sounds great, but beyond building a strong program and investing in marketing it, how do you get students to actually apply and enroll? Demand generation can help you reach your goal of capturing prospective students' "mindshare" around a degree program relatively quickly, while lowering your cost of student acquisition.
The basic tenet of demand generation is: Give your audience something of value that helps link your brand with their goals and aspirations.
Here's an example of demand generation in higher education:
This video, part of a series by Southern New Hampshire University (SNHU), aims to create demand by providing helpful resources for prospective students interested in specific career paths.
In another example of demand generation, Seth Allen of Pomona College writes that "Pomona is one of the founding members of the relatively new Six Colleges, a consortium of peer liberal arts colleges. The purpose of the group is to help communicate the value of a liberal arts college degree to prospective students, high schools, and community-based organizations."
What's particularly interesting about this example is that Pomona is collaborating with schools that it traditionally competes with for applicants. By increasing the overall demand for a liberal arts college degree, all six founding schools can expect more applicants who are aligned with their mission.
3. Focus and Hone Your Degree Programs
Once you've identified degree programs that are both money-makers and brand-builders for your institution, some schools may find it necessary to take a hard look at floundering programs, particularly those that aren't associated with a clear career path. While no one wants to eliminate programs, consolidation can make the difference between staying afloat and sinking financially.
This is also true for non-degree credentials. In recent years, we've noticed something we call "credential creep" amongst higher education institutions. It might seem that offering a broad range of credentials that relate to careers would help capture students who are on the fence about committing to a four-year degree, but want something to bump them above "entry-level" in their area of career interest. And that may be true sometimes, especially when a credential is recognized and required in a field. (For example, nursing.)
But with "credential creep" comes a plethora of newly-invented credentials, boot camps, and other non-degree programs. Unless employers clearly see the value of these credentials and reward applicants who have attained them, we predict that many will go by the wayside as overall enrollments decrease and budgets shrink.
In The Agile College, Grawe gives the example of Simpson College in Iowa. Facing an almost 10% drop in enrollment, the school created a committee to examine each and every academic and non-academic program through the lens of "enrollments, long-term trends, economic data about particular majors, etc." As a result, Simpson "eliminated majors in French and German and closed the art department." In doing so, the college saved $400,000 a year in faculty salaries for departments that had been yielding "about two majors graduating per year."
4. Widen Your Recruitment Base
If your school is located in one of the areas of greatest college-age population decline — and you don't already draw from a national applicant pool — you will need to increase recruitment around untapped student population groups, whether that's defined by geography, culture, age, family status, or other demographics.
Even a selective school like Pomona tends to draw many students from its home state, with 201 students out of a total of 757 in the class of 2027 coming from California — by far the largest single geographic area represented in the class. Says Allen:
"Pomona will continue to have a broad recruitment strategy, one that includes recruitment activities in all 50 U.S. states and six continents. One of the aims of the college's 2020 Strategic Vision is to recruit and enroll more middle-income students to Pomona. We are beginning the process of developing new outreach to increase middle-income representation at Pomona, which will likely mean an overall increase in applications, again potentially offsetting the national decrease in high school graduates."
When looking to broaden your recruitment efforts, keep in mind that your competitors will be doing the same thing. To win, you'll need to be laser-focused and highly effective at your enrollment marketing efforts.
As admissions departments work to create a wider net to attract students from a larger geographic footprint, we are also seeing more schools offering in-state tuition to out-of-state students. An article in College Reality Check lists 425 colleges taking that approach to tuition in 2023.
5. Use Content Marketing to Reach Students Earlier in the Decision Funnel
One of the most common marketing mistakes we see colleges and universities make is focusing the majority of their budget and efforts on the bottom of the marketing funnel — students who are actively "shopping" for colleges, and are ready (or close to ready) to make the decision to apply to specific schools.
This preoccupation with the bottom of the funnel shows up in many different ways. We tend to see a lot of college and university websites that are optimized for two conversion paths: Request Information and Apply Now. The homepage for Colorado State University Global's online programs is a good example of this approach.
We also see it in both search engine optimization (SEO) and pay-per-click (PPC) strategies that focus on bottom-of-funnel queries, like this PPC ad for Quinnipiac University, which pops up for the keyword "Best MBA Programs."
When we dig into that keyword on SEMrush, we can see that this is a high-volume search that would be extremely difficult to rank for organically, with a cost-per-click of $9.88. SEMrush characterizes the "searcher intent" for this query as "commercial," which means the user is investigating or comparing options, but isn't yet ready to take action — in this case, that means they're not ready to apply. (But they may be close.)
Keyword: Best MBA Programs
This bottom-of-funnel approach can be quite expensive and yield disappointing results in terms of actual applications and enrollments.
Another common mistake higher education institutions make is treating middle-of-the-funnel prospects as though they are ready to make an application decision, rather than nurturing them through marketing materials under they become truly ready.
We've had success with our education clients using content marketing and SEO to rank for queries that are higher in the funnel, and earlier in the prospective student's college search journey. Here's an example of a top-of-funnel keyword we might go after:
Keyword: How to get into a top MBA program

This is what's known as a longtail keyword, which means it contains more words, is more specific, and has a lower search volume. It's also going to be less difficult to rank for organically, and slightly cheaper if you want to run a PPC campaign. Also, SEMrush categorizes searcher intent for this term as "informational," meaning users are looking for information on a topic rather than looking to compare programs or apply.
Our strategy for a keyword like this would be to check out the competing pages that are currently ranking at the top of the search engine results page (SERP), and create a free content resource (like a blog post) on this topic that's specifically engineered to outrank the competitors. By producing top-quality content that helps searchers learn about how to get into a top MBA program, we get them onto our website earlier in the decision-making process.
Once they're on the website, we offer additional useful resources, such as a gated eBook or downloadable guide that serves as a conversion opportunity. With this strategy, we can start a lead-nurture campaign to market to our audience earlier, for less money, and with less competition for keywords. In addition, once they've visited our website, we can target them with remarketing ads to keep our higher education brand top-of-mind as they get closer to making the decision to apply and enroll in a program.
6. Beat Or Leverage Third-party Aggregator Sites
One of the reasons competition for bottom-of-the-funnel search queries is so competitive is the proliferation of third-party aggregator sites like big-name school review websites and other sites that compile and compare lists of schools. These types of sites rule the SERP for just about any higher education-related query that has a commercial or transactional intent.
For example, here is a snapshot of the SERP for the keyword "Best MBA Programs."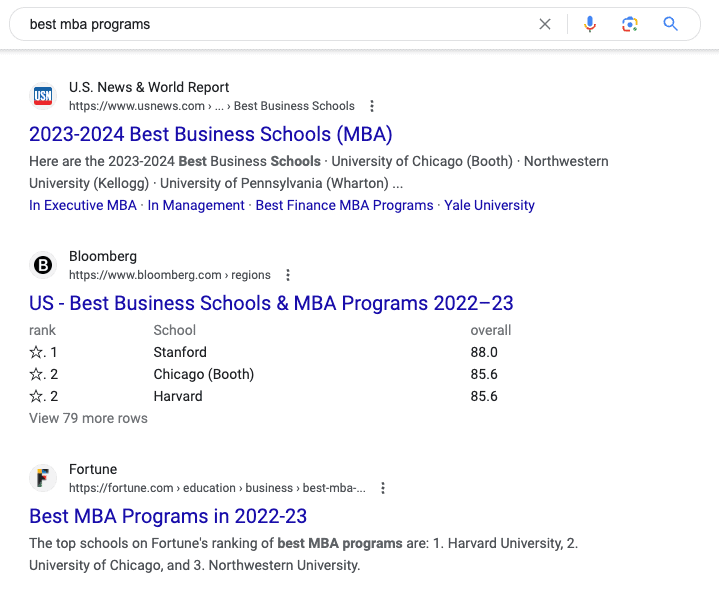 The top three organic results for this query are the omnipresent US News rankings, Bloomberg, and Fortune, all sites with a ton of domain authority.
With a keyword difficulty score of 75%, it's going to be difficult to beat these third-party sites. You can also get more specific with your keywords until you find something that hits the sweet spot of search volume and keyword difficulty. For example, let's look at "best online MBA."
Keyword: Best online MBA
Search volume is plenty high at 3.6K per month, the searcher intent is commercial, and while the keyword difficulty is still relatively high at 70%, you'll need less than half the number of high-quality backlinks to rank for this term (90 referring domains) as you would for "best MBA programs" (283 referring domains).
A marketing agency with strong SEO chops will be able to analyze the competition and determine which commercial-intent keywords are worth trying to organically outrank the aggregators, as well as help you come up with a strategy for working with aggregator sites to make sure your school is standing out.
7. Reduce Applicant Friction
Let's suppose your school's brand is on-point and your SEO and paid search strategies are working for you. You're getting plenty of high-quality traffic to your website in the form of prospective students who genuinely want to learn more and have a high likelihood of applying to your school.
Your job is not yet done.
Now, you need to make it as easy as possible for you website visitors to complete their "buyer's journey," or the series of steps they need to take in order to choose to apply. Our most successful university clients put a lot of intentional effort into reducing friction at every conversion point in order to increase the number of leads they get.
This means first identifying potential steps along the buyer's journey. For a typical residential university, this could include taking a campus tour (virtually or in person), talking to an admissions officer, and/or connecting with a current student. From there, design the user experience of your website to accomplish two goals:
1. Offer those steps as prominent conversion options on your website. Don't make users search for how to connect or get the information they need. For example, our client University of San Diego Online has a homepage designed to draw visitors to the site to begin learning about all they have to offer through this "explore" call to action (CTA).
2. Offer low-commitment conversion options that let you collect a prospective student's information in exchange for something the student can consume on their own. We help University of San Diego do this throughout their site, as with this eBook offer placed on the University's program page for their Masters of Education degree.
3. Make conversion as easy as possible. Whether they're filling out a form to plan a visit, requesting information, or completing some other conversion, keep form fields to a minimum and follow basic conversion rate optimization (CRO) best practices. The last thing you want is for someone who is thinking about visiting your school to decide not to request a tour because you asked them for their birthdate, their current school, their parents' contact information, and so on.
Here's an example of low-friction form design done right from SNHU. They use a simple two-step progressive form to capture just the information they need to fulfill the request.
8. Simplify Pricing and Financial Aid
In The Agile College, Grawe writes that, "While studies demonstrate that the actual cost of higher education matters, even generous aid offers can be stymied by a second challenge: the perception of financial inaccessibility."
Grawe cites a 2017 study published by Kenny Nienhusser and Toko Oshio in Research in Higher Education, in which the authors estimate that "80% of high school students overestimate tuition and fees charged by four-year public institutions in their state; almost two-thirds overestimate private tuition and fees."
Average perception error for public universities: $10,000
Average perception error for private colleges and universities: $5,800

The book includes plenty of examples of schools that have overcome this mistaken perception about the cost of higher education through targeted financial aid programs and "tuition resets."
We're also seeing a trend whereby traditionally regional schools widen the scope of their local tuition discounts to include students from other geographical areas. We predict that this will become an increasingly attractive and effective tactic for boosting enrollment in areas that are most vulnerable to the demographic cliff.
9. Focus on Student Retention
With all the money colleges and universities pour into recruiting, new students are expensive. If those students transfer or drop out, they need to be replaced by more new students. It's more economically sound to focus on retaining the students you have as part of your holistic strategy for surviving the enrollment cliff.
Improving your school's retention rate starts with your brand, your recruiting activities, and your admissions policies. Are you representing your college the right way to attract students who are likely to be successful? Are you identifying and offering spots to students with a low risk of transferring or dropping out?
Beyond these front-loaded, proactive efforts to retain more students, you'll also want to be reactive — identify where and why you're losing students, and find ways to fix what's broken. If you discover that certain programs have higher drop-out rates than others, you might look at ways to make those programs' content and curricula align more closely with student goals. Or, if you're losing students with distinctive demographic characteristics (for example, lower income students or students of color), develop programs to support those cohorts' success.
Schools might also consider boosting retention by offering ways for students to graduate sooner, saving both time and money and narrowing the window for attrition. Graws quotes Connie Richardson, leader of the curriculum development team at the University of Texas at Austin's Dana Center Mathematics Pathways program as saying that, "time and money are the enemy for students completing college; if we can accelerate them, there are going to be increased success rates."
10. Tighten up Your Marketing Spend with Data
With the enrollment cliff predicted to hit in 2025, now is the time to get marketing budgets under control with a data-driven approach to measuring return on investment (ROI). Schools that successfully navigate the cliff will be those that understand what works and what doesn't to avoid unnecessary spending. Marketing attribution is key to this effort — if you're not able to track results, you can't adjust your strategy to focus on the highest-yield activities.
Here are a few important things our most successful higher education clients measure in order to track and improve the ROI of their marketing spend:
Application rates by program
Enrollment rates by program
Retention rates by program
First-, last-, and/or multi-touch lead attribution
Request information submissions
Total applications
Total enrollments
…along with exactly how much each form submission, application, and enrollment is costing you in terms of marketing spend.
Following application and enrollment trends by program allows you to make decisions about where to allocate marketing spend to either shore up lagging programs or double down on successful programs. Lead attribution is key to understanding which marketing strategies are actually resulting in more student enrollments, as opposed to so-called "vanity metrics" like clicks and page visits.
Conclusion
The enrollment cliff will be a stress test for many higher education institutions. Not all will survive. By taking a proactive, strategic approach to future-proofing your school, you have the chance to strengthen your institution over the long term. Right now, colleges and universities have a critical two-year window to prepare the groundwork and hone their competitive edge by looking at everything from their website's technical structure to their financial aid policies, academic programs, and everything in between.
Is your school ready to face the enrollment cliff? Contact us to start the conversation about steps you can take now to be more prepared and competitive than ever before.