How Live Chat Can Help Your Website Generate More Leads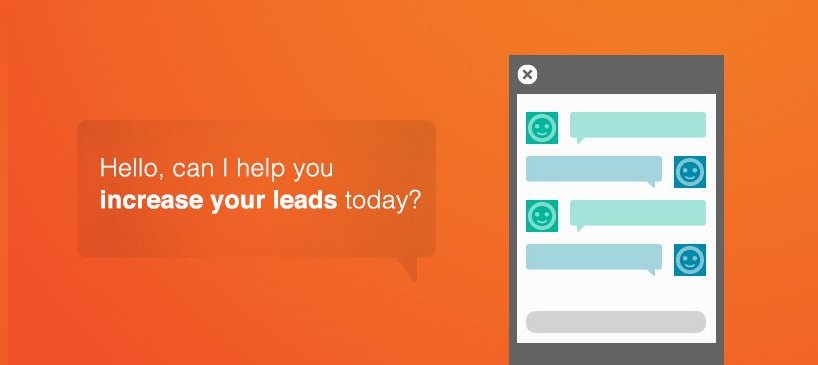 Let's have a little chat about live chat, shall we? For those who may not have visited a business website in a while, live chat service enables companies to reach out to their online visitors and communicate directly with them in real time.
Kissmetrics, a company that specializes in helping marketers improve their performance, touts the benefits of live chat lead generation in a report titled "5 Reasons Why Live Chat is The Untapped Potential for Your Business" that also offers some compelling statistics:
44% of online consumers say having questions answered by a live person while in the middle of an online purchase is one of the most important features a website can offer.
63% said they are more likely to return to a website that offers live chat.
38% said they had made their purchase due to the chat session itself.
62% reported being more likely to purchase from the site again.
The many benefits of live chat's direct, real-time communication capabilities include:
Reduced bounce rate
Improved customer service
Increased conversions and sales
Enhanced ability to upsell with relevant deals and offers
Ability to build customer trust and loyalty
Cost effectiveness
Live chat also offers robust reporting capabilities that enable its business users to track visitors' activity on the site and feed data to the sales team, and to internally audit the effectiveness of the program and make ongoing improvements.
Not surprisingly, companies across industries are singing its praises and it is not uncommon to see headlines like: "How Using Live Chat Software Got Our Clients Over 220% More Leads."
Live chat services come in a range of formats. And if you haven't already used it, you've probably at least noticed it.
In some cases, a smiling face will appear at the bottom of your screen inviting you to push a button to chat directly with a company representative by typing in your message or question. In others, a window will open welcoming the visitor to the site and inviting them to type directly into a text field. And the range of different interfaces continues to expand.
Many ecommerce operations are finding it a helpful way to instantly answer questions that close a sale. And any company can use website live chat services to nudge website visitors into providing their name and email.
"Customers want help but, in my opinion, they don't want to really speak to people," says Douglas Karr, founder of The Marketing Technology Blog. "Calling, navigating phone trees, waiting on hold, and then explaining an issue over the phone can be quite frustrating. By the time the customer representative answers, the customer is already irritated. Live chat provides faster resolution times and quicker responses — providing a better customer experience."
Live Chat Stats and Benefits:
Karr's post includes an infographic (created by live chat providers Zopim and Zendesk) that provides some revealing statistics about how customers are responding to the live chat experience:
94% of customers who were proactively invited to chat were somewhat or very satisfied with the experience.
77% of online shoppers report wanting to contact a real person before buying.
42% of customers say chat's most important benefit is near-instant access to a customer service rep, without hold time.
91% of customers who've used live chat are satisfied with its ability to:

Aid in their online product-buying decisions
Resolve customer service or tech support issues
Answer product questions in a timely manner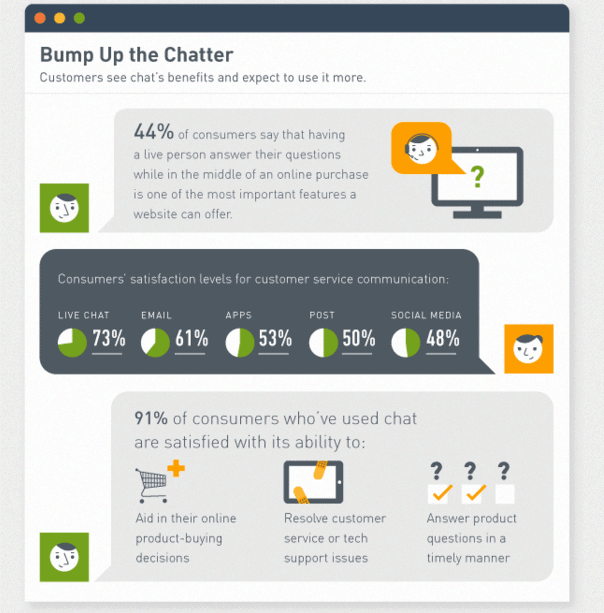 The infographic also notes that live chat helps companies better understand their customers by collecting such data as:
The referring link
Number of visits
Location
Operating system/device
Time on site
Number of chats
So many pros — any cons?
While a growing number of companies regard using online chat service as a no-brainer, even the most helpful high-tech tools generally encounter at least some pushback.
With website live chat services, some businesses express concern that they don't have adequate staff to properly respond to live chats at the moment they occur.
However, this is kind of like saying they are not well equipped to handle a fresh influx of piping hot leads — a statement that definitely suggests a need to re-examine their work flow and/or staffing. It is also possible to use customization features to offer the live chat experience only at certain times of day or to offer it only to visitors who seem most likely to become customers based on their online "body language" (number of times visiting the site, amount of time spent on product/services pages, types of search queries, etc.).
From the customer side, feedback indicates that some visitors feel scripted or automated messages sound generic or robotic. Some of the best live chat solutions on the market today help humanize even the canned response experience. However, when it comes to best practices, it is definitely ideal to have the customer interact with a "live" live chat agent.
Finally, there is the notion that some visitors will be spooked by the sudden realization that "somebody's watching me." Or that anything that "pops up" has the potential to negatively impact the user experience for some visitors. Though these factors may unsettle a tiny minority of users, most have come to understand that digital technology enables any savvy company to collect vast amounts of data designed to improve both the user experience and the company's ability to sell.
Some Tips:
Smile — Adding your picture, name and title to the live chat window personalizes the experience by letting the potential customer know with whom they are chatting.
Track your data — Be sure to use live chat's analytical capabilities to produce meaningful data that will help you enhance the customer experience and improve the effectiveness of the program internally.
Be there — If you decide to use live chat service, make sure you are able to respond quickly or you'll risk not only defeating the purpose of the tool, but perhaps leaving the visitor with a negative impression of your brand.
Get creative — Offering coupons, discounts or free delivery are among the incentives some companies use to encourage visitors to participate in a chat. A positive live chat session can also be an opportunity to invite a visitor to check out your company's social media channels (and don't forget to use social media to remind customers you're available to chat in real time).
Got more tips about live chat or other ways to use your website to generate leads? Share them in the comments section below!
And be sure to drop us a line if you want to talk further about website strategy or inbound marketing strategies.