University Website Problem: Design, SEO, Hosting, & Management [New Data]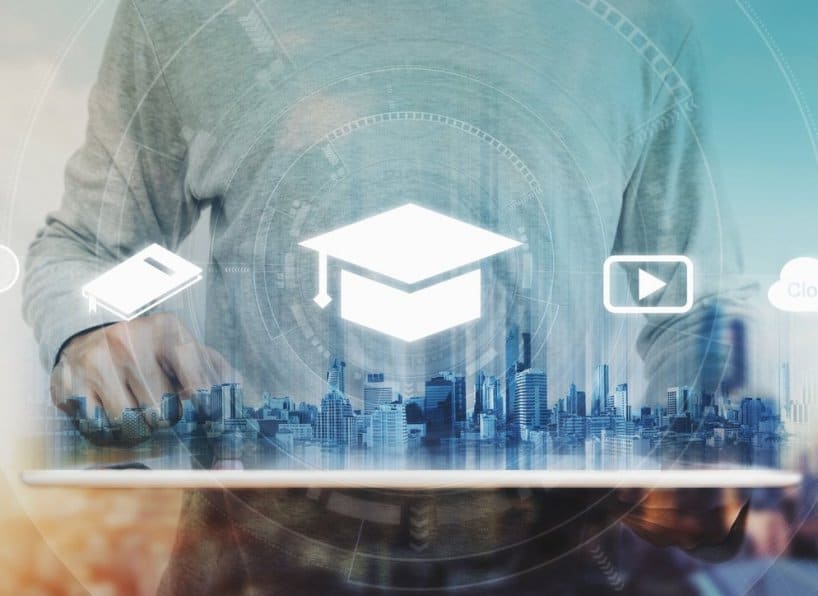 Have you ever wondered why the University of Phoenix keeps outranking your university for certain keywords? You're not alone if the answer is yes.
At Vital, we work with many different universities and colleges and this question inevitably comes up:
Why do online-only universities like the University of Phoenix keep outranking traditional schools for important keywords? How are we losing students to them?
This is especially a concern when you consider that traditional schools have been around longer and are generally more reputable and accredited, yet they are still losing the marketing battle.
We performed several months of research and found there are clear strategies that online-only schools follow and that traditional schools don't (or can't). These strategies break down into seven critical areas:
Let's break each area of evaluation down.
#1. Search Engine Optimization (SEO) for Universities & Colleges
There are hundreds of factors that impact how well a website ranks for certain keywords in search engines. For the purposes of this research, we're exploring the use of subdomains vs. subdirectories, as this was one of the most staggering differences between online-only schools and traditional schools.
A subdomain is a unique part of a larger domain. For example, two of Harvard's subdomains are hms.harvard.edu and hls.harvard.edu. HMS is Harvard Medical School while HLS is Harvard Law School. Both schools are on the Harvard.com root domain but have their own subdomain, which is the first part of the URL.
You can think of a subdirectory as part of a website's filing cabinet. If you're looking for a business degree from the University of Phoenix, you'd end up on this page: phoenix.edu/business. In this instance, the subdirectory follows a certain hierarchy, falling after the root domain in the URL.
Here's a visual example:
This may seem arbitrary, but it's not. The subdomain vs. subdirectory debate has been a hot topic in the SEO community for years, with most SEO professionals agreeing that subdirectories perform better.
| | Traditional Schools | Online-Only Schools |
| --- | --- | --- |
| Average # of Subdomains | 809 | 8.7 |
That's right. Traditional schools have 9,198% more subdomains than online-only schools. This might seem like a technical nuance, but it's a major competitive advantage. Keeping all your website's content under one root domain (instead of 800 sub domains) allows websites to significantly increase rankings on Google. If you want a full background on why this matters, watch this video from Moz.
#2. Website Hosting Providers for Universities & Colleges
On average, universities are using 27 different hosting providers. Here are the five with the highest amount:
• Harvard: 57
• Cornell: 50
• UCLA: 47
• University of Michigan: 42
• Columbia: 41
It's not surprising to see Harvard, Cornell, and UCLA on this list again. More subdomains typically mean more hosts — which can also mean higher costs and more management time (maintaining 27 different servers is generally more time consuming than maintaining one).
| | Traditional Schools | Online-Only Schools |
| --- | --- | --- |
| Average # of Hosting Providers | 27 | 3.3 |
Using subdirectories would eliminate the need for various hosting providers and likely save a substantial chunk of change and time.
More importantly, all hosts are not created equal. Some are faster, some are slower. Some are easy to maintain, some are complicated. Some are cheap, some are expensive.
For example, let's compare the load speed of two separate sections of the Stanford's website: Their homepage (hosted on Amazon), and their undergraduate degree subdomain (hosted by Stanford University).
The homepage loads a full 13 seconds faster than the undergrad page. This drastic inconsistency in performance will affect search engine rankings, as well as the user's experience.
#3. Content Management Systems (CMS) for Universities & Colleges
Universities are using, on average, 18.6 different CMSs. Here are the top 5:
• UCLA: 34
• University of Maryland (UMD): 29
• Cornell: 28
• University of Wisconsin: 26
• (Tie) Berkley, Harvard, Stanford, University of Chicago: 24
What does this mean? Well, let's take UCLA for an example. They use 34 different CMSs which means they need experts in 34 different CMS programs. This is not exactly the most efficient way to manage a website.
And all CMSs are not created equal. Some are better for SEO, some are worse. Some are better at empowering marketing teams to quickly and easily deploy new content, and some are archaic. When you have 34 different CMSs on one website, you have an inconsistent ability to deploy new content, and an inconsistent ability to empower marketing staff. Ultimately, this leads to an inconsistent ability to compete across the organization.
| | Traditional Schools | Online-Only Schools |
| --- | --- | --- |
| Average # of CMSs | 18.6 | 1.7 |
We also identified the top 15 CMSs that are being used by the 11,000+ subdomains we analyzed for our research:
| CMS | Number of .EDU Subdomains |
| --- | --- |
| Drupal | 6,667 |
| WordPress | 3,397 |
| Adobe Dreamweaver | 444 |
| Joomla | 117 |
| Adobe Experience Manager | 64 |
| Google Sites | 61 |
| Adobe Muse | 14 |
| Blogger | 13 |
| Bootply | 7 |
| Adobe Go Live | 6 |
| HubSpot | 6 |
| Sitecore | 6 |
| BigCommerce | 3 |
| Blox CMS | 2 |
| Brightspot | 1 |
For a great breakdown of CMS's based on school type (Public, Private Not for Profit, and Private for Profit) check out this eQAfy post.
To recap the above three factors, we researched 25 traditional schools and 6 of the top online-only schools. Here's what we found.
| | Traditional Schools | Online-Only Schools |
| --- | --- | --- |
| Average # of Subdomains | 809 | 8.7 |
| Average # of Hosting Providers | 27 | 3.3 |
| Average # of CMSs | 18.6 | 1.7 |
Want to see all of the data? Check it out here.
#4 Website Design & Branding
Take a look at the University of Florida's main homepage for their root domain (ufl.edu):
This is a nicely designed homepage and — more importantly — it's easy to find where you need to go. But when you select colleges and go to the agriculture and life sciences subdomain (cals.ufl.edu), you see this:
And here's the College of Education:
These subdomains looks like completely different websites! And they're not even responsive (but the root domain is), which means the user experience will be poor on mobile devices and tablets. The inconsistency of the look and feel is also a branding issue.
Now let's take a look at University of Phoenix. Here's their homepage: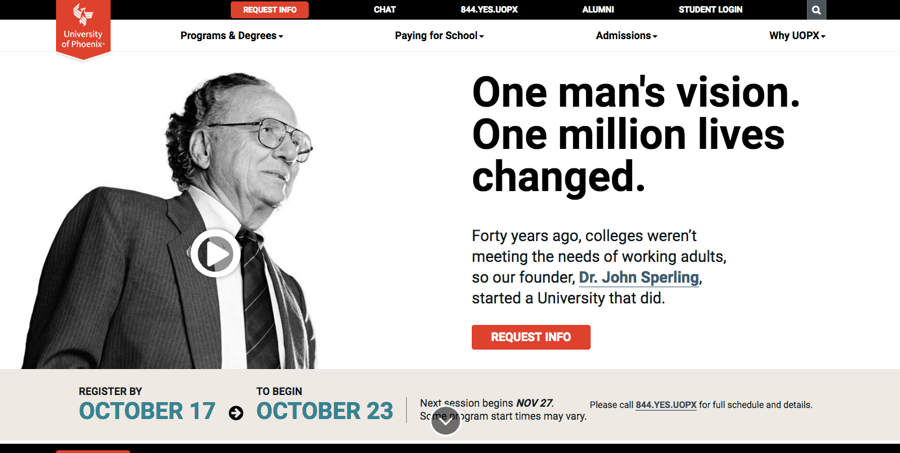 And here's their business school page: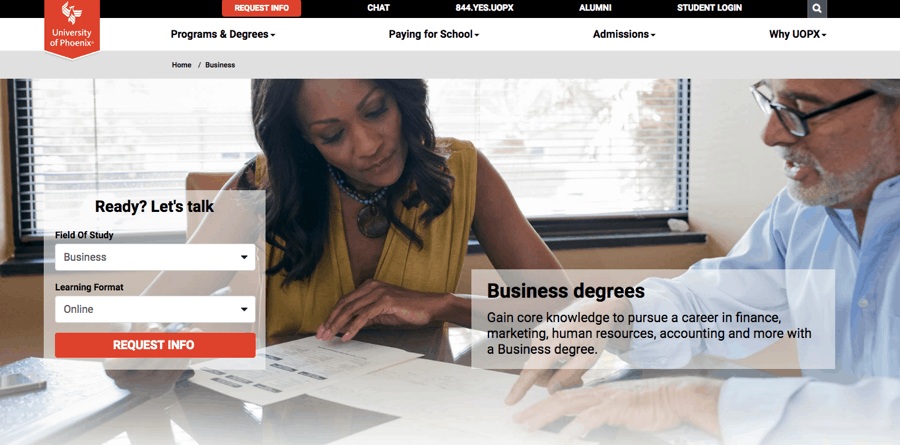 And here's their nursing school page: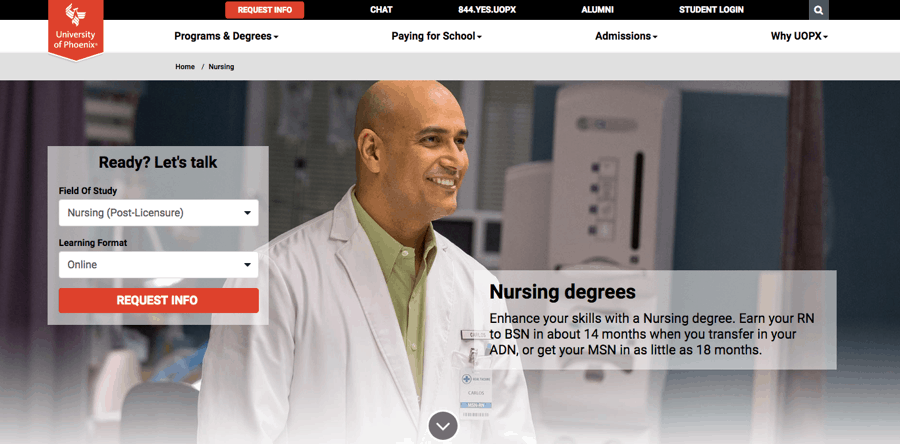 Notice the consistency of branding? Of design? Of user experience?
Also, notice they are all in subdirectories.
A consistent user experience is important for visitors to ensure they can navigate intuitively throughout the site. When the design and main navigation continually changes (based on the particular school within the university) it can be a jarring experience for a visitor to navigate.
#5. Applying Data from Test Results Across All Schools
Having this consistent user experience across all schools also provides another huge advantage to the University of Phoenix. When they run A/B tests to page layouts (using Adobe's Tests and Target software) they can take what they learn and apply it across the entire site.
This means that if they test a new degree page layout and it ends up improving conversion rates by 20%, they can then apply it across the entire website and theoretically improve all degree page conversion rates by 20%.
Traditional universities with unique designs and user experiences for each individual school are not able to apply this full platform learning, and thus can't make the same significant improvements.
The same is also true for paid ad testing. The learning they get from testing can be applied quickly across all programs for large gains in ad performance vs. siloed data where different degree programs within the university can't gain from each other's data.
Here we can see the University of Phoenix running ads for different degree programs that all use the same design.
Another important note is that in addition to the degree-specific ads, they also run benefit-specific ads that are relevant regardless of the degree program. These ads tackle things transfer credits, affordable tuition, price comparisons, discounts, and generally inspirational messages like "Give your dream a deadline."
So, they can hit you with an ad for their business degree and then also hit you up with more general ads that validate their value proposition. Most schools aren't able to do this based on the siloed nature of their tracking codes thanks to subdomains.
#6. Marketing Automation Costs
Marketing automation software (such as HubSpot, Pardot, Marketo, and Infusionsoft) is an incredibly powerful tool that universities should be using. From email marketing and lead nurturing to social scheduling and reporting, marketing automation tools are an important piece of a university's martech stack. The only problem is, once again, the subdomain structure creates complex issues when trying to use this software.
The Gordon Institute at Tufts is the only subdomain that has HubSpot installed. None of the other schools are using this incredible marketing reporting and automation technology. The same goes for the Kent State subdomain https://advance.kent.edu/. They use HubSpot, but the main kent.edu website does not.
Meanwhile Northeastern uses Marketo, and thanks to their sub folder structure, all schools get to benefit from it. The same goes for Clemson — thanks to their sub folder structure, HubSpot can be used across all schools.
In far worse scenarios we see the following schools using both HubSpot and Pardot:
Auburn University uses HubSpot on these subdomains:
• best.eng.auburn.edu
• jcsm.auburn.edu
• cap.auburn.edu
• cla.auburn.edu
• ag.auburn.edu
• agriculture.auburn.edu
• vetmed.auburn.edu
• sfaas.auburn.edu
• cses.auburn.edu
While also using Pardot on this subdomain:
• http://harbert.auburn.edu/
We've found this to be the case at multiple other schools.
The marketing automation problem for universities using subdomains here is four-fold:
1. Only a small amount of schools within a university get to benefit from the technology (remember, the average number of subdomains for a traditional university is 800+).
2. Marketing automation software frequently charges per subdomain installation, so it's possible that in Auburn's case they are paying for nine separate installations of HubSpot. Plus, they're also paying for an installation of Pardot. These subscriptions can run from $600-$2,000+ per installation! So that's not an efficient use of marketing budget.
3. Given the installations are all on different subdomains, it's likely their email databases are all separate. We elaborate on this further in the next section.
4. Using any marketing automation system requires some training (generally, the training is paid), so there are inefficiencies in having different schools using different marketing automation software and paying for training in different software that all do the same thing.
Want to see the data? Here's a list of all the HubSpot and Pardot installations we found at major universities in the United States.
Again, these online schools like University of Phoenix only use one marketing automation system, and thus have a single database to analyze and optimize. There's a huge marketing efficiency there that results in some incredible leverage over traditional schools.
#7. 1 Database vs. 800
Many universities as a whole aren't able to make the most of their databases because they are not shared across the schools within the university. So, they can't upsell or cross sell.
For example, you could take leads who are in the business bachelor's degree program database (who didn't end up enrolling) and promote the associate's degree or certificate programs to them instead. However, the associate's degree and certificate programs are probably managed by different teams, in different databases separate from the bachelor's degree program. So, the opportunity to increase lead-to-student conversion is missed.
So, Now What?
"If you could get all the people in the organization rowing in the same direction, you could dominate any industry, in any market, against any competition, at any time."
– Patrick Lencioni
We fully understand that most higher ed marketers reading this have no control over the segmentation of their marketing infrastructure, and how frustrating this can be. This article sought to answer the question of why these online-only, for-profit universities were performing at a higher level than traditional universities. We think we've at least scratched the surface as to why this is. It's our hope that this article uncovers at least a few areas where traditional universities or colleges could improve in order to better compete.
Keep the following tips in mind:
• Always appease the SEO gods. No matter where your pages fall in regards to site structure, make sure they're user-friendly, keyword-rich, and up-to-date with best practices.
• Less is more. The less unique sites, the better.
• Remember that your university or college is a brand. That means all programs should fall in line under this brand so that different program webpages don't look like a completely different institutions.
Website development for educational institutions can get pretty complicated, whether you're adding new pages or updating existing ones. We're happy to talk you through the process! Just give us a shout and we'll be in touch ASAP.