Five Google Analytics Metrics Every Business Should Run
Understanding how customers use your website is a fundamental step for improving future online marketing campaigns; luckily Google Analytics helps do just that. In this post, we will outline the five best Google Analytics Metrics that businesses need to run.
What is Google Analytics?
Google Analytics is a free Google product your web developer can install that collects visitor data from your website. This data is used to create reports that provide insight into how visitors are using your website.
All the data that Google collects can be overwhelming, but Google provides some powerful out of the box reports. Here are Vital's top five Google Analytics reports and their importance.

To access these reports you'll want to sign into your Google Analytics account and select Standard Reporting. You'll find all of these reports on the left hand column. To change the date range for these reports use the box in the top right corner.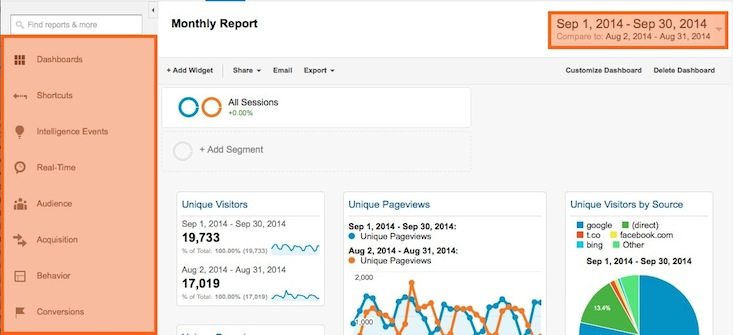 1. Acquisition Overview
Find this report through Acquisition -> Overview. The Acquisition Overview report details how many people visited your site and where that they came from. The most important number to look at is search traffic. A good search traffic rating should be above 50 percent.
Search Traffic – Found your website using a search engine (i.e.Google).
Referral Traffic – Clicked on a link from another website that linked back to you.
Direct Traffic – Typed your URL in the browser.
Campaigns – Visits that are tracked through pre-defined campaigns. We'll cover this more advanced feature in the future.
TIP: Your business needs an effective keyword strategy and its goal should be to show up on the first search page for specific keywords associated with your business. This goal is important because 75 percent of Internet users never scroll beyond the first page of search results.
2. Social Overview
Find this report through Acquisition -> Social -> Landing Pages. Your business probably spends a lot of time and energy on social media, Google Analytics' Social Overview will help you determine what social networks are providing the most ROI. Remember when it comes to social media and your website, it's all about traffic and conversions. Once you've identified your top performing social networks, you'll be able to drill down into each network and see what content is performing the best and driving the most traffic.