Meet Our Latest Giraffe-Loving, New York Natives: Franny & Chloe
J.D. Salinger had "Franny and Zooey" and now Vital has our very own Franny and Chloe!
Straight out of New York, meet the two latest additions to our digital marketing team:
Chloe Roach, Digital Marketing Coordinator
Since her favorite animal is a giraffe, Chloe was obviously destined to join Vital.
Hailing from Rochester, New York, Chloe graduated from SUNY Geneseo where she focused on communications and women's studies. She has put her expertise to work at her alma mater's communications department, a history education startup in Boston and a marketing agency.
At Vital, Chloe is pumped to dive deeper into out digital marketing processes and to learn more about consumer behavior. "Being a well-informed consumer is extremely important to me in my own life, so being able to better understand how a brand's customer base goes through the same process I do is really exciting."
When Chloe's not overcaffeinating, she's likely exploring the Seacoast, playing music, painting or listening to podcasts.
Francesca Basile, Digital Marketing Consultant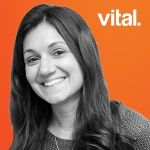 Franny is also a native New Yorker and holds a degree in journalism and political science from New York University. She's been fully immersed in account management and marketing for the last decade with experience in public relations, social media and experiential marketing.
Now that she's settled on the Seacoast, she's looking forward to focusing primarily on digital marketing, the field that interests her the most. "I like that digital marketing combines creative strategy with measurable results," she said. "The impact of your work is right in front of you and the tools for achieving goals are constantly evolving. Digital is never boring; there's always something new to learn and that's what keeps it interesting!"
Outside of Vital, you can find Franny at the beach, in the mountains, checking destinations off her travel bucket list or heading back to New York for a pizza fix.
Are you our next great hire? Check out our open positions here. Note: Loving giraffes is not a requirement, but it helps.