How Adding a Phone Number Field Impacted Form Submissions by 47%
In our quest for conversion improvement, we're always running A/B tests on ours and our clients' websites. One of our recent A/B tests was gauging the conversion impact of adding a phone number form field to an ebook landing page. This one change to the form impacted conversions by 47%.
In this instance the user would receive an ebook after filling out and submitting the required form. This type of form completion is called a micro conversion, in that it is not a direct contact or a sales inquiry (macro conversions), but rather a request for information during a research phase.
A/B testing is one of the quickest ways to figure out the impact of a single change on conversion. Unlike multivariate testing, which tests many variables for results, A/B testing calculates the difference of just one change between two forms to determine which variable is more effective if all other things are equal. For form fields, this is the perfect conversion rate optimization (CRO) testing tool.
Existing research confirms the common knowledge of best practices for number of form fields — that conversions increase as the number of form fields decreases.
Eliminating three form fields increased overall conversions by 11% in test performed by VWO. "The tests showed that when you reduce the number of unnecessary fields in a form, you increase the number of registrations." No surprises there.
But of course, if we eliminated nearly all form fields, leaving just one or two, we would end up with very little information about the visitors filling out our form fields.
Neil Patel found that removing the "Revenue" form field increased his conversion rate by 26%.
But how much time did that add to his process, following up with leads that were potentially not valuable to him?
The Goal: Increase Qualified Micro Conversions
The goal is not just to increase conversion rate, it's to get high quality leads from these micro conversions. That means that we must get enough information during the conversion to determine if the lead is a quality lead or not — without alienating visitors with unnecessary form fields.
So the question was: will a phone number be crucial to either our ability to qualify leads through this form or our ability to contact this lead in a timely and preferred way?
Unbounce has some feelings on this subject. They find a 5% average decrease in conversions for forms with phone number fields, and conclude:
"Unless your business is based on post-click sales calls, avoid this field at all cost. Not many people like to have someone call them (unless it's critical to their personal success)."
This is a strong point to consider if you're thinking about having a phone number form field on your form. But of course, each company, website and even each form is different, and needs testing to get conclusive results.
Here are the results we found after A/B testing an ebook download micro conversion form with and without a phone number form field.
The CRO Tactic: A/B Test With and Without Phone Number Form Field
When reviewing the value of each field, the phone number field was found to be least valuable, especially at this micro conversion stage. Because this particular ebook was more valuable to people in the Awareness stage of the Buyers' Journey a follow up phone call would have been premature. What's more, even in later stages of the Buyer's Journey many people prefer email to phone calls (this, of course, varies between industries).
Here are the two forms we used to run the A/B test.
The Results: Phone Number Field Decreased Conversions By 48%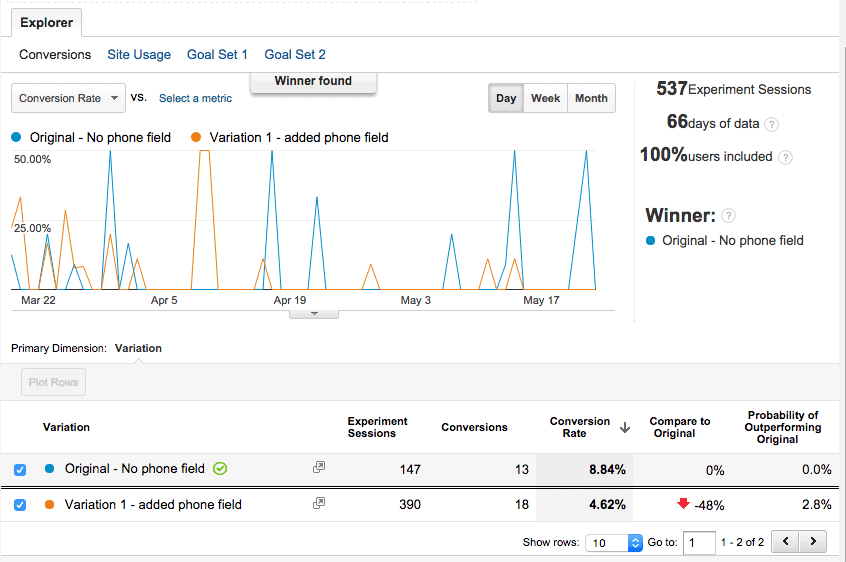 No surprise that adding a form field decreased conversions. However, a 48% decrease in conversions over two months is pretty significant.
It is worth noting that a phone number field on a landing page targeting people or companies at a more sales-ready stage might not be considered an inconvenience. These types of visitors might actually want to get a phone call follow-up and would therefore not leave the page if asked for their phone number.
In this case, however, nearly half of all visitors to this micro conversion form over two months did not want to give their phone number for this content.
The CRO-clusion: No Phone Number Field
As we stated earlier, we would expect a decrease in form fields to increase overall conversions, simply because people don't like filling out an additional field. However, if the field was crucial to qualifying a lead or contacting a sales-ready lead, a slight decrease in conversions would be an acceptable trade-off. Due to the rate of decreased conversion and the fact that phone numbers were not critical at this stage in the Buyer's Journey, a phone number form field was an easy one to cut.
This micro conversion A/B test is just one example of the CRO tests that we are running for our clients. We are constantly optimizing for better UX and higher conversion rates, to increase quality leads. Check out another recent CRO case study we published on a change that increased our email subscription conversion rate by 97%!