Award-Winning Digital Agency Vital Saves 38 Commutes in Corporate Commuter Challenge!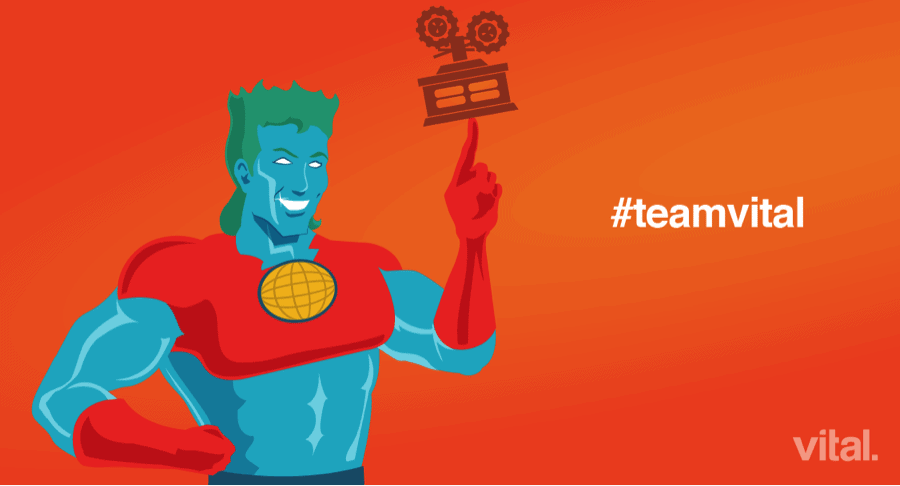 When our award-winning digital agency registered on the CommuteGreen website for the Corporate Commuter Challenge, we were committed to winning our category. With a total of around 25 employees, we were certainly at the very low end of the "Medium Company" category, which spanned companies from 16 employees to corporations of 199 employees. But gritty determination coupled with an existing culture of green commuting put us in reach of our goal to win the awesome spinning-gear award in the name of Team Vital.
The challenge was part of the Seacoast Area Bicycle Routes (SABR)-organized Seacoast Bike/Walk to Work Week. The week of green commuting culminated with Bike/Walk to Work Day on Friday, May 16th. Seeing the miles other companies on the CommuteGreen website were racking up as part of a larger, month-long challenge was daunting, but we plugged away with the knowledge that THIS challenge wasn't about the miles, but about the number of commutes saved.
Since we're a company packed to the gills with local Portsmouthians, many of us live within a mile of our Fleet Street offices and are already in the habit of walking or biking to and from work. But this challenge made us even more committed to shrinking our carbon footprint. So we strapped on our Bailey Bags, pumped up our tires, and parked our cars for the week.  For an award-winning digital agency, it's nice to go analog every once and a while.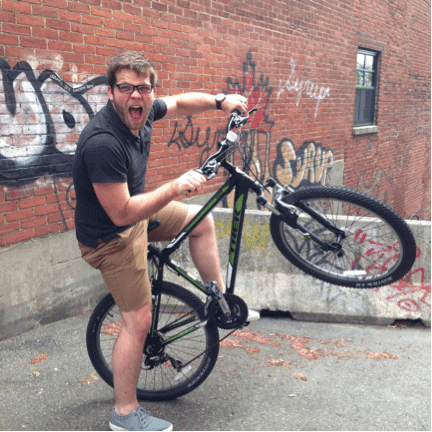 Creative Director Jesse Rand clocked 25 miles in one day by commuting by bike from his Dover home—the farthest of any Vitalian for the week. Designer Scott Prather scored the most commutes by bike. But it was our strength in numbers from many team members walking and biking to and from work that turned us into award-winning champs, with a total of 38 commutes saved throughout the week.
Zac, Chris, Jesse and Chuck were on hand to accept this hard-won award, and celebrated alongside the scores of Seacoast BWWD participants who were toasting the day in the Jimmy La Panza Lounge downstairs at the Portsmouth Brewery (one of Vital's favorite clients, check out their new website!).
Yes, for an award-winning digital agency this is admittedly somewhat of a whimsical award to win. But to those of us who came together years ago to put together a vision for Vital's culture, this award validates that we're on track and embodies our vision. As many of you know, Vital's culture is unique amongst agencies. We're not the video-game playing, introverted digital agency. Our vision for Vital's culture is to gather a group of individuals who value the benefits of exercising daily, enjoying the outdoors, giving back to the community, living sustainably, being community leaders, developing professionally and participating in social media. We look for motivated individuals who can be part of that team and understand that mind, body and social interactions are the foundation of successful outcomes. To this end, we've created internal programs that reinforce these ideals, like Vital gym twice a week which includes paid gym memberships for each employee, learning reimbursements, proactive social media guidelines, prolific non-profit giving and outdoor Vital days once a quarter to name a few. This award embodies that spirit, makes us proud and in many ways puts to shame the other awards our award-winning digital agency has compiled.
The trophy now occupies a hallowed shelf with a backdrop of Vital orange, until the award is won by the next winner and passed on in 2015 (Are we allowed to win twice in a row? Challenge ACCEPTED!). We're so honored to have our name included alongside the other impressive award winners in our category.
Congratulations to all of the award-winning companies and participants of this challenge, and cheers to all the green commuters out there who walk and bike to work every day!