Building Brand Value: With Brand Architecture Strategy
The Best Brand Architecture Strategy Optimizes Marketing ROI and Simplifies Growth
The phrase "brand architecture strategy" is industry-speak for something that most of us, as consumers, experience every day: how a company's logos and brands work together, and how consumers will understand and interact with the brands.
There are two main schools of thought when it comes to brand architecture strategy, commonly thought of as "house of brands" and "branded house."
House of Brands
A house of brands is a "silent" parent brand, such as Proctor & Gamble. No consumer products come plastered with Proctor & Gamble branded labels — the company instead encompasses individual brands such as Olay, Febreze, Tide, and other recognizable consumer brands, even ones that sometimes compete with one another. This is also known as multiple brand architecture.
Here are some other popular examples of a house of brands architecture:
Unilever. This company includes more than 400 brands such as Dove, Breyers, Hellman's, Knorr, Lipton, Suave – and many more.
Coca-Cola. In addition to soft drink options, this popular beverage company's brands include Minute Maid, Dasani, Powerade, and Fuze Tea.
The Kraft Heinz Company. Global brands include Velveeta, Jell-O, Grey Poupon, Lunchables, Oscar Mayer, and Maxwell House.
General Motors. In addition to popular vehicle brands such as Chevrolet, Buick, GMC, and Cadillac, GM brands include Cruise, a self-driving car service, and Onstar, a vehicle safety and security system.
PepsiCo. This company makes more than just your favorite Pepsi products. Other brands include Tropicana, Aquafina, Lay's, Doritos, Tostitos, Sabra, Quaker Oats, and Sun Chips.
Newell Brands. You may not have heard of Newell Brands, but you've likely heard of at least a handful of the company's 150 individual brands: Sharpie, Yankee Candle, Crock-Pot, Mr. Coffee, and Rubbermaid.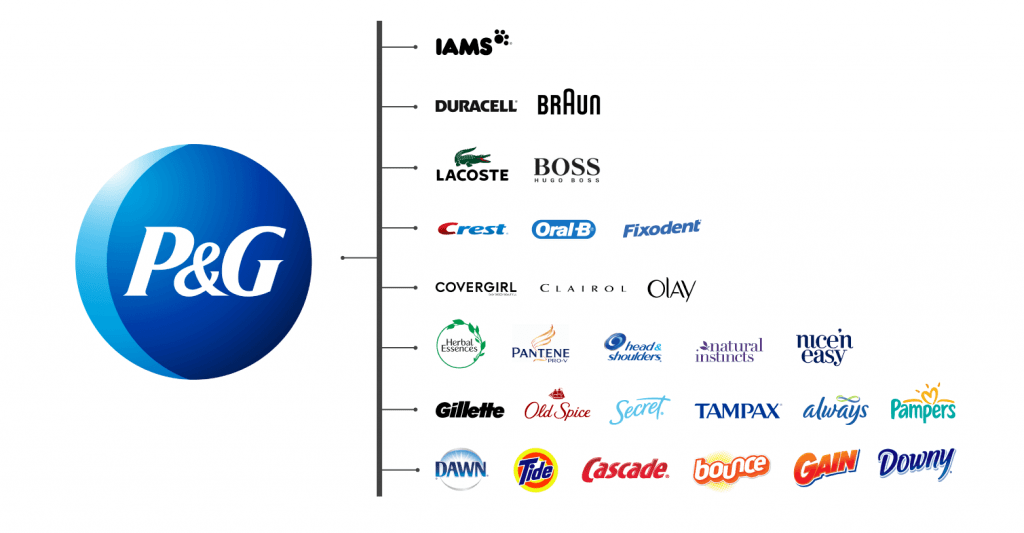 Branded House
A branded house, in contrast, is a company such as Virgin. The company is diversified into everything from music to mobile, but all of its brands are under the Virgin name: Virgin Mobile, Virgin Air, Virgin Records, etc. This brand architecture strategy is also known as a logo-linked brand or master brand – the name and branding are consistent across all segments of the company.
Other examples of branded house architecture include:
Google. Google Maps, Google Calendar, Gmail, Sheets, Hangouts — even though Google might not be in the name of all its subsets, it's pretty well known that they're associated with the parent company.
Apple. Subset brands include Mac, iTunes, iPod, iPhone, etc. but are all closely associated with the Apple brand.
FedEx. In addition to shipping, the corporate brand includes FedEx Office, FedEx Freight, FedEx Express, and FedEx Logistics.
The Middle Ground: Hybrid Brand Architecture
The middle ground between these two main brand architecture strategies is a hybrid brand architecture: a company that is branded like Marriott, with one main brand distinguished by themes and elements that carry throughout the branding for several sub brands. Marriott has brands like Courtyard and Fairfield Inn under its main brand, and the Marriott branding appears (in a minimal way) on the logos, etc., for most of the sub brands.
A hybrid brand has many benefits, including greater flexibility for growth. Any acquisitions or spin-off brands can all be easily brought under the brand umbrella. A hybrid logo architecture model also protects brand equity and allows the brand to adapt to fit each target audience — for example, your B2B sector and B2C sectors can be branded differently but still within your main brand. A hybrid brand strategy also allows for varying degrees of independence — some brands may be very closely associated with the umbrella brand, while others can be less obviously associated. This overall flexibility is one of the most appealing things about a hybrid brand model. From a production standpoint, a hybrid brand architecture model is also much more affordable than creating a variety of different logos or building a monolithic brand architecture (such as Virgin) that will need to be heavily marketed to build brand equity.
Marriott could also be classified as an endorsed brand architecture, which consists of a parent brand and sub-brands, which profit from their connection with (or endorsement from) the parent, according to Ignyte.
Mini Case Study: Key Auto Group
Key Auto came to Vital with a disassociated brand architecture strategy: Salem Ford Hyundai, Portsmouth Chevrolet, Salem Ford, Salem Hyundai, Portsmouth Used Car Superstore, and Key Auto Center. Each branch had its own different branding and design, and there was little indication that all of these businesses were all part of the same logo architecture. Key Auto needed a brand architecture strategy that would tie all of these brands together. Vital designed a hybrid brand model that created a Key emblem that could be incorporated into logos and branding across all of the Key Auto Group holdings.
Before
 After
The Key emblem ties together the overall brand architecture, allowing the many different stores, locations, and services of Key to be branded as separate entities that all co-exist under and re-enforce the same parent brand. For the Key Auto Group logo, we left-adjusted the Key emblem, because it is the parent brand. In contrast, with the logos for Key Ford Hyundai, Portsmouth Chevrolet, Key Salem Ford, and Key Salem Hyundai, the Key emblem is placed below the car brand. These are some of the most recognizable and trusted brands in the world, so in order to avoid undermining that brand equity, the Key emblem becomes subservient to the Chevy, Ford, and Hyundai names and logos.
With the Used Car Superstore logos, we shifted tactics slightly again. This time, the Key logo returns to a dominant position, and the signage is bold and bright. As you can see, from parent brand to subservient brand and dominant brand, a hybrid brand architecture strategy can be incredibly accommodating.
As the Key brand grows, whether they add additional services, locations or more, this logo can easily be added to those new brands, as well. If Key were to add more used car dealerships to their family of brands, the Key emblem could again be the superior brand, and if they were to start carrying another car brand, the emblem can be placed beneath the manufacturer logo. This flexibility was an essential part of planning Key's new logo architecture, and the emblem gives Key Auto Group practically unlimited flexibility while still maintaining a clear, strong parent brand.
Vital Case Study: Chinburg Properties
Chinburg Properties develops, builds, and manages properties throughout the New Hampshire Seacoast region, each with its own unique brand identity. While the Chinburg name is well-known throughout the area, their individual properties were not benefiting from the brand's equity.
In order to distribute the wealth of the Chinburg brand to their properties, Vital established a new brand architecture strategy. This included creating a cohesive design for each property's logo that could stand on its own and also blend seamlessly with the main Chinburg brand.
Which Type of Brand Architecture is Right for You?
When it comes to brand architecture, it's important to think about target audience. Microsoft, for example, falls under a hybrid structure. The corporate brand is widely recognized but has also endorsed Xbox and Bing, which have specific target audiences, according to Distility.
Whatever you choose, it's important to be consistent and develop a resilient brand architecture, according to Element Three. Also, keep in mind whether your brand has acquired other subsets — and whether displaying different, individual brands would confuse users or detract from your website. Does your parent brand have major recognition, and would that help subset brands? Or is it best to have a silent parent brand?
Whether you are starting out as a brand, or have multiple, diverse holdings that you would like to bring under a parent brand, the brand strategy team at Vital Design can help you assess your needs, refine your brand architecture strategy, and then create a brand architecture that will heighten your brand profile and equity. Talk to us today about your brand architecture needs.