Benefits of Webinars During COVID-19 [Webinar Transcription]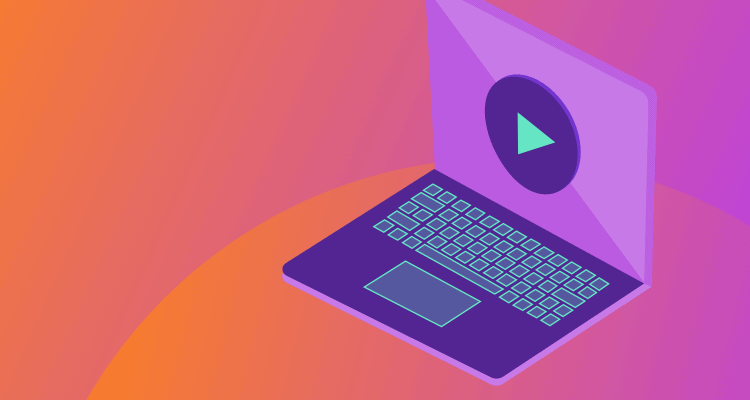 With tradeshows, conferences, and events canceled for just about everyone, the new coronavirus — COVID-19 — is forcing businesses everywhere to pivot many of their marketing plans and strategies overnight.
Marketers may be in crisis-mode right now, but the benefits of webinars present a new tactical opportunity. All you need to do is move fast and get your webinar strategy in order to replace the revenue you were generating from areas that are no longer an option.
So, if you're wondering why you should do a webinar, you're in luck. We recently recorded a webinar to discuss this opportunity, and offer tips for creating, promoting, and running your very own webinar!
Check out the recorded webinar or the webinar transcription below.
The Benefits of Webinars During COVID-19: Transcription
Good afternoon everybody and thanks for joining us. Let's hop right in here. We are living in unique times right now. And marketers are scrambling. We need to pivot some marketing activities quickly in order to get results.
So today we're going to talk about how to pivot your marketing in order to take advantage of the benefits of webinars. The world just turned on a dime, and today we're going to walk through how you can make that same turn and pivot your marketing.
But first, a quick bit about Vital. Vital is a digital agency. We started in 2001, so we have seen our share of downturns and made it through just fine. Vital was started by 2 ex-tech bubblers, Julia and Zac. So what does Vital do? If you need a website built, we're your agency. If you want to drive traffic to that website and have it convert, we're your agency. If you want to produce high-quality webinars and videos to feature on your website and use for digital marketing, we're your agency.
We have about 50+ employees, and 3 locations in Portsmouth, NH, Boston, and San Francisco. We've been on the INC 5000 for the last 5 years and had an incredible amount of growth. And we've won a lot of awards in website design and digital marketing services. We're lucky enough to have awesome clients to do this with.
So, let's get into it. It's time to pivot our marketing.
The biggest question right now for marketers is "what should I do?" And more specifically, "what should I pivot?" Well, some of these choices have already been made for us. Tradeshows, conferences, all events are canceled, so we need to make those pivots immediately. We need to move those budgets and marketing dollars and activities. And we need to do that basically yesterday.
Then there are some less obvious pivots that we need to consider here, like direct mail. Were you doing direct mail? Well if you were, were you sending it to people's offices? Because they're not there. How about sales meetings? If a normal next step in your funnel is to get together with clients for a sales meeting, you can't do that anymore — at least not right now.
What we really need to do is bring personalization up higher into the funnel. And webinars are a great tactic to pivot to. We can get a lot of the same results as events and conferences and we don't even need lanyards.
How to Generate Webinar Topics
Alright, so we all agree. There are tons of benefits to webinars. But how do we do this? How do we set it up and come up with webinar ideas?
What are you going to make that webinar about? That's the whole pitch. What's the topic that's going to get people engaged?
A framework we use here at Vital for topic ideas is the "Help Without Pitching" framework. This basically says that we need to start with the buyer. We shouldn't ask what we can sell someone, or how we can talk about our products and services. That's not how we should start. We should ask how we can help solve the buyer's problems.
Here's the framework: We start with the buyer's pain, and map out what that is against how we can help and what unique insight we can offer. What are they really struggling with? Conferences, tradeshows, events are canceled. We had plans for lead gen and sales from that and those are gone. That's the pain. OK, so we are going to start right there. So then you say, "How can I help without pitching?" Because if you're pitching in the actual topic, you're going to turn people off. To be clear, unless your webinar is legitimately a demo, your topic should be devoid of all sales pitch nonsense. You can pitch in the webinar, but keep it out of your webinar's main topic, and even your landing page for the webinar. Following this framework will help you make empathetic and relevant decisions about your webinar topic. Then you can present an alternative to events. And then what type of unique insight can you offer in that topic? It's how can you help and present unique insight.
Then you need to write a compelling offer. For webinars (and most offers actually), there are some main tenants to keep in mind. First is the idea of "That's Me!" You want someone to read your offer and find it irresistible, as if your offer was created just for them. You want them to read your offer and say "That's My Problem Right There, That's Me." Then you want to stack the deck. Once people have self-qualified with the topic, you want to increase the odds they'll sign up by providing an outline of points you'll hit that really pushes the visitor or viewer over the edge in their decision — that's stacking the deck.
Next, you want to offer a clear result. "At the end of this webinar, you will be able to…" and whatever it is. You want to give them a clear result because that's what they're signing up for. And then you want to throw in urgency. "This is only being shown at a certain time" or show urgency around how many attendees will fit. There's a lot of different ways to show urgency.
If we look at the landing page that everyone signed up for here, what do we see? Let's do some mapping. We've got urgency right off the bat in the beginning — tradeshows and conferences are canceled, marketers are scrambling, that's urgency. Next part, "Coronavirus has forced marketing departments everywhere to pivot." This is the "That's me" part. This is being forced on me and I need to make a better decision. Now we're going to stack the deck — what are we going to learn in this webinar? We're going to fill it with valuable ideas and frameworks you can use for your own webinar strategy. Then we offer a clear result — by the end of this webinar, you'll be able to identify which marketing activities to pivot, strategize offers, and get your webinars up and running. Now you have a clear end result.
This is how we approach coming up with a compelling offer, and you can reuse these points in email, social media, etc.
Webinar Promotion
To promote your webinar, you really want to throw the kitchen sink at it. Especially right now. You want to use any and all distribution channels you've built, so that could be email, paid ads, website promotion, social media, personal invites, use your network (reach out to other professionals in the business community).
Then there's Drift's favorite move. One of their favorite moves is to do partner webinars where they team up with another company with a similar target audience and they do a webinar together. What does that do? It doubles your promotion and distribution channels and basically you get 2x the promotion out of it, without having to do 2x the work. Drift does it a lot. Go to their webinar page and you will continually see all of their partner webinars.
Webinar Resources
How are we going to do this? If you haven't done webinars before, how are you going to practically do one? To be honest with you, it's pretty technologically easy. Anyone can do this. You need presentation software like Google Slides, Keynote, PowerPoint. You need some sort of webinar software like GoToWebinar, Zoom, or Webex. You might already have software you use for conference calls, so see what their webinar offers are like.
You can also use an external microphone if you're feeling fancy, but you don't really need it. It's more important to ship than to have the perfect tech stack. If you don't have webinar software, don't spend a week trying to figure out the best one. Just pick one and try it out.
The Deck
What are you going to go over in the webinar? First, don't lose sight of the "Help Without Pitching" framework. It's more important that your deck is helpful and makes an impression than it is that the deck actually makes a sale. That's not the job of the deck. You need to put yourself in your audience's shoes and figure out what would be most helpful for them to know, how can you help them solve their problems? You need to be empathetic, be helpful (even better, be insightful), don't try to make a sale (that's not the webinar's job), and make an impression (so viewers want to talk to sales after).
So let's get practical. What do you actually include? Here's a basic outline for the types of slides you'll need in your deck:
Title Slide
Agenda Slide
About Your Company Slide
"The Problem" Slide
How to Approach "The Problem" Slide
Supporting Data/Approaches/Insights Slides
Actionable Advice Next Steps Slide (that are actually helpful and practical)
Your Pitch
The Full Package
Let's start tying all of this stuff together.
Here's your game plan. These are all the activities you'll need to complete in order to have a successful webinar:
Deck Copywriting
Deck Design
Landing/Registration Page Copywriting
Email Promotion Copywriting + Send(s)
Social Media Promotion Copywriting + Posting
Paid Advertising Promotion Copywriting + Setup
Website Promotion Copy + Setup (Pop Ups, Announcement Bars, etc.)
Webinar Dry Run
Run.The.Webinar.
"Here's the Recording" Email (Post-Webinar)
Post-Webinar Lead Nurture Campaign
Add On-Demand Webinar to Your Resource Center
Add CTAs for Your New On-Demand Webinar to Relevant Pages
It seems like a long list, but I'll let you in on something: We started this webinar project last Thursday. And we started it with a landing page. Quick pro tip: Write the landing page first. We didn't start with the deck. The landing page was where we worked out the idea for the webinar and the overall outline. We sent the first email promoting this two days ago and 250 people registered for it.
Quick reminder. Your first webinar might not be a home run. That's OK. Don't let that stop you. Analyze, improve, and try again. Most people give up on new tactics fairly quickly, which makes it even more of an opportunity if you're willing to be disciplined and put in the work. Most people give up on tactics really quickly, after they don't generate traffic or leads after the second month. When they give up early, they never end up building up or getting to where they could. This is a competitive advantage because most people do this.
Your Digital Marketing Foundation
Let's talk real quick about your digital marketing foundation.
So, there are tons of benefits of webinars and you should be shipping them ASAP. Long-term though, it's important to remember your digital marketing foundation matters. You're going to get more out of any marketing activity if you have a solid marketing foundation to deploy it from.
We can't lose sight that we need a solid foundation to stand on. How strong is your foundation? How is your website performance? Is it updated? Is it loading quickly? Is it converting well? What are your search engine rankings? How's your SEO? What are your gated content offerings? How is your reporting? How are you measuring all this stuff? Without a strong foundation, you're not going to be able to get what you need to get out of your marketing. We were able to get this webinar together and get 250 people to sign up for it because we have a ton of traffic on our website and because we have a huge email list and we rank well in search engines and we have a great social media presence. When we need to pivot, we can pivot hard and get results out of it. And that's what everyone should be doing.
You knew this was coming. At Vital we help our clients with a wide range of digital marketing strategies, strategizing and launching webinars is one we love to help with. We've been working with 40+ clients in digital marketing retainers for the last 10 years, we know how be successful with these types of projects. If your business wants to get some webinars projects off the ground, we'd love to help.
That's it, thanks for your time today, I hope you all found this helpful and that you're now feeling empowered and fired up to pivot your marketing and start kicking off your own webinars! Let's see if we have time left for questions.
Questions
Q: How are virtual events or webinars marketed differently than face-to-face meetings?
A: You wouldn't necessarily market a face-to-face meeting, but I see where they're going with this. I'd say that's ground shifting beneath our feet. Now that everyone is working remotely, they are very similar. As people get more and more used to it, it becomes the new normal, so they aren't necessarily different.
Q: What's the ideal length for a webinar?
A: It's important that they be as long as they need to cover the topic. I like my webinars to be between 30 and 45 minutes. A lot of people don't have time for longer webinars. This is something you can test on the landing page. Leave a little room for Q&A at the end of it. I will sign up for webinars but not actually go because I don't want to sit through it if it's an hour-long and then I will listen to the recording.
Q: Can you provide examples of follow-up actions that you've seen work well?
A: There's a lot you can do. First, the webinar recording email. Put them into a lead nurture campaign that's tailored to the topic of the webinar, so that's sending 3-5 emails to everyone who attended the webinar over the next week or two. You're going to want those emails to be very conversational. Ask for people to reply to the emails. These people were attendees. You talked to them for half-an-hour. They know who you are. There are also things to do with remarketing ads to stay in front of people. Whatever you offer will be specific to your company.
Q: Would you ever promote or present the same webinar multiple times, or should each webinar be its own topic?
A: We've done this with clients a few times. We will resend a webinar to do a second version, especially if we get a lot of good questions at the end. We will send an email to people who didn't engage with the first webinar and promote a re-run of the webinar. We've done this a few times and been very pleased with the attendees. You're also going to be more polished and comfortable the second time around so it's going to be a good product overall.
Q: Is there a best practice in developing a subject line that is eye-catching but also gets through spam filters?
A: The best practice would be the approach we talked about with the framework. Stacking the deck and creating urgency. I'd go back to that framework approach. Getting through spam filters is always tricky. Ultimately, test subject lines. We do A/B testing with every Vital email and sometimes we're surprised with what works best. If you're having serious issues with deliverability, that's something to talk to your email service provider about to see if they have tips for how you can improve.
Q: In healthcare, how do you recommend grabbing the audience's attention during this stressful time, and still show value, relevance, and empathy for their time?
A: We really need the empathy part of it right now. This is not necessarily the time to be heavy-handed. It's time to be helpful. This webinar is how we did that because we think webinars will be helpful to pivot toward. And we are just trying to be helpful — we provided all the tools you need to do a webinar. Some people are going to need our help, but that's not the overall motivating factor. People can connect the dots. You don't need to hit them over the head with a sledgehammer of "hire me" messaging. If you can be helpful and be empathetic, people will connect the dots. Even if we give you all the steps and tools to do this on your own, people might not have the time to do it. People are going to resist heavy-handed messaging and it comes off as insincere. As marketers, we are all trying to be as sensitive as possible with the communications we're putting out right now.
Q: What does your firm specifically offer in relation to this webinar?
A: We offer webinar production services. That means we can help you produce your webinar. We can help you strategize it. All the steps we listed today, if you don't have the time or capacity to do them, we can help you. So, we can help you come up with topics, write and design the deck — we have a full team of writers and designers and video production folks all in-house to help you with this. That's promoting, marketing, producing, and all the follow-ups. Those are the services at a higher level. We have a digital marketing retainer that is more of a monthly cadence to help clients hit whatever their goals are. We work with them to come up with a custom plan of marketing tactics. It's custom, so there' no pre-fab plan. It's prescriptive and diagnostic and we have a full team here for the planning and execution.
Q: Any recommendation on how to make a webinar interactive for internal usages, like for a team meeting?
A: It can be a bit like herding cats. The preparation for this is key. Seeding survey questions to the team about what they want to talk about. Get people involved early on so once you have the meeting, you can throw it back to different people. Have a game plan before you dive in and a small number of people you will interact with during it so you have momentum going into it. It's either radio silence or everyone talking at the same time without a game plan in place.
Q: What's the best method to build a newsletter list on a small budget?
A: The best tactic we've found is actually building it through gated resources. Everyone has a CTA at the bottom of their website that asks visitors to subscribe to their newsletter. This is great but we've found that overall, newsletter sign-ups come from gated resources. A webinar like this, an eBook download, and anything that gives people the option to subscribe. People aren't looking for another newsletter, they are looking for helpful content. To get the content, they will sign up for the newsletter, so we've found that to be the most successful practice.
In addition, testing tactical offers where you're A/B testing messages and pop-ups works. It's not necessarily getting your newsletter CTA on the site everywhere — it's looking at the things people are already downloading. If you're going to do a straight newsletter as an offering, you need to productize it. The Hustle, The Skim, The Morning Brew are successful newsletters for a reason. They are productized. What else does The Hustle do? Nothing. Just a newsletter. And they've built a company around it. Go through the framework we went over earlier and apply it to your newsletter. Think of your newsletter as a product and market it that way. Make sure you have the audience there to support it. It's not one-size-fits-all, so we assess each person's audience differently.
Open rates and clickthrough rates: Look up stats for industry averages. What I always say is that it doesn't really matter. What you should strive for is something better than your baseline. Double it, triple it, just get it better than what you already have.
Q: How can you measure success with your webinar? Is there a benchmark? What's a good sign up and attendee rate?
A: Anything better than what you have! Try and make the next one better than the first. Everyone will have different metrics. Lead gen, commerce sales, etc. The webinar's job isn't to make the sale, it's to get leads. You need to understand how efficient your webinar is at doing those things. If the sales teams says they're bad quality leads, it might just mean the topic of the webinar didn't represent the right type of qualified leads. At the end of the day as marketers, we are held to dollar signs. We can measure the outcome of attendees and include those numbers in reports.