The Single Best Approach to Improve Your Google Local Listing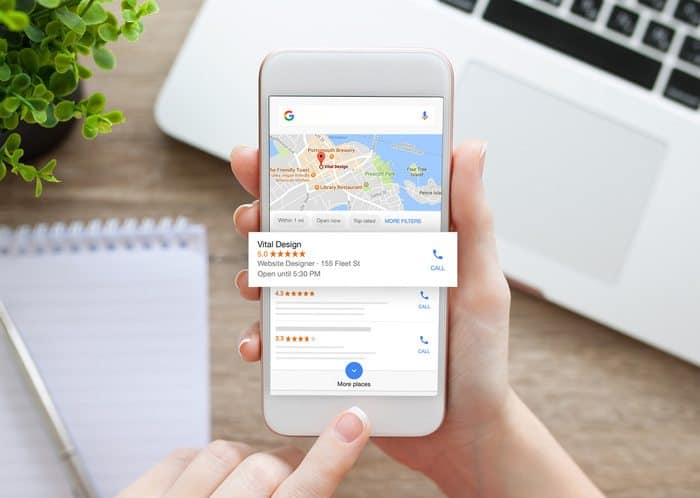 Curious as to why your competitor outranks you in Google local search results?  In the words of the infamous Ricky Bobby: "If you ain't first, you're last."
At Vital, we prioritize search engine results and are prepared to offer you our strongest strategy to ranking in Google local: attain reviews. If you're ready to transform your local listing from worst to first, read on.
Our 10 Proven, Surefire Tips to Improve Your Local SEO were well-received but the fifth tip on the list, attaining reviews, fueled a lot of questions.
Questions such as:
"How do we go about asking our clients for feedback?"
"How do we know the reviews will be positive?"
"Should we pay to automate the process?"
Save your pennies (and protect your sanity) by implementing the single best approach to improve your Google local listing via Google My Business: a straightforward lead nurture campaign.
Step-by-Step to Improve Your Google Local Listing via Google My Business

1. Automate Email #1
What's needed?
An email marketing provider such as MailChimp or Constant Contact.
A list of closed customers
A sincere email
A form on your website to gauge customer satisfaction
Once you've set up a new list with your email service provider (we recommend MailChimp and here's why), you'll craft an automated campaign that sends to all recipients on the list as they are added.  Though this requires a bit of manpower from an admin or an intern, as someone from your team needs to upload emails of closed customers, this shouldn't take more than a minute and could be tackled on a weekly basis.
This email should include the following:
A Thank You. Graciously thank the customer for working with you
A Reason Why. Inform them of the value they can provide by sharing their opinion of your product/service
A Form Link. Invite them to a page on your website to share their feedback [with a simple form dedicated to capturing whether they are satisfied, if they'd recommend your service, and an optional open area for comments]
2. Contingent Upon Email #1, Send Email #2 to Invite the Actual Review via Google
In addition to collecting valuable intel on the overall customer experience (which has its own business benefits), you now know whom to (automatically) reach out to for positive feedback via Google.  There are two pathways here:
Negative feedback on the form leads to a simple thank you page
Positive feedback on the form leads to a thank you page as well as email #2
In this second instance, you can link your form such that if the customer selects both 'satisfied' and 'would recommend,' they receive email #2 via MailChimp automation.
What does this email cover?
A Thank You. Genuinely thank your customer for providing feedback
A Google Review Link. Invite the customer to take a minute to provide a review on Google, providing them with your direct Google review link
A Reminder. Remind the customer of the importance of Google as a 'word of mouth' technique in the digital age, reiterating that every piece of feedback is examined and valued by the team
3. Watch the Reviews Pour in
By this point you will have accomplished several things:
You've successfully identified those who are likely to provide positive reviews and automatically followed up with them to enhance your Google local business search ranking
You've garnered additional information as to opportunities for improvement based upon any negative feedback
You've taken a pivotal step toward boosting your local search rankings
Bonus Tip: Respond to Reviews (Both the Positive and Negative)! 
You can take these responses a step further by optimizing your response for keywords, such as "Thank you for your feedback on X service in Y community [city, state], our team at Z [full company name] tremendously values your input and we look forward to working with you again."
Understanding how to improve Google local listings is no small feat, but enhancing your Google My Business with positive reviews is a powerful technique to increase your local presence. Not only do the reviews improve rankings, they also help your local listing take up more real estate on the results page.
If you're interested in more tips on how to get ahead with your search engine listings, we've compiled 26 SEO questions you were too afraid to ask.  If you're eager to connect further, LiveChat us or send us a note.