Vital Hires "Big Three" for Project Management, PPC and Web Development Positions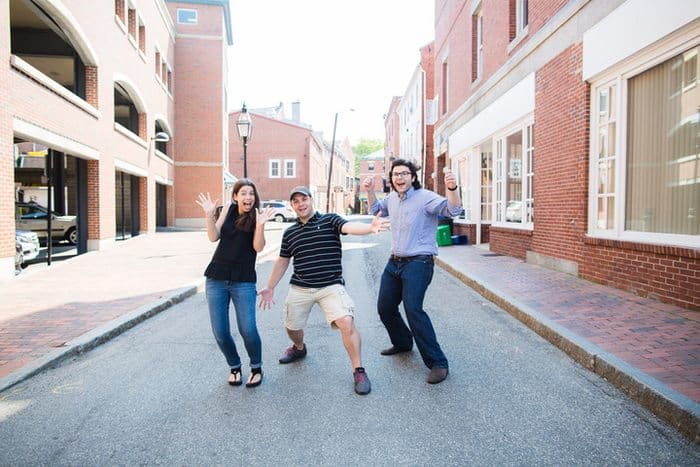 Remember the original Big Three in Boston? You know, the star-studded trio of basketball players who helped lead the Boston Celtics to an NBA championship in 2008? Well, this post has nothing to do with them. It does, however, have a lot to do with Vital bringing its very own version of the Big Three to work at the growing digital marketing agency.
Last week we introduced Ian, Courtney and Joe and this week we welcome another talented trio of exciting young professionals added to the team.
Meet Jamie Bradley, Andrew Pappas and Devin Swett. Their basketball skills are questionable at best, but their skills in project management, pay-per-click management and front-end web development are second to none.
Meet our newest Vitalians:
Jamie Bradley – Project Manager
A graduate of the University of New Hampshire, Jamie is a versatile veteran in the digital marketing arena who, after cutting her chops in various other roles, realized project management was the place for her to be.
Before joining Vital, Jamie worked as an Office Manager for a Portsmouth-based web development agency. There, she quickly became enamored of all things digital marketing (which she believes is a science unto itself), including SEO, SEM and web. This appreciation for digital marketing led Jamie to work as an SEO, SEM consultant and front-end web developer before coming to the realization that she enjoyed planning projects and working with clients to meet their goals even more than testing and coding.
"My creative side loves the opportunity digital marketing provides to tell stories and truly control a brand's message, "said Jamie. "My analytical side loves how measurable everything is. With digital marketing, you don't just fling something into the internet and hope for the best —you measure the impact of your story."
When she's not planning and executing projects/embracing life as a Vitalian, Jamie enjoys baking, reading, writing and exploring the Portsmouth restaurant scene. She lives by the Hampton seaside with her fiancé and their three cats — Tabitha, Callie, and Rufus T. Barley Sheaf III — which are obviously and regrettably not dogs, though they have all been taught to fetch.
Andrew Pappas – PPC Manager
A Keene State College graduate, Andrew is a veteran marketer who has worked in numerous agency roles over the years.
As a guy who admittedly loves coming up with new and exciting ways to tackle any challenge, Andrew's marketing agency resume includes various roles in sales, SEO and PPC.
"What interests me most about digital marketing is the constantly changing landscape that always requires you to be on your toes," said Andrew.
When not in marketing mode, Andrew practices voice acting in an attempt to humor his toughest critics — his two children. So far his Chewbacca call has had critical acclaim among the family, with the exception of his wife. Needless to say, he thoroughly enjoys spending time with his family and, like any wookie impersonator, loves a number of outdoor activities.
Devin Swett – Front-End Developer
Devin's career started as a photographer with an international magazine dedicated to covering the sport of rowing. In the downtime between regattas he started playing with the magazine's layout, and soon after, a designer was born. Devin's interest in design couldn't be bound by mere paper, and it wasn't long until he'd redesigned the magazine's website.
After his initial taste of web design, he was obsessed with the idea that you could just create anything you wanted on the web. As the years passed, he focused with Jedi-like intensity, honing his web development skills. Most recently he worked at a Manchester-based multimedia marketing agency as their lead web developer.
Devin is enamored with the power that coding has to allow anyone to bring any idea to life. This respect for the ability to translate the abstract into something tangible was instilled while pursuing his degree in fine art.
"I love the challenge of coding more and more complex projects," he said. "On top of that, I like challenging myself to code them as efficiently as possible."
In his spare time, Devin finds balance by practicing analog photography by staring through the ground glass of his giant 60's era camera at the serene wilderness where he loves to camp.
Want to work at Vital?
Be sure to check out our current openings—we're always looking for talented people to join our growing digital marketing agency.