8 Key Elements of Manufacturing Website Design (+Examples From Outstanding Manufacturers)
If you work in marketing for a manufacturing or industrial company, you know how important your digital presence is — and your website is the most important piece of that presence. But these days it's not enough to simply have a manufacturing website that tells people who you are and how to get in touch. You need a well-designed website that contributes to your bottom line.
At Vital, we've been designing and building websites for manufacturing companies for over 10 years — and as an integrated, full-service digital marketing agency, we've been helping our clients leverage their sites to increase sales since the days when tradeshows and referrals were the be-all end-all of marketing for most manufacturers.
Over the years, we've developed a unique understanding of what features and elements of manufacturing website design drive increased sales and revenue. Before we dive into those features, let's get on the same page about why your manufacturing website is so important.
Why Is Website Design Important for Today's Manufacturing Companies?
The short answer to the question of why your website design matters is: Your customers are online, and they're going to visit your website as part of their "buyer's journey."
To understand what features your website should have, you need to understand that journey. According to Gartner, if you're a B2B manufacturing company with a long, complex sales cycle, the typical understanding of a buyer's journey — moving from the top of the funnel (awareness of a problem or pain point) through the middle of the funnel (investigation of solutions) to the bottom of the funnel (selection of a solution) — probably doesn't quite apply.
Instead, research on complex B2B sales suggests that buyers need to complete six "jobs" in order to make a purchase:
Problem identification. "We need a solution."
Solution exploration. "What products or services exist to solve our problem?"
Requirements building. "What exactly do we need the products or services to do in order to solve the problem?"
Supplier selection: "Does this product or service solve the problem?"
Validation: "We think we found a good solution, but we need to make sure."
Consensus creation: "We need all the decision-makers and influencers to agree."
What's more, these six jobs don't happen in a linear fashion. Instead, different people involved with the buying process might jump around from job to job, sometimes working on more than one at a time. They also go to different sources, or platforms, including your website, to do their jobs.
Gartner reveals that 77% of B2B buyers say their last purchase was "very complex or difficult." At Vital, we refer to anything that makes a buyer's process more difficult as "friction." And the number one goal of a well-designed manufacturing website is to reduce friction from all six of the purchaser's "jobs." The key elements and features of manufacturing website design we'll be covering here all contribute to that one important goal. At the end of the day, your website should make it as easy as possible for your prospective customers to choose your manufacturing products or services.
#1 Manufacturing Website Design Element: The Hero
In website design, the "hero" refers to the main image that appears "above the fold," or before you do any scrolling. It includes your headline, any subheadlines or additional copy, and your call to action (CTA). Because website visitors who enter through the homepage are typically new to your brand, the hero should accomplish three main goals:
Introduce your brand visually
Immediately establish what your company does and why your audience should care
Have a prominent and clear CTA that makes it obvious what to do next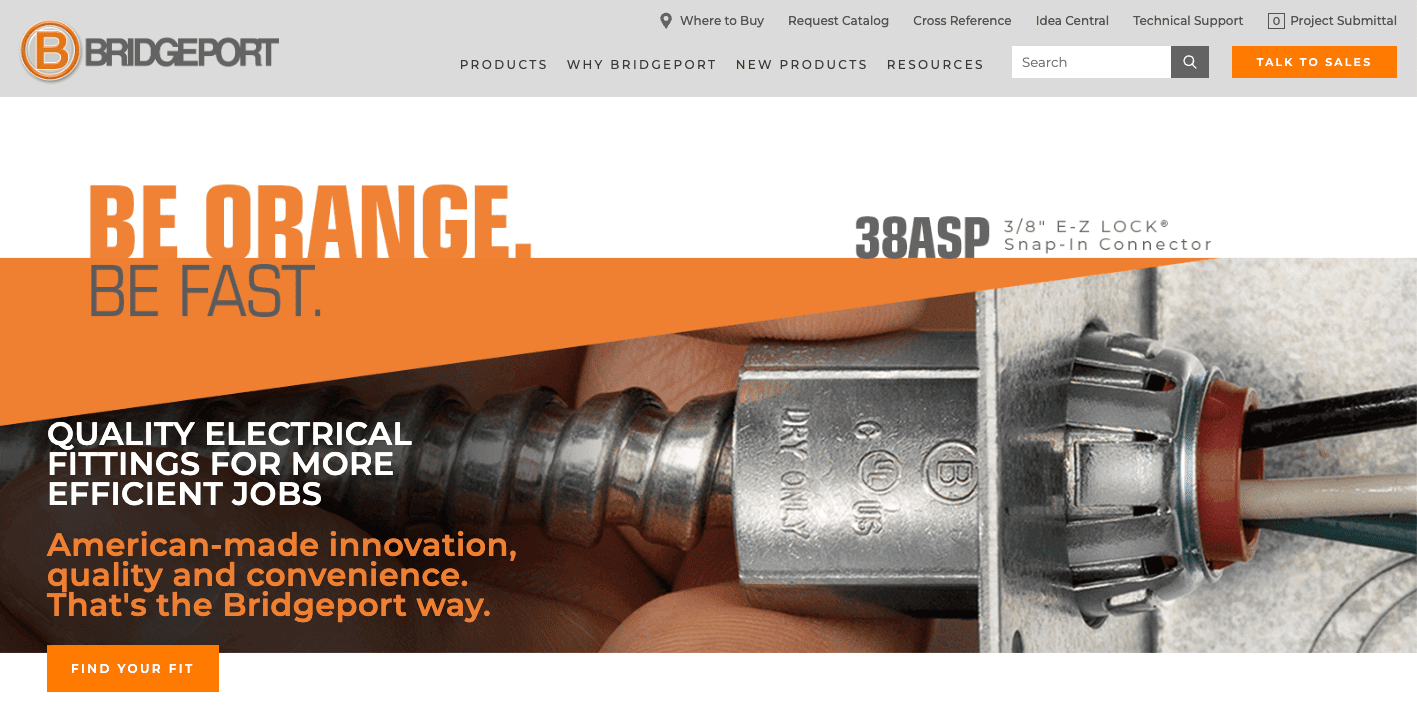 What it is: Vital client Bridgeport Fittings
Why we like it: We're partial to the color orange, but that's not the only reason we like this hero. By emphasizing the brand's color in the headline and the design, Bridgeport encourages brand recall in the store. Meanwhile, the second part of the headline, "Be Fast," communicates the brand's benefit to its audience — explained further with the subheadline "Quality electrical fittings for more efficient jobs."
The second subheadline, "American-made innovation, quality and convenience" establishes the brand's differentiating value. And the CTA, "Find Your Fit," plays on the name Bridgeport Fittings and drives to a store finder. It's all optimized to encourage brand preference and drive in-store sales.
#2 Manufacturing Website Design Element: The About Page
The "about page" of your manufacturing website has a big job: Communicate and validate why to choose your company over the competition. It's fairly common in manufacturing for companies to use this page to tell their origin story. That's not necessarily wrong, but a good "about page" tells the company story through the lens of a potential customer, with the goal of answering the question: Why us?
With that in mind, we appreciate when companies rename that section of their site to some variation of the "Why us?" question.
What it is: Vital client American Modular Systems
Why we like it: The entire Why AMS page is all about validation. They elaborate on their brand tagline, "Designed to perform. Engineered to empower," with a value-focused message communicating their core philosophy that "modern classrooms can be both innovative and affordable, game-changing for school and accessible for school districts.
Below the fold, the page continues its value-focused narrative with the company's brand pillars: High quality, high speed, and high standards.
It then shifts from what AMS delivers to how they deliver it, with a section devoted to their unique approach.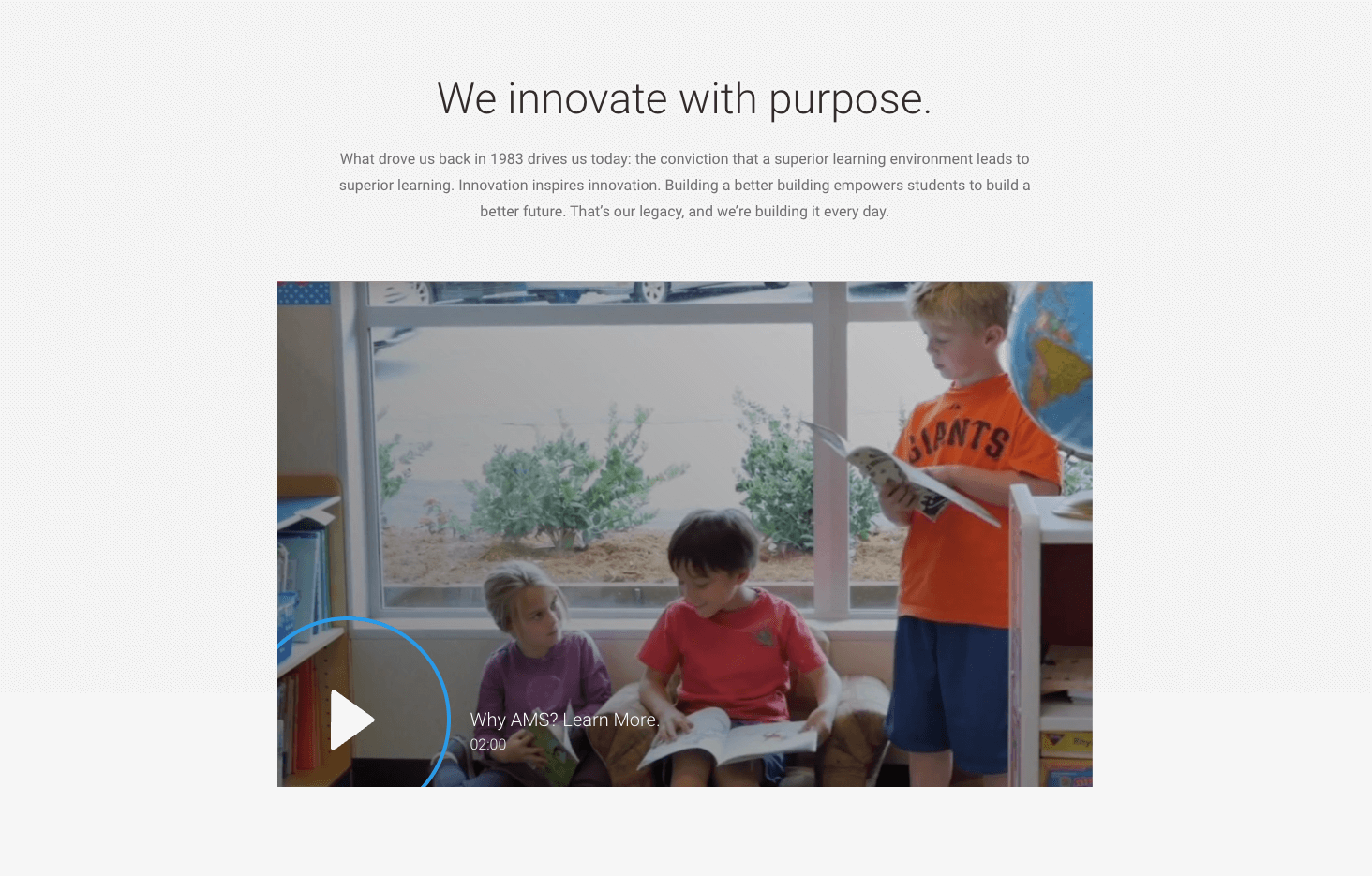 They encourage visitors to engage with video content…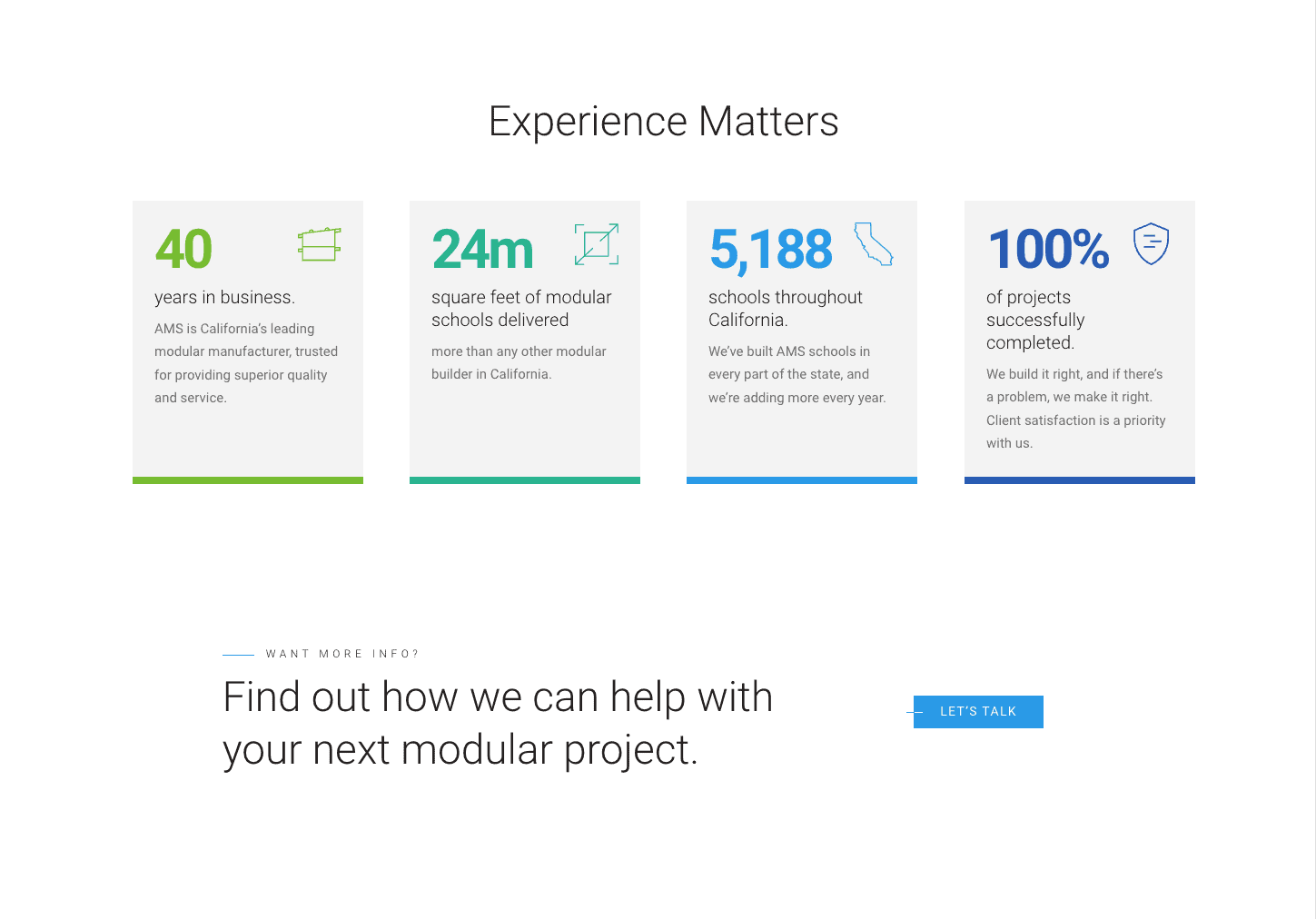 …and wrap it all up with validating facts and figures about their impressive track record of success, leading to a clear, compelling CTA to contact sales.
#3 Manufacturing Website Design Element: The Product Catalog
One of the most important features of any manufacturing website is the product catalog. Beyond just showing what products your company manufactures, the product catalog gives your potential customers the chance to fully understand offerings. Because we know that B2B buyers need a lot of information to complete their "jobs," your website should empower them to self-educate as much as possible, with intuitive organization including category filters.
What it is: Vital client PLT Health Solutions, a manufacturer of ingredients for food, beverage, and nutraceutical products.
Why we like it: At the highest level, PLT Health's ingredients are filterable by categories like "Active Nutrition" and "Immune Health." Each category has an icon that identifies it and extends the company's brand.
Once a potential buyer selects a category, they are able to view product cards for all the ingredient solutions in that category.
Hovering over any of the product cards with your mouse shows all the category tags associated with the product, so users can quickly see if it fits their intended application.
Once you click through to the product detail page, you get all the details you need to assess the product — with the entire page designed for search engine optimization (SEO) in order to drive traffic from potential customers who are searching for products by name, function, or other specifications.
The product detail page is anchored by an end-of-page CTA focused on the benefit of the product, with the options to "Contact Us," or "Request a Sample."
#4 Manufacturing Website Design Element: eCommerce Functionality
Most B2B manufacturing sales are too complex to be completed online with a simple eCommerce shopping cart. It might seem to make sense to skip the eCommerce functionality altogether. But if you do this, you miss out on the opportunity to fully optimize your manufacturing website for search. At Vital, we often recommend eCommerce functionality to our manufacturing clients in order to capture searches for products by name, SKU, and specifications. You don't even need to have an online checkout process to do this.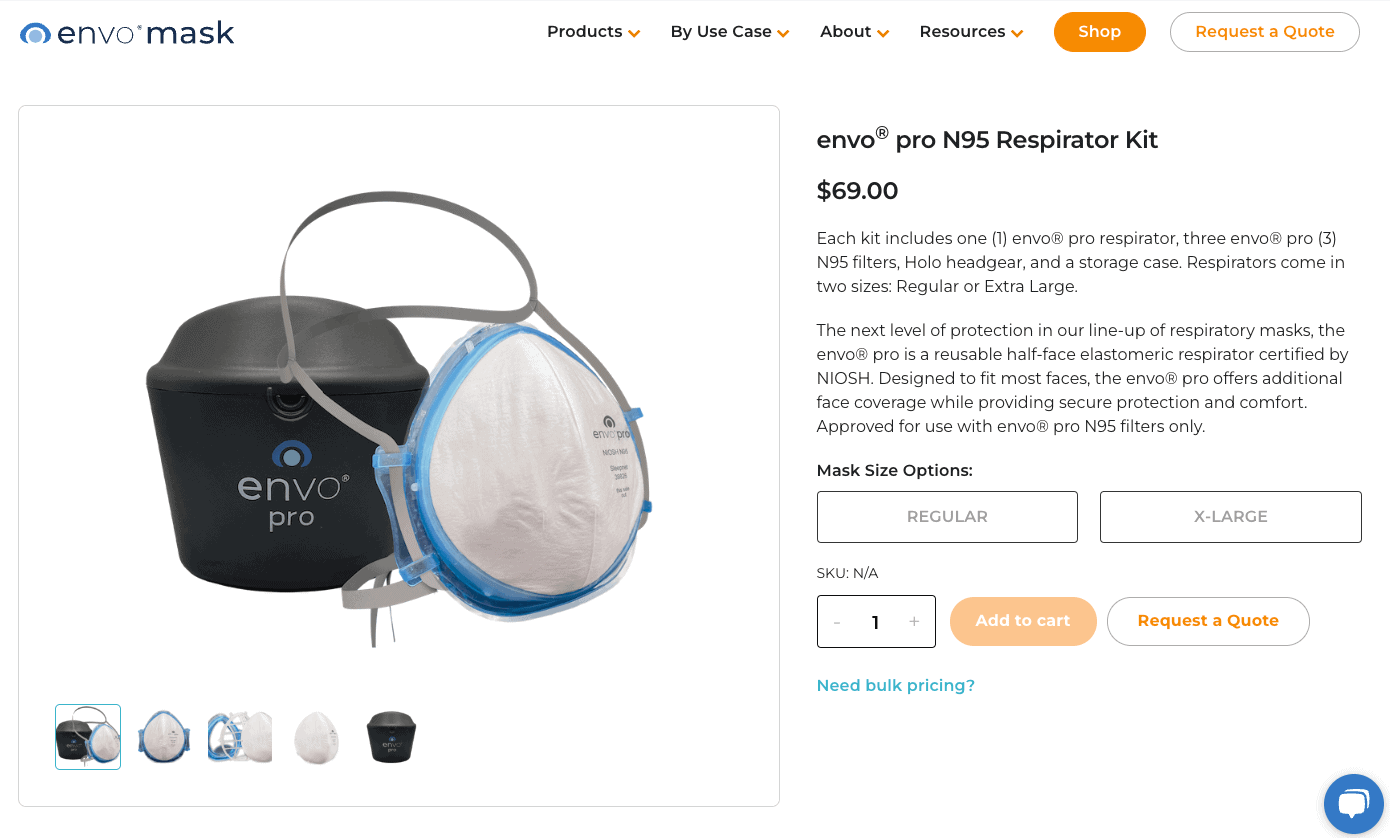 What it is: Vital client envoⓇmask
Why we like it: EnvoⓇmask manufactures professional-grade N95 and N99 respirators and accessories. They sell mostly B2B in bulk, but they want to enable individual consumers and smaller businesses to shop online. The site allows visitors to either add the product directly to a shopping cart, or to request a quote for larger orders.
In addition to the functionality, the page is built out with detailed product information, optimized for search.
It pays off — envoⓇmask appears on the first page of Google's SERP for N95 respirators.
#5 Manufacturing Website Design Element: Contact
Manufacturing companies may find themselves in a bind when it comes to enabling website visitors to contact them. Despite the shift from one-on-one sales to digital marketing, a lot of manufacturers aren't ready to cut the cord completely. Many of our manufacturing clients still need to make it easy for customers to contact sales via phone or email.
What's the problem? Unless your website visitors are browsing on a device that can click to call or email — and you have the ability to track those contacts and where they're coming from — listing your phone number and email address can create "tracking holes." Tracking holes drive digital marketers crazy, because it makes it difficult to properly attribute leads and understand what's working.
With that said, even the most data-driven digital marketers can understand that some manufacturing companies would rather have incomplete tracking and reporting than risk losing a potential customer because they couldn't pick up the phone and call sales. For these clients, we recommend a hybrid approach: Enable click-to-call tracking and make it as easy as possible for customers to get in touch online, with multiple (100% trackable) entry points.
Who it is: Vital Client Gemini Valve
Why we like it: Yes, the phone number for sales is up there in the utility nav. But Gemini Valve gives their website visitors plenty of other ways to get in touch, including live chat and a form to request a quote.
Their form design limits friction by collecting just the information they need to complete a quote. The two-step process makes things even easier and less intimidating by starting with the basics. The decision to make providing a phone number optional is another good move. (No one wants to end up on a call list.)
#6 Manufacturing Website Design Element: The Blog
It wasn't too long ago that the words "content marketing" and "manufacturing" would almost never be used in the same sentence. These days, it seems like every manufacturing website includes a blog. And for good reason. Your company blog is the ideal platform for top-of-funnel (TOFU) SEO content. A well-planned, well-executed blog will help drive organic traffic to your website — where you can then engage with more rich content to help customers complete their "buying jobs." This moves them closer to making a purchase.
And, as they move closer, you can use your blog to provide gated premium for your prospective buyers as part of your lead-generation strategy. (More on that in a moment.)
Who it is: Vital client Massage Chair Store
Why we like it: There are so many reasons to like the blog for this top reseller of massage chairs. The featured images are simple, clear, and on-brand. Readers can browse by topic and find out everything they need to know to choose and buy a massage chair.
But the number one reason we're fans of the Massage Chair Store blog? Results. Our SEO and content marketing experts structure this client's content calendar to target specific high-value keywords. We analyze competing posts that rank for the keywords we're after, and strategize how to "10X" their content in order to outrank them.

For example, this buyer's guide to the 10 best massage chairs for 2023 nabs the number one spot on the Google SERP for seven high-intent keywords, plus one "People also ask" result for a keyword with a monthly search volume of 1.6K.
And this is just one example. Massage Chair Store has over 100 blog posts on their site. As their digital marketing agency, Vital reports regularly on the performance of existing posts. We also plan updates and net-new posts to ensure that this client consistently dominates the SERP for keywords that matter to their bottom-line.
#7 Manufacturing Website Design Element: Case Studies
One of the most effective ways to reduce friction for manufacturing buyers is by publishing case studies on your website. Some of the benefits of sharing robust case studies online are:
Social validation. Case studies show off your previous success, making it easier for potential buyers to believe that you're a safe choice.
Solution validation. For buyers who are focused on the "job" of proving that your solution meets their requirements, relevant case studies will demonstrate how your products or services have solved their problems already.
Inspiration. Quality case studies will inspire potential buyers to think of use cases for your manufactured goods that might not have occurred to them.
Case studies serve a dual purpose as both sales and marketing assets. Sales teams can leverage case studies in one-on-one communications. And buyers who are conducting self-directed product research can use them to educate themselves before choosing to reach out to sales.
Who it is: Vital Client Parterre Flooring
Why we like it: Parterre's case studies are part of their online resource center. By showcasing their product in different applications, they are able to both prove its versatility and inspire potential customers who are investigating commercial flooring options.
The web versions of each case study are brief and structured into four sections: The Client, The Challenge, The Solutions, and Conclusion. At the end, the reader has the opportunity to download a complete case study in .PDF format. What a great sales and marketing tool!
#8 Manufacturing Website Design Element: Premium Content Offers
If your manufacturing blog is the engine that drives organic traffic to your site, and your case studies are a tool for validation and inspiration, your premium content offers are the valuable insights, reports, guides, etc. that prospective buyers get in exchange for filling out a form with their contact information (i.e. becoming a lead). This is known as "gating," and the content itself is sometimes called "gated content."
Here is where you dig deep, put yourself in the shoes of your customers, and ask yourself: What do they want or need to know to bring them closer to a sale? And, how can I present that information in a way that's worth an email address? (We generally encourage our clients to start with names and email addresses, though some resources might be worth some company information at the least, and a phone number if you really nail it.)
Who it is: Vital client Consolidated Sterilizer Systems
Why we like it: Consolidated Sterilizer Systems is one of our longest-standing clients. Over the 10 years of our partnership, we pioneered the use of premium gated content in manufacturing. We've been so successful, our client has been able to out-compete much larger companies. At one point, the Consolidated Sterilizer Systems website outranked Wikipedia for the term "autoclave." (Unheard of!)
We've produced hundreds of content assets for this client, and one of the most successful is a Steam Sterilizer Training Course. This asynchronous video course is available to anyone who fills out a form on the website.
The course is incredibly effective because it targets people who set up and/or use steam sterilizers in laboratory or medical settings. And these machines don't last forever. Once we have the contact information of the person registering for the course, we can continue to stay top of mind by sending regular emails focused on helpful content.
When the time comes to replace a sterilizer, Consolidated Sterilizer Systems is already positioned as an industry leader.
Manufacturing Website Design: The Big Picture
While we've focused on eight elements of manufacturing website design, a successful website is more than the sum of its parts. At Vital, we believe that a company's website is the foundation for its digital marketing strategy. We have a proven track record of success building and supporting dozens of manufacturing websites with digital marketing strategies that drive a clear return on investment (ROI). Learn more about our approach to digital marketing for manufacturing.
Interested in learning how your manufacturing website can become the engine for your company's growth?