Manufacturer Marketing Growth Study: Bobcat
Chances are that if you're in the manufacturing industry, you've heard of leading compact equipment manufacturer Bobcat. The company was founded by an entrepreneur in 1947 and has grown exponentially over the past 70+ years. A significant part of that growth has come in recent years due to their serious commitment to digital marketing.
Bobcat's digital marketing efforts have not only helped them gain international recognition, but they've also landed in a position to continue to claim large segments of the compact equipment industry's market share.
Here's the good news for you: their success is not unique to them! The strategies and techniques Bobcat is employing can be modeled by any manufacturing company.
In the following study, we pull back the curtain on Bobcat's digital marketing strategy. We highlight the tactics that have helped them grow to 300,000 monthly visitors and counting, and uncover a few areas for improvement that we can all learn from.
1. Competition
With competition like Wagner Equipment, Titan Machinery and JCB, Bobcat has had to employ a solid digital marketing strategy in order to get to where they are today; an ever-growing, innovative, and successful heavy equipment manufacturer with over 300,000 site visitors per month.
2. Paid Advertising Strategy
Search Budget
$17,500/month (this is double and triple their main competitors' spend). They get 9,400 paid clicks per month.
Keyword Groups
Product-Related Keywords
Targeting specific keywords is critical to any good paid advertising strategy, and Bobcat is doing it right. Targeting keywords related to their products ensures they appear where potential customers are looking.
Targeting Competitor Brand Keywords
Targeting competitor keywords is also a great tactic. While competitors may rank higher organically for certain keyword phrases, Bobcat can get their pages higher in search results for those keywords using ads. This is useful because if someone is looking specifically for a "caterpillar skid steer," Bobcat can potentially convert them by getting their own skid steer product page in front of that person. This is also great because you can target these keywords with specific campaigns that combat the competitor brand.
More Competitor Brand Keyword Targeting
Ad Copy
Bobcat knows who they are and how they want to be perceived. This is very clear in their messaging across their entire site as well as their ad copy. Bobcat is positioning themselves as the only brand trusted to execute the toughest jobs with machines that are rugged, reliable, and affordable.
"Tough" Brand Ad Copy
"Affordable" Brand Ad Copy
Keywords vs. Competitors
The charts below show how even though Bobcat spent less and targeted less keywords, they were able to generate more clicks than competitors with their paid ads. This is due to the proper segmentation and targeting of their keywords.

Budget vs. Competitors
Clicks vs. Competitors

Facebook
Bobcat uses a good mix of ads that promote products, content, and community.
Product Focused
Again we see the "tough" theme with a continued insistence on using "genuine" Bobcat parts direct from Bobcat "to your door." This messaging conveys trustworthiness in brand and convenience with direct-to-your-door delivery.
They use variations of a single parts ad that maintains the same message in the copy but makes slight changes to the imaging. This is likely to target different users based on a certain model of loader/excavator that the user purchased.
These types of ads could also be used to target different audiences based on a number of different criteria. For example, you could serve ads with specific replacement parts based on the date of purchase within your CRM. You know that if a customer bought a specific machine two months ago, they will need an oil change soon. You could serve these customers ads showing their machine with oil, filters, and gaskets with copy like, "Time for an oil change?" or "Regular preventative maintenance keeps your machines ready for the toughest jobs."
Notice the change in model and associated parts.
Bobcat also promotes direct-to-consumer parts purchasing with different types of ads besides just static images.
They also use slideshow style ads like this:
Content Focused
Bobcat uses ads to promote content in the form of training courses. These are available as single classes or in a subscription form that grants access to training for multiple machine platforms at a discounted price.
Notice that the foundational messaging continues the reliability and toughness theme. Each ad also showcases different pieces of equipment. Again, these ads are likely served to remarketing audiences based on their purchases, personalizing the experience.
Community Focused
Creating a community around the Bobcat brand is extremely important. It allows customers to be a part of a group, which is something we all inherently desire. This also provides customers with intangible value by choosing to align with the Bobcat brand.
In addition, having a strong community exudes trustworthiness. This helps prospective customers feel at ease when making a purchase, which is important in an industry like Bobcat's — one where a single purchase will set the customer back thousands, if not tens of thousands of dollars.
Email Newsletter
The messaging again offers value via becoming part of the community, by becoming "an insider."
User Generated Content
User generated content not only reinforces the community aspect of the brand, but also bolsters trust. Some potential customers can connect with an actual user showcasing the product in use rather than staged marketing imagery.
This ad is promoting an event, once again reinforcing the community aspect.
Video
This video is a highly targeted ad. One might think that the typical heavy equipment user wouldn't be able to connect with this video, and at one time, you might have been right.
But this ad is targeted to people in the 18-35 range who would have played these games as a child, and would not only be open to this new tech, but actively seeking out a solution like this.
3. Content Strategy
A content marketing strategy should help convey your message to a specific audience in an effort to accomplish specific goals. Ultimately, a content strategy should aim to provide you with a steady flow of organic traffic as well as highly qualified leads.
Blog
While Bobcat is doing a lot of things right, their blog is somewhat of an anomaly. It is located on a subdomain at blog.bobcat.com and is not using SSL effectively, which negatively affects their rank in SERPs.
There is no real benefit of having your blog on a subdomain. In fact, there are many reasons (which I will not list here) why it has a negative impact on your SEO efforts and user experience. On top of that, not having an SSL certificate to secure the blog further affects their ranks as well as trustworthiness. This could and should be fixed, because with all that said, their blog content is clear and direct. They are doing a lot of things right.
Just spend a few minutes reading the Bobcat blog and it will quickly become apparent who their target audiences are.
Business Owners
With blog titles like, "5 Ways to Boost Snow Crew Morale During Winter Storms" and "Boost Your Business with Word of Mouth Marketing," you can tell that Bobcat wants the attention of business owners big and small.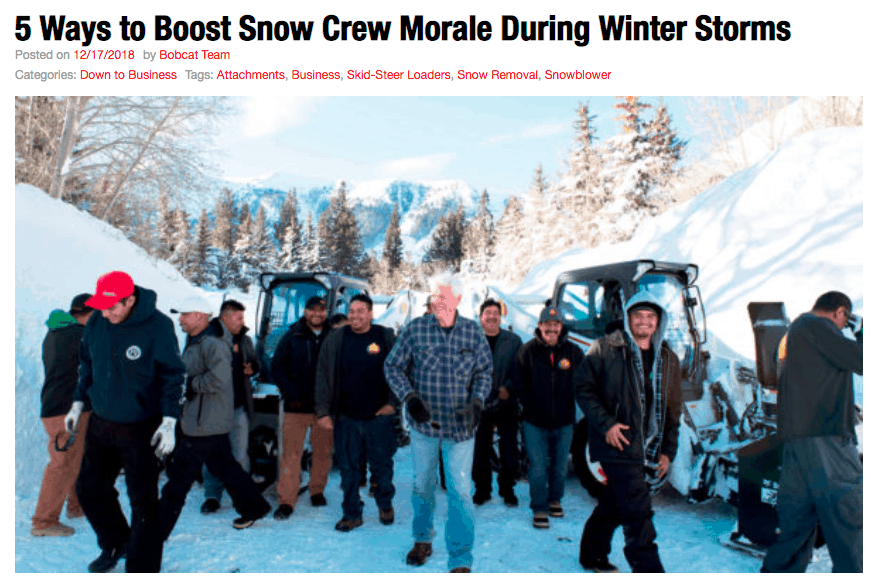 Talking directly to business owners is getting in the ear of the decision makers.
Entrepreneurs
The other blog posts are filled with stories of adventure. One man, one Bobcat machine, taking on a challenge and succeeding with flying colors. They aim to show that as long as you have a piece of Bobcat equipment and a little determination, you can achieve personal and financial success.
Overall, the Bobcat blog aims to grab attention and show that they understand the problems their audience is facing, and that their products are the solution. But they don't just say it, they show it through real use cases from real customers. This establishes expertise, authority, and trust — all of which have been proven to be important ranking factors by Google.
Video
Bobcat Advantage
Bobcat is utilizing video in a great way. They have created an in-depth video series called "Bobcat Advantage" where they put their Bobcat brand equipment against other top industry brands in various tests.
In addition to the videos of the tests themselves — which provides information in an entertaining way with above-average production value — each test page has additional behind-the-scenes videos showing how and why the tests were performed, along with additional breakdowns of the data with charts and graphs.
This provides a lot of value to the customer because this type of content appeals to two of the three main types of search queries: Informational and Transactional. When the searcher arrives, they are greeted with high-quality video content and a CTA that allows them to custom build their machine and get a quote from a local dealer.
What's even better is that this page ranks for branded comparison keywords!

You can see they rank #2 for "Bobcat comparison," which is very important since click through rates on branded searches is much higher — especially in the top three positions.
This graph from Advanced Web Ranking shows the comparison of organic CTR for branded vs. unbranded searches. You can see a significant fall-off in click-through after the third position.
Bobcat even has some of their video content ranking for machine-specific comparison keywords as seen below.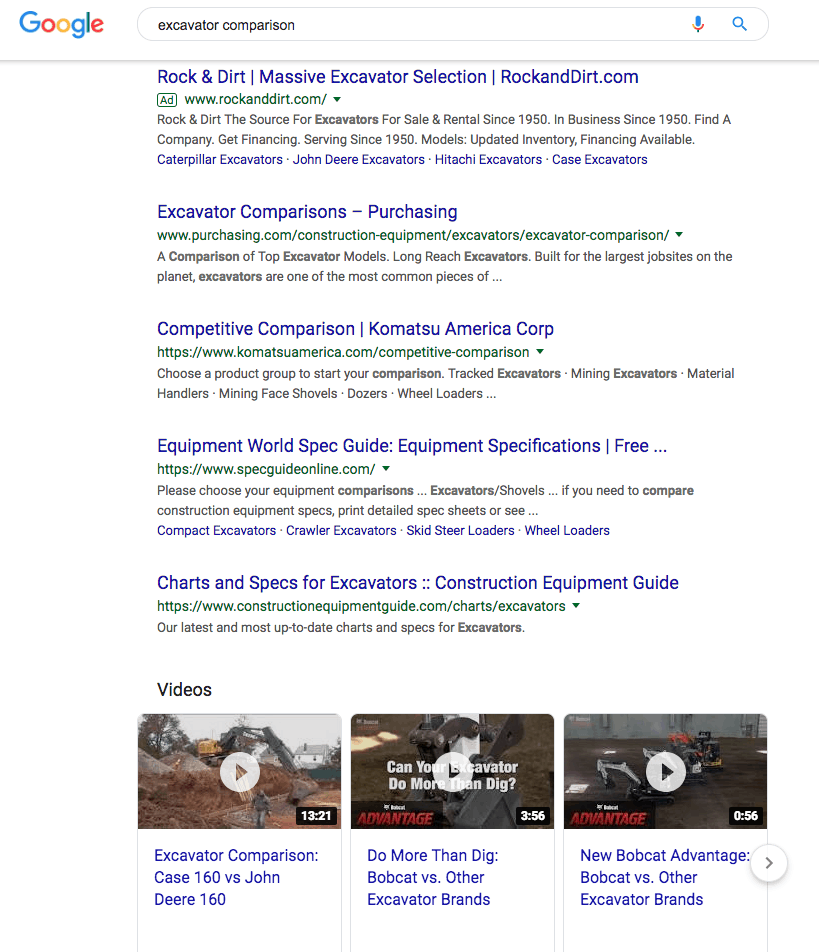 This is great, but could be even better if they added schema markup to the Bobcat advantage pages — something they currently do not do. Showing up for these comparison searches will put their high-quality video content in front of searchers, showing them all the information they are seeking from Bobcat's point of view!
4. Search Engine Strategy
The chart below shows the distribution of Bobcat's web traffic from a single month. Notice that search accounts for the vast majority of their traffic. This is important as it demonstrates how successful they have been at utilizing their inbound content strategy to generate qualified traffic. Combine the high volume of organic traffic with the nurturing and conversion tools and tactics used on the site, and you begin to see how they have carefully crafted a revenue-generating lead machine built for growth.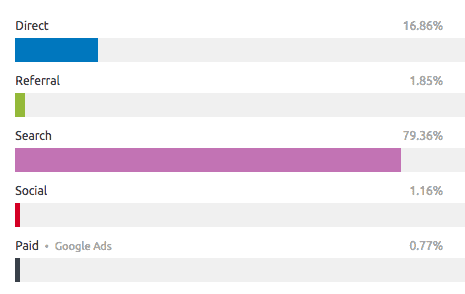 Organic Keywords
This table shows some of the top organic keywords Bobcat ranks for through the use of their inbound content strategy. Notice the searches per month and the estimated clicks. This is just a small snippet of their entire (impressive) keyword profile.
5. Link Analysis
Backlinks to your site have a significant impact on how Google will rank your web pages. Links from authoritative sites help bolster your expertise, authority, and trustworthiness (E.A.T) with Google. Bobcat not only has a large number of  backlinks, but they are linked with all the right anchor text.
Branded Anchor Text
Branded anchor text can show authority. However, it can become an issue if you are a smaller brand and the keyword you are trying to rank for is your brand name. This could potentially result in a site penalty for over-optimization, since it can appear to Google that you are paying for spammy links. In Bobcat's case they have enough authority and a diverse enough link profile that they are in the clear. These branded backlinks are definitely an asset.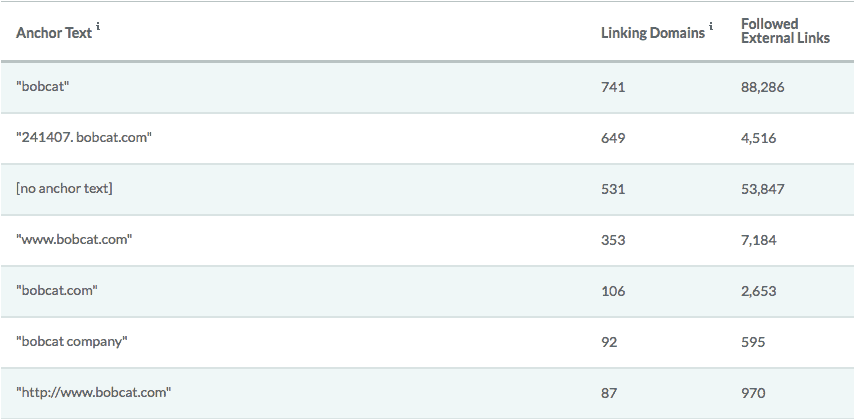 Contextual Anchor Text
Backlinks with this type of anchor text is great as this tells Google that you are authoritative on these subjects. Again, the important thing is to have a good mix or different types of anchor text.
Generally speaking, you want to keep the amount of anchor text in your link profile within these percentages:
Branded anchor text: 65-70%

Naked Links

: 15-20%
Generic anchor text: 1-5%
Exact keyword match anchor text: 1-2%
Latent Semantic Indexing (LSI) keyword match anchor text: 1-5%
This is a system search engines use to analyze other words people use surrounding a given topic. These are words and phrases with a high degree of correlation to your target topic. Google's search algorithm uses them to help determine the relevance to a search term and quality of content.
These are general guidelines to maintain a good standing with Google's algorithm. While Bobcat doesn't entirely fit within these guidelines, they do where it counts. They have a diversified link profile and a brand that has built enough authority to venture outside the norms a bit.
This is not to say that Bobcat is without sin. There are some places where they could definitely improve.
Spam Score
This spam score could use some serious attention because 686 of the domains linking to Bobcat have a spam score between 31-100%.
That is a whopping 12.94% of all of Bobcat's backlinks. In order to stay on top of this, a site needs constant SEO management. Going through and disavowing these highly spammy links would clean up Bobcat's link profile, resulting in positive marks in authority and trust.
There's no doubt that these unattended spammy backlinks are having a negative effect on Bobcat's Domain Authority and their rankings.
6. Software Stack
Bobcat uses some of the industry's leading software technologies to build and maintain its website's foundation and digital marketing strategy structure. Below is a list of some of the critical tools Bobcat currently uses to support their website and digital marketing efforts.
Content Management System
WordPress: WordPress is an excellent CMS that is perfect for creating and managing lead generation sites. With its open source API, there are countless plug-ins available that make it easy to integrate with all the additional tools and systems Bobcat uses.
Analytics and Tracking
Google Analytics: Being able to track and analyze data about site visitors is crucial to Bobcat's success. This allows them to make data-driven decisions that help them continue to iterate and progress. Google Analytics is not only one of the best ways to accomplish this, but it's also free!
Pardot: Pardot is a marketing automation solution that uses tracked data to help Bobcat quickly and easily communicate with customers while tracking the interactions to glean even more insight. The system also makes it easy to manage the large number of customer/sales interactions all in one place.
Hosting
Amazon Web Hosting: Bobcat is currently using Amazon's Web Hosting services, which offers them reliability, flexibility, and a variety of services not available with other hosting services.
Security
SSL Certificate: Bobcat uses this to protect sensitive data such as credit card information, usernames, passwords, etc. This is an important and often overlooked website addition. While this used to be somewhat unique, it is now imperative as Google penalizes sites that are not viewed as secure.
Email Hosting Providers
Pardot: Bobcat uses Pardot to create tailored lead nurture emails and campaigns for visitors who interact with different parts of the site.
Advertising
There are currently Google Remarketing and Facebook Ad integrations installed on Bobcat's site, allowing them to track visitors and serve them tailored ads based on their interaction with the site.
7. CRO Strategy
CRO (Conversion Rate Optimization) refers to any strategy or system used to increase the percentage of website visitors that convert into customers, or take a desired action on a webpage (fill out a form, download content, contact, etc).
CTAs
Bobcat does a great job of using contextual, informative call-to-action (CTA) copy. When you look at the slider section in the header of their homepage, every slide has a contextual CTA that not only entices the site visitor to click through, but also gives them information about the value they will receive for doing so.
Instead of the generic "Click Here," they use copy like "Get your first look." All of these homepage slider CTAs pull those who click through into miniature funnels. Take a look at the different sliders:
Pricing
Once you click through on the "Get Pricing CTA" you are brought to a "special offers" page: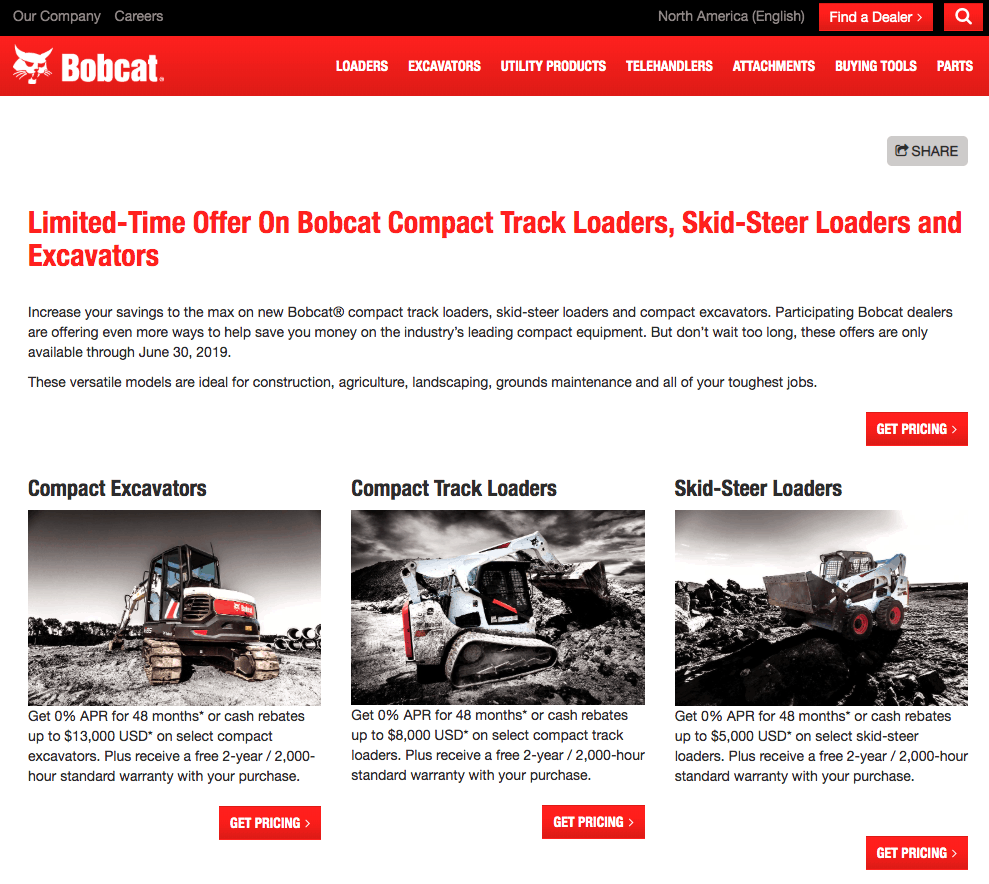 Notice the language used here — words like "special offer" and "limited-time." These create perceived value and urgency for the user to click through. There are four CTAs to bring users directly to the quote form at the bottom of the page.
To top it off, Bobcat places three videos at the footer of the page right beneath the Get a Quote form.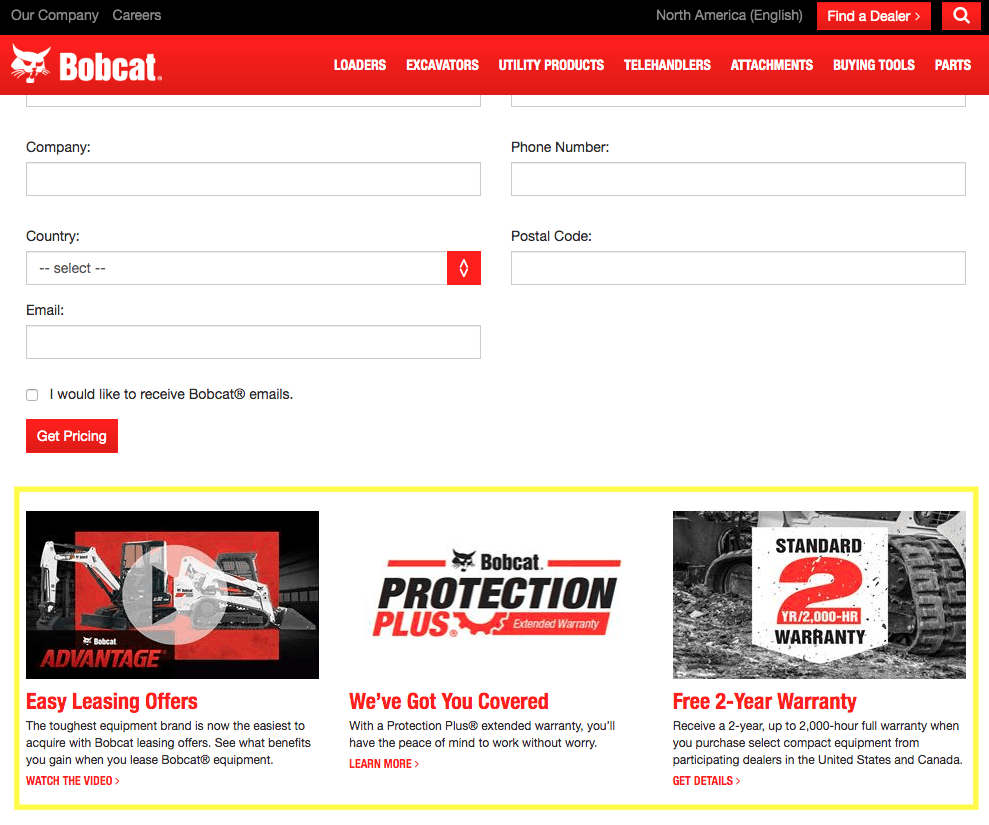 These videos aren't chosen randomly. They are specifically chosen to reinforce trust and easy of purchase to help anyone who is having second thoughts about filling out the form. They talk about the ease of leasing, protection, coverage, and free warranty. This is precisely placed to increase conversion rates.
Training Courses
After clicking through here, you are brought to a landing page that offers users different courses based on the different equipment types along with breakdowns of the the topics included in the course.
Should you decide the course offerings are what you are looking for, there is a large, brightly colored CTA that allows you to purchase right away. When visiting these pages you will also notice that there is no mega navigation at the top of the page to distract from the course highlights. This ensures the user can absorb the information about the course and then immediately click through to purchase without being drawn away from the page.
Leasing Offers

The leasing offers landing page provides visitors with all the necessary information about different options, along with multiple CTAs that direct them to their local dealer or to Bobcat's other main conversion tool, their "Build your Machine" tool.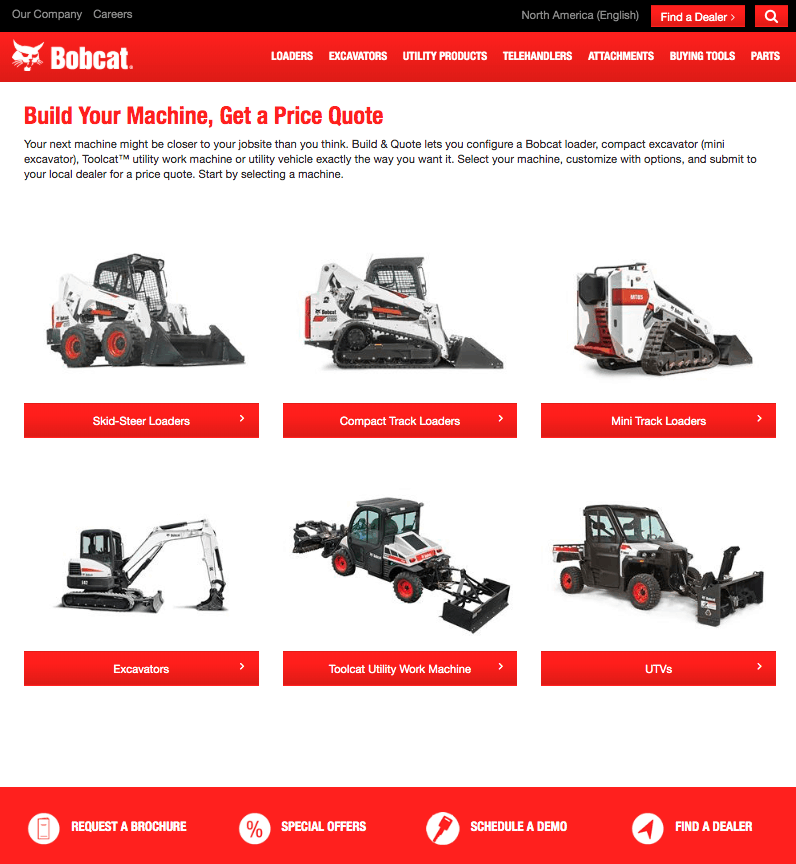 Early Stage Offers
Bobcat has numerous early stage conversion offerings that can be accessed via strategically placed CTAs throughout the site and within the mega navigation.
Blog and Research Library
Bobcat has a research library on their main site that is full of articles that focus on more granular topics like specific pieces of equipment and how to use them more effectively.
Their blog (mentioned earlier) is located on a subdomain and their blog posts are more general pieces that talk about use cases and examples of how Bobcat products have helped real customers.
Brand Comparison
The brand comparison section is the Bobcat Advantage video library that was covered earlier in the Content Strategy section.
Brochure
Bobcat allows users to request informational brochures tailored to the specific products the customer is looking for. They can then choose to have a physical copy mailed to their home or download a digital PDF copy right away. This kind of customized experience is one more way Bobcat sets itself apart from the competition.
Schedule a Demo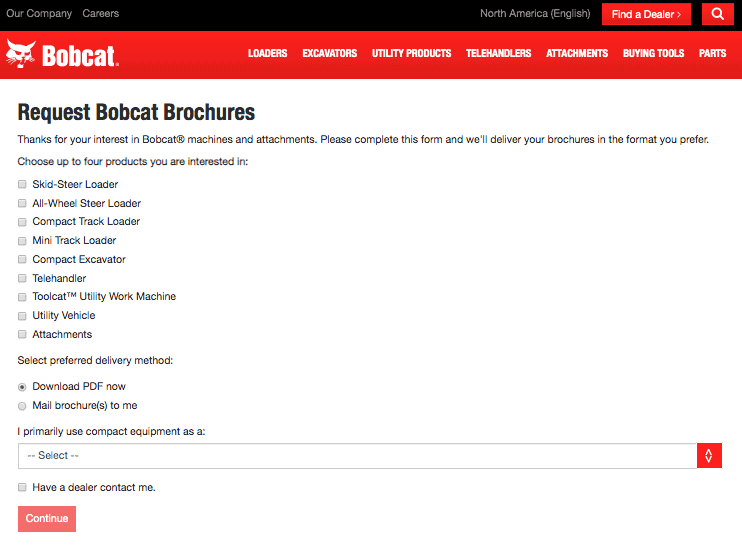 This page is similar to the custom brochure page — it's very simple, straightforward, and customizable. The customer is not distracted by tons of subsequent information. These pages do exactly what they are designed to do: Get the customer the information they want as quickly and easily as possible in exchange for their contact information.
Once the customer fills out the form, a local Bobcat dealer will contact them within 48 hours to arrange for a hands-on demo of the piece of equipment they are interested in. This is a fantastic service; once a customer gets in the driver's seat and gets to use the equipment, they are much more likely to purchase. This landing page and custom form makes it easy to get customers to that point.
Email Updates
Bobcat has an email newsletter that is easy to sign up for. They only ask for your email and there is a CTA in the footer of every page.
WorkSaver Magazine
Bobcat produces its own magazine! Each issue of WorkSaver magazine contains the latest information on new machines and attachments, plus helpful product application tips, techniques, and best practices.
Sales Ready Offers
Build & Quote
This tool is an incredible differentiator for Bobcat. None of their competitors have a tool that allows customers to completely customize any piece of equipment and then get a quote on it. Take a look at how easy it is:
Parts Store
Bobcat has a fully fleshed out eCommerce parts store with replacement parts for all their equipment from major parts down to replacement pieces for all their equipment attachments.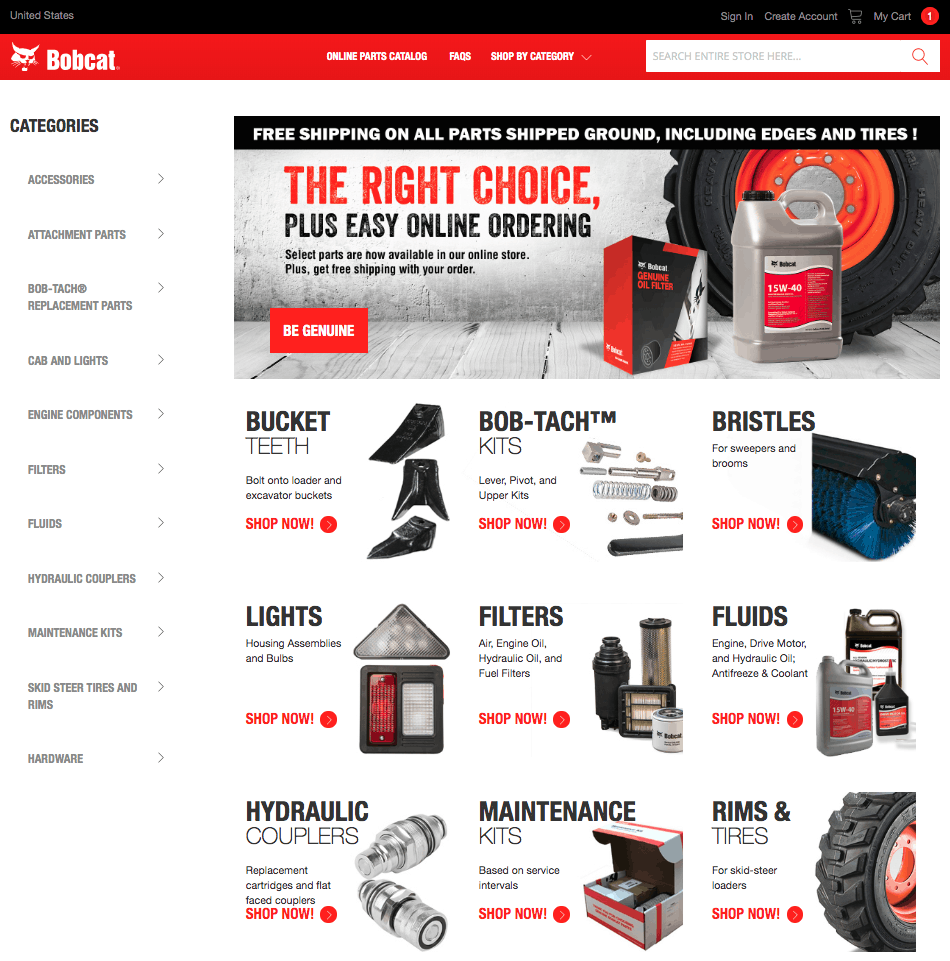 Used Equipment Library
Bobcat has a library of used equipment and attachments that viewers can search and filter to find exactly what they are looking for.
Find a Dealer
The Find a Dealer tool uses an easy-to-use, intuitive map/form combination to help customers find their local dealer.
Once you enter your location, you can get a map with the closest dealer to you. This info comes complete with an interactive legend that shows what equipment that dealer carries. However, this does take you off the Bobcat site to another subdomain.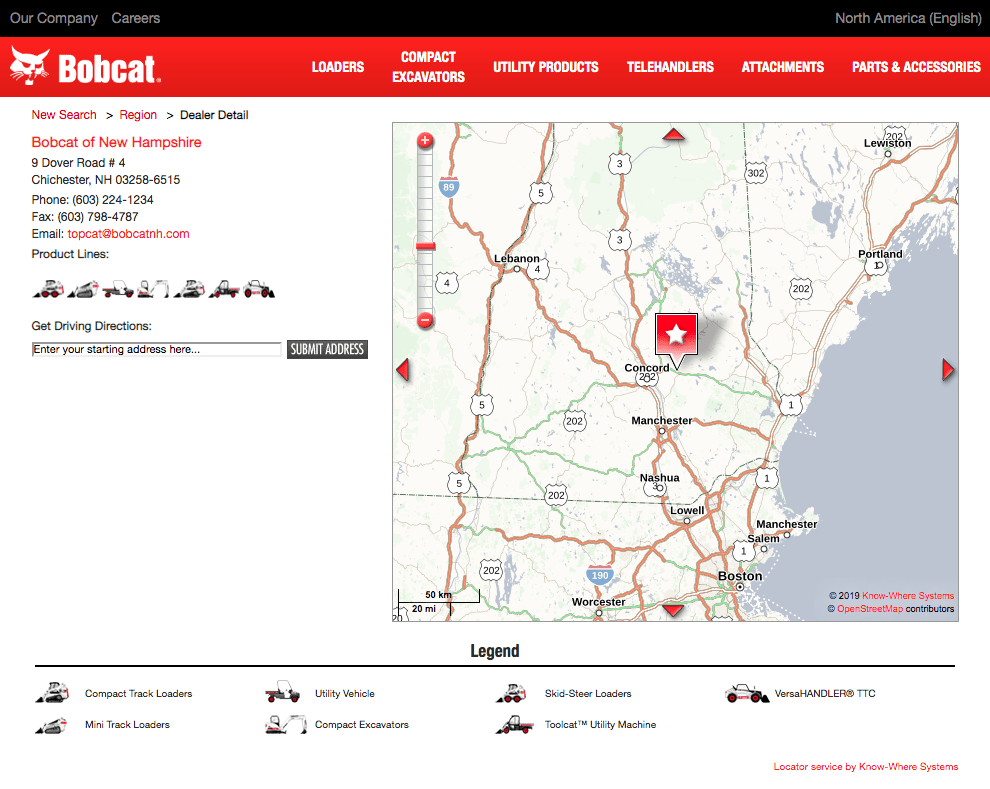 You can then put your address in and it will pull up directions for you!
Bobcat once again makes it easy for customers to locate and interact with dealers, and eliminating barriers leads to more sales!
Bobcat makes it quick and easy for customers to find what they want, where to get it, and at a solid quoted price. Including a full eCommerce store for new and used parts takes the middleman out of the equation for better margins and it's an experience that Bobcat can control. This allows them to maintain a high-quality brand image and experience as they interact with customers at every touch point possible.
8. YouTube Strategy
Bobcat has a robust YouTube channel (23K subscribers) with a wide array of videos. Video topics include: product breakdowns, use cases, real customer interviews, brand and model comparisons, and more.
All of these videos provide high-quality information to customers that is entertaining and easy to digest. This channel goes beyond providing information to customers and helps build immense trust through the transparency of the many real customer use cases. Check out some of their video content: https://www.youtube.com/user/BobcatCompany
Ten Things We Can Learn from Bobcat's Digital Marketing Strategy
1. Ensure your messaging is consistent so customers can get to know you, build a relationship, and champion your brand.
2. Build a community that will naturally promote customer loyalty and build brand awareness with user-generated content. Word-of-mouth marketing is one of the most powerful weapons in your arsenal.
3. Segment and target your customers to make content and ad strategies infinitely more effective.
4. A well-researched and data-based linkbuilding strategy can put you in a position to dominate search rankings.
5. Be proactive about answering common customer questions like Bobcat does with their Advantage video series. These brand comparisons are some of the top search queries of potential customers. Answering these questions in a compelling video format helps them rank for high-volume searches as well as control the narrative around competitor comparisons.
6. Using lots of CTAs can be helpful when done right. Offering a variety of free, useful content that funnels visitors is not a bad thing — just don't overdo it.
7. Proper site software stack and management is important for SEO and user experience. If either are mismanaged, it can cost you a significant amount of qualified traffic and leads.
8. Positive user experience is paramount to success. Creating tools like Bobcat's Build and Quote differentiates them and make the buying experience easy and fun.
9. Email marketing is far from dead. Email is still one of the best ways to stay connected with your customers and nurture your leads.
10. Video is here to stay. If you aren't incorporating video into your digital strategy, you should be.
Now, what about your digital marketing strategy? Get in touch with our team and we'll perform a deep dive of your website and digital presence just like this Bobcat study!