Strategic Guide to Inbound Marketing for Manufacturers
If you polled a group of industrial or B2B manufacturing companies about their inbound marketing strategy five years ago, you would probably be met with blank stares. Very few manufacturers had gotten the memo about digital marketing — which was great news for the very few! With their competition focused on old-school, boots-on-the-ground sales tactics, it was easy to get a huge head start on building brand awareness and generating leads online.
Fast forward to today, and a lot has changed. According to a recent manufacturing survey by IndustrialSage, 98% of manufacturers are generating sales-qualified leads through digital marketing. It's no longer a question of if manufacturers should use digital inbound marketing. It's how to use digital marketing to capture more high-quality inbound leads — and what to do to convert more of those leads into sales.
What Is Inbound Marketing for Manufacturers?
Inbound marketing is the practice of creating content that is valuable to your audience at some point in the sales funnel — whether that's informational thought leadership for buyers who aren't currently in the market for your manufactured goods (but likely will be at some point in the future), or detailed product information for buyers who are comparing solutions before making a purchase.
It's called inbound because the idea is that potential buyers will:
Find your content through organic search, paid digital marketing, social media channels, or some other online platform
Engage further with your brand through your website, blog, YouTube channel, social media, etc.
Voluntarily give you their contact information and convert into either a marketing-qualified lead (MQL) or a sales-qualified lead (SQL)
Or, if your manufacturing company is eCommerce-enabled and your sales cycle is short and straight-forward, they might just go ahead and purchase online, without ever interacting with sales.
Inbound vs. Outbound Marketing
The opposite of inbound marketing is outbound marketing and/or sales. One way to think about the difference is that inbound marketing attracts potential buyers who are actively seeking out information and/or solutions, whereas outbound marketing interrupts them with content that isn't triggered by a behavior that signals interest or purchasing intent.
* Whether these tactics are outbound or inbound depends on the focus of the ad and the targeting methodology used. Without getting too technical:
While outbound marketing may have a place in manufacturing — particularly if you're in a less mature market, and/or there's little to no search volume for keywords related to your products — inbound marketing is an absolute must for most industrial and manufacturing companies.
Some of the benefits our manufacturing clients see from their inbound marketing efforts include:
Lower cost per lead
Higher conversion rates
Higher levels of trust from customers who engage with inbound marketing content
Improved brand awareness and equity
So, how do you craft an inbound marketing strategy that will work for your manufacturing company? Let's look at how it works for some of our manufacturing clients.
7 Elements of an Inbound Marketing Strategy for Manufacturers
Every manufacturing company is different, but the fundamentals of a strong inbound marketing strategy apply across the board. Here are seven essential elements and tactics you'll need to focus on for inbound marketing success:
1. A website designed to attract and generate leads
As an agency that specializes in digital marketing, brand strategy, and website design for manufacturers, we are (literally) always saying that "your website is the foundation of your digital marketing strategy." That's because, without a "home base" for traffic and conversions, you're going to have a very hard time getting a return on your digital marketing spend.
You need a well-designed, easy-to-navigate website that communicates the value of your manufactured goods or services — and that's just scratching the surface. Your site needs to be built to both SEO and conversion rate optimization (CRO) best practices. And, as the engine for your content marketing strategy, your site needs a backend that makes it easy to frequently add and update content.
For example, our client American Modular Systems (AMS) is a leading manufacturer of modular schools. Like a lot of manufacturers, their website was woefully out-of-date, and their inbound marketing was essentially dead in the water as a result. We built them a custom site that allows their customers to navigate the majority of the buyer's journey on-site — right down to product comparison charts that let them find the right solution before getting in touch with sales.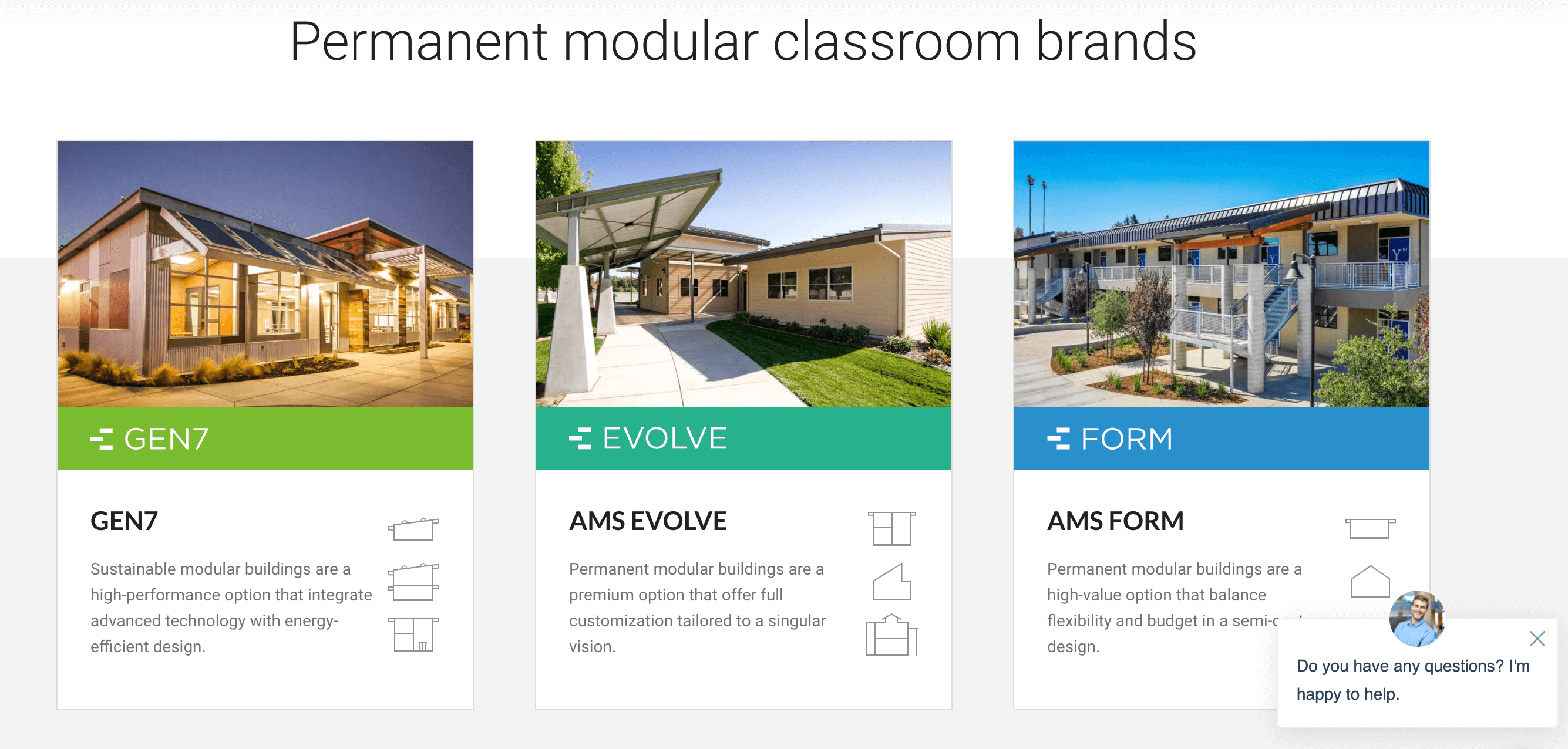 Learn more about how the AMS web build supports their ongoing inbound marketing efforts.
Learn more about how the AMS web build supports their ongoing inbound marketing efforts.
2. Search Engine Optimization (SEO) to get your manufacturing website found online
"If you build it, they will come" does not apply in the world of digital marketing. For starters, your site needs to adhere to these technical SEO best practices:
Mobile optimization
Internal linking
XML site mapping (a simple coding language used to make a map of your website that helps Google find and navigate it)
Once you have your technical foundation in place, you can optimize page content for search. This involves identifying keywords you want to rank for and creating content that meets Google's criteria for:
Relevance to the "searcher intent" for your keywords. This means delivering content that has the information searchers are most likely interested in when they type your keywords into a search engine.
Search engine-friendly structure. It's not enough to just write great, relevant content. You need to use headers (H1, H2, etc.) that contain your keywords and clearly communicate what's included on the page.
Quality, as measured by Google's experience, expertise, authority, and trust (E-E-A-T) guidelines.
Want a deeper dive? We wrote a whole post on SEO for manufacturers.
3. Content marketing to engage and inform your audience
Once you've got your website's main pages (including your manufacturing products pages) up and running to SEO best practices, it's time to start creating different kinds of content that you can use to:
Attract more searchers (especially those who are at the top or middle of the sales funnel)
Engage more potential customers with your brand
Offer valuable information and insights to potential customers
…and ultimately generate leads through form submissions
One of our manufacturing clients, Consolidated Sterilizer Systems, does a great job with generating leads through content marketing. Here's an example of a content resource we helped them create, which offers valuable guidance to people who are in the market for an autoclave — and gets the company about 30-50 quality leads per month.
4. Pay-per-click (PPC) and other paid digital advertising for "air cover" while SEO is ramping up
As a general rule, SEO is a long-term game. Even when you do everything right, it takes a while to earn the top spots on Google's search engine results page (SERP). In the meantime, we create and manage PPC campaigns to promote our manufacturing clients' products and/or content and start generating more short-term leads.
To use Consolidated Sterilizer Systems as an example again, here is a paid ad that shows up for the search term "buy an autoclave":
Clicking on this ad takes visitors to a hospital autoclave product page, which includes in-depth product specifications and other information that not only enables potential customers to thoroughly educate themselves about the product — it also gets an A+ for SEO.
And, in case the visitor isn't quite ready to contact sales about purchasing an autoclave, there's another call to action (CTA) to download the guide to buying an autoclave eBook, along with a video "tour" of the company's healthcare autoclaves. It all works together as part of a cohesive inbound marketing strategy that offers something for everyone at every stage of the buyer's journey.
5. Social media profiles to represent your brand and promote products and content
Should your manufacturing brand be on Twitter? If your customers are — yes. It's a good idea to maintain accurate profiles on any social media platforms where people might be seeking you out. In addition to displaying basic information about your brand, social media should be part of your inbound marketing strategy. That means posting about products and marketing content, including videos.
While you're getting your social media profiles running, don't neglect YouTube. With 2.68 billion active monthly users, YouTube is both the largest video-sharing site in the world and the second-largest social media platform (after Facebook), according to Demand Sage. YouTube is also a natural fit for many manufacturers. There's a wealth of opportunity to create engaging videos about your products, such as this how-it-works video from Vital client and industrial printer vendor ITNH, which has gotten 73K views.
6. Email to promote content and nurture leads
The name of the game in inbound marketing is lead generation. Most of those leads will come from form submissions in exchange for premium content — and those forms should capture, at a minimum, a name and an email address. That's all you really need to get started with opt-in email marketing.
As your email list grows, you'll want to establish a cadence of regular emails promoting your marketing content and updating your subscribers about new products or services. And, whenever a potential customer downloads a premium content resource, it should trigger an automated email lead-nurture campaign. These automated campaigns can be set up with rules that dictate who gets which emails in response to actions they take.
For example, this is the automated follow-up email I get when I download the autoclave buyer's guide from Consolidated Sterilizer Systems:
Depending on whether I respond to this email or not, I may get more automated emails in the days and weeks to come, offering more useful information for someone in the market for an autoclave — and continuing to "ask for the sale" to convert me from an MQL to a SQL.
To get your email marketing machine purring, you'll need an email marketing tool that integrates with your customer relationship management (CRM) system. We like Hubspot, but there are lots of other great email marketing tools out there, including Mailchimp and Klaviyo. Which one you choose will depend on what you want to do (Hubspot does a lot more than just email), how big your database is, etc.
7. Marketing and sales alignment to turn leads into deals
If your inbound marketing strategy is successful, you'll end up with a new stream of SQLs that your company may not initially know how to handle. We work with our manufacturing clients to assess their sales processes in order to ensure an optimal lead-to-quote rate for online leads. As a basic rule, your sales team should be familiar with your marketing content, and your company should have a process for assigning and nurturing inbound SQLs.
How to Build an Inbound Marketing Strategy for Manufacturers
Once you have your foundation in place, you need a structured process for creating, launching, and scaling your inbound marketing strategy. These are the steps we take with our manufacturing clients to maximize their ROI and ensure that their digital marketing activities are ultimately leading to better business outcomes.
1. Know your audience
Manufacturers can be a pretty technical bunch. When we onboard a new manufacturing client, they're always great at explaining what they do, what their products do, and where they fit in the value chain in their industry. They also usually have a pretty firm understanding of the decision-maker or check-writer at the businesses they sell to, because their sales team talks to those people all day long. But if they're struggling with inbound marketing, they may be missing some nuance about the online behavior of those decision-makers before they reach sales. And they're very often missing the many people who might influence the purchasing decision.
We start by creating buyer personas for the primary decision makers and secondary influencers. These personas cover everything from professional roles to relevant pain points to potential marketing touchpoints along the buyer's journey.
Here's an example of a buyer persona for a scientific equipment manufacturer:

We use these personas to guide everything from content ideas for inbound marketing to refining keyword lists for SEO to informing what platforms we use for digital marketing.
2. Map your buyers' journeys
In the marketing world, we talk a lot about the "buyer's journey," or the steps people take before purchasing a product or service. Generally speaking, that journey includes three stages.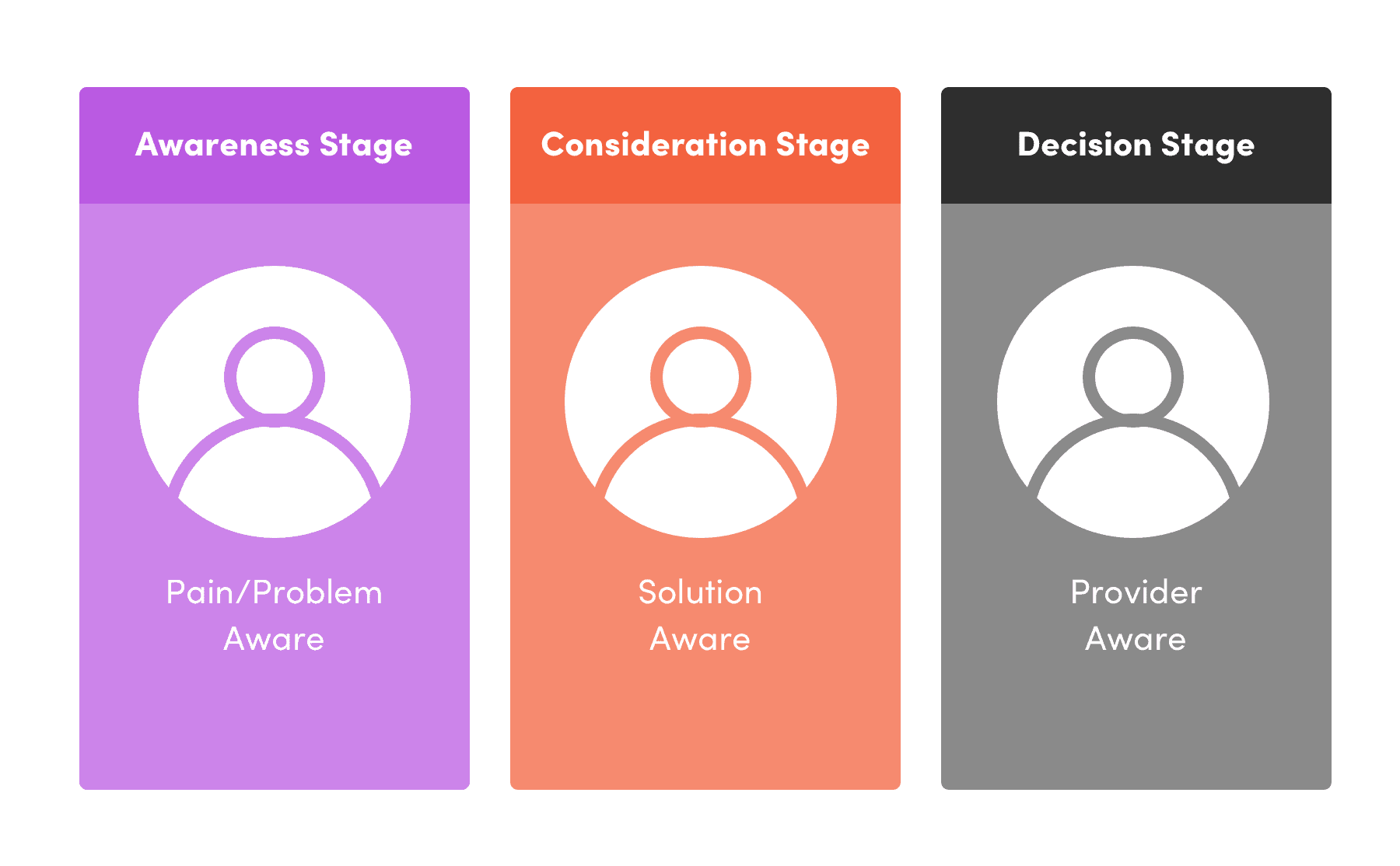 Awareness. In this stage, your prospective customer is experiencing some kind of problem or pain point.
Consideration. Now, your prospect is considering different solutions to their problem or pain point.
Decision. Your prospect is comparing specific solutions and ready to make a decision to buy.
The problem with this model is that it only focuses on people who are actively shopping (or about to be) for a solution. What's missing are potential buyers who don't have a problem or pain point at the moment, but are likely to at some point in the future. The problem-aware group can be considered "in the market," whereas the unaware or unbothered group is "out of market"…but only temporarily.
To use our client Consolidated Sterilizer Systems as an example again, they can segment their audience into two distinct groups:
Those who are in the market for an autoclave. Maybe they're setting up a new facility and need new equipment, or maybe their old equipment failed and needs to be replaced. They are going to be actively looking for an autoclave provider, and they might fall into one of the three phases of the classic "buyer's journey."
Those who are not currently in the market, but will be. This group includes basically every facility that has an autoclave. After all, they don't last forever, and one day they'll need a replacement. Because these potential customers are not problem-aware, they get ignored by typical inbound approaches that focus on in-market buyers.
Your task is to identify what kinds of information each type of prospect needs to support them at their stage of the buyer's journey (including the out-of-market stage). Then, create content that delivers value to those buyers — while positioning your manufacturing brand as the solution to their problem.
Keep in mind that, at any given moment, the group that's out-of-market for your manufactured goods or services is typically far larger than the group that's in-market. So, if you only create product pages and marketing content targeting the awareness, consideration, and decision phase, you're missing the opportunity to get your brand in front of a huge piece of your market.
The good news is that your competition is probably ignoring the out-of-market audience as well — creating a massive opportunity to create value and market to your audience much earlier. And, as a general rule of thumb, if you deliver value early, then stay top of mind (via email, retargeting, etc.), you'll not only be a top contender when they reach the decision stage — you will also very likely drive down your marketing cost per customer acquisition.
3. Know your competition
While you're researching your audience, you should also spend time checking out your competition. Using a tool like SpyFu, you can get a good sense of what you're up against in terms of keywords for SEO and PPC.
For example, one of our clients is a manufacturer of residential and commercial flooring products. One of their biggest SEO competitors (meaning they are currently ranking close to our client for similar keywords) is a company called Armstrong Flooring. According to SpyFu, here is Armstrong's SEO overview:
Using SpyFu, I can also find out:
What keywords they rank for
What keywords both brands rank for
Their most valuable keywords
…and a lot more.
By taking a deep dive and comparing our client's keywords to Armstrong's, we can create an inbound strategy to outrank them organically. We can also use PPC to bid on keywords they're ranking for, and steal some of their traffic short-term.
4. Identify KPIs and set goals
According to a recent survey by IndustrialSage, 85% of manufacturers say they have a defined digital marketing strategy. That's tremendous! But 48% say they do not have a specific monthly goal for lead generation. Without a goal, how are you going to measure the performance of your inbound strategy? And without measuring your performance, how are you going to make the case to the c-suite for maintaining or increasing your digital marketing budget?
(Did we mention that the industrial marketers surveyed listed lack of budget as the number one perceived obstacle to improving their company's inbound performance?)
We help our manufacturing clients establish benchmarks and goals for the KPIs that have the most business value. That includes:
SEO performance indicators like keyword rankings
PPC performance indicators like conversions and cost-per-conversion
Content marketing performance indicators like conversions (generally premium resource form submissions and "contact us" form submissions)
Downstream performance indicators like website-generated quoted pipeline value and website-generated won revenue from new customers
Once you have your benchmarks, set goals for improving those KPIs. A knowledgeable digital marketing agency with specific expertise in manufacturing will be able to help you set meaningful, achievable goals.
5. Create and execute on a content calendar
To attract potential buyers via inbound marketing, you'll need content — different kinds of content for prospects at different stages of the buyer's journey, including those who are out of market.
In Consolidated Sterilizer Systems' case, we help them create and stick to a monthly content calendar that includes publishing blog posts that target anyone who currently owns a sterilizer. Here's one example:
There's no direct "marketing" going on here. We're just establishing the brand as a source of useful information. Within the blog, there's a CTA to download the autoclave buyer's guide — which we expect them to do once it's time to replace that autoclave. Then we have them in our CRM, the email lead nurture campaign kicks in, and it's game on.
Other types of content to consider for your manufacturing inbound marketing strategy include:
Webinars on topics your audience cares about
White papers that are relevant to the industry you're in
eBooks that help your prospective buyers do their jobs better
Videos about how to use or maintain your products
When planning content calendars for our manufacturing clients, we use a combination of keyword research, competitor analysis, and insights from cross-platform data.
6. Convert website visitors to leads
Once your SEO and PPC engines are up and running, you'll start to see an uptick in visits to your website. That feels nice. But you know what feels even nicer? Leads. You can have thousands of visits to your blog every month, but if you don't get their contact information, you can't market directly to them — and if you can't do that, your inbound marketing spend isn't going to pay for itself.
For example, our commercial printer client, ITNH, is running this PPC ad for the keywords "commercial printer for textiles."
It drives to a page full of information about textile printing, including product information for textile printers. We like having people on that page. A small percentage of them might even be ready to contact sales for pricing information on a textile printer that catches their eye.
But what about the rest of the site traffic generated by the ad? For those visitors, ITNH produced a textile printer buying guide. When a site visitor makes a mouse movement that suggests they're about to leave the page without taking an action, they get shown this exit overlay:
Cool! A free checklist! Cue the lead-gen machine.
And what if the site visitor wants more information about a printer, but they don't want to contact sales? They can chat with Iris, ITNH's helpful chatbot.
A recent survey by Leadoo suggests that chatbots increase website conversions by anywhere from 10-100%, depending on your industry. That's a pretty wide range, but we'll take a 10% conversion increase any day of the week, especially if we can do it without staffing up.
7. Convert leads to deals
We have a ton of success getting online leads for our manufacturing clients following the playbook outlined here. But you only get paid when you close the deal! We get that.
Traditionally when leads aren't closing, sales blames marketing. Those online leads are crap, am I right?
Maybe. But probably not. However, getting online leads to close does sometimes require a few tweaks to your sales process. When our manufacturing clients find themselves in this predicament, we help by doing secret shopping to compare their competitors' lead nurture and sales process. As a rule, we find most low-closure rates can be addressed by making two changes:
Raise your contact rate. This is simple. Contact your online leads — all of them — as quickly as possible, and as often as you can before they ask you to stop. (No, really.)
Raise your lead-to-quote rate. Have your sales team focus not on making the sale, but on delivering a quote. Increase this leading indicator, and more sales will follow.
For manufacturing companies that continue to have a hard time accomplishing items one and two, you might have a culture problem. If your sales team is in the habit of ignoring online leads in favor of the client they already have on speed-dial (who can blame them), you might consider doing what one of our manufacturing clients did, and declare the website its own territory. Hire a sales rep just to handle online leads.
Chances are very good that your closure rate will go way up — and your traditional sales team might start clamoring for a piece of the online action!
Measuring Inbound Marketing Success for Manufacturers
How do you know when your inbound marketing strategy is working? When it's generating leads that turn into quotes that turn into deals. And that's where many manufacturers drop the ball. Without the right tracking and attribution tools, you'll never know if that jump in last quarter's sales was due to the free eBook you put on your website, or if a butterfly flapped its wings in Mozambique and caused a chain reaction that led to a worldwide surge in demand for stainless steel hex lock nuts.
So, we cannot stress this enough:
Track. Everything.
Track where each online lead comes from. Track every interaction that happens after they become a lead. Every email deleted or opened. Every link clicked. Every call declined — until the call when they finally answer and place an order for 400 stainless steel hex lock nuts.
If you're not sure whether you're properly tracking and attributing your leads (or if you're sure that you're not), a data-focused digital marketing agency can help get the right tools in place, connected, and talking to one another to deliver the intelligence you need.
Speaking of a data-focused digital marketing agency that specializes in manufacturing…
Our experience suggests that a small yet mighty percentage of people who read this far are interested in getting some professional help with their inbound marketing strategy. If you are part of that small yet mighty percentage, fill out this form. We'll be in touch to talk about how your manufacturing company can get more leads online.